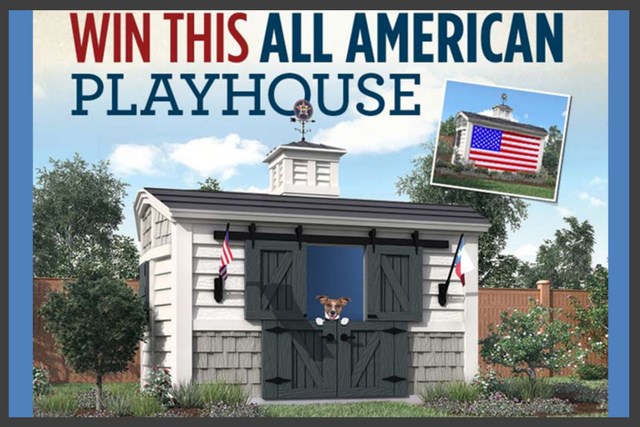 Win this All-American Playhouse for your backyard, and help HomeAid Houston
What would be the perfect backyard addition for your home in Elyson, or anywhere? How about an All-American Playhouse for the kids? You can enter a raffle to win one for only $5 this summer, and do a good deed at the same time.
Newland, the developer of Elyson, is proud to be a longtime sponsor of HomeAid Houston and its latest fundraiser, the 2017 Project Playhouse.
Crafted by Elyson builder Darling Homes, along with Taylor Morrison, the playhouse will display its red, white and blue patriotic colors at Minute Maid Park from June 27 through July 19. You can purchase $5 raffle tickets to win the playhouse at the ballpark, or online. 
Sponsored by the Greater Houston Builders Association, HomeAid Houston is a nonprofit group that identifies long-term, stable homeless care providers who need additional capacity and pairs them with GHBA builders, vendors and suppliers who donate their time, materials and labor to help build transitional homeless shelters.
Some of HomeAid Houston's most recent projects include a $49,000 renovation to A Caring Safe Place, which provides crisis intervention and services to some of Houston's most vulnerable homeless citizens. HomeAid participants also recently completed an 8,000-square-foot cottage for Boys and Girls Country in Hockley.
Newland has been a strong supporter of HomeAid Houston since 2006. In addition to Project Playhouse, the company sponsors HomeAid's annual golf tournament fundraiser and its HALO (HomeAid's Amazing Ladies Organization) group.
Newland donated a homesite in Elyson for the GHBA's 2017 Benefit Home, built by Chesmar Homes and now available for sale. The Benefit Home is sold at market value, with half of the proceeds benefitting HomeAid, and the rest going to Operation Finally Home, which benefits U.S. military heroes and their families.
"We find that HomeAid's goal of helping build dignified housing for Houston's homeless, who are mostly women and children, aligns with our core values of building great communities that people can raise their families in and call home," said Jennifer Taylor, vice president of marketing for Newland's Central Region. Taylor has served on HomeAid's board of directors since 2010, and was president of the board in 2014.