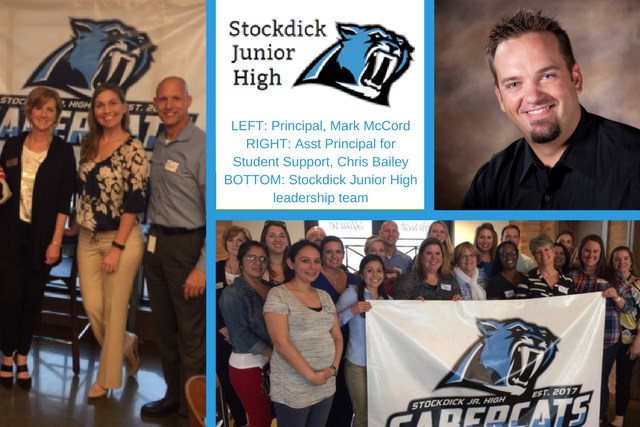 Stockdick Junior High features all-new design based on collaborative learning
When Stockdick Junior High opens near Elyson in August, it will introduce a new era of collaborative and individualized learning for the Katy Independent School District.
Stockdick has an all-new architectural design that supports what Chris Bailey, the school's assistant principal for student support, calls the "Version 3.0 of education."
"Education started with the one-room schoolhouse, then moved to massive buildings with fixed walls and a one-size-fits-all approach to learning," said Bailey, who has been with Katy ISD for 12 years. "Today, we're entering a new era of individualized learning and collaboration, and Stockdick has been designed from the ground up to embrace the newest trends and technologies in education."
Bailey said that all Katy ISD schools and teachers creating innovative learning programs for students, but he said that Stockdick Junior High's physical design will allow students and teachers to do even more.
"Most campuses have only one flexible-use space, but Stockdick has six such spaces, along with a much more open design throughout that encourages collaboration," he said. "The school also has a lot of what I call 'nooks and crannies' that provide places where students and teachers can collaborate in groups of various sizes."
Bailey said the technology at Stockdick will be "cutting edge."
"For example, instead of smart boards, the school will have smart panels, which are basically like giant iPads that are mounted on the walls, with interactive touch screens," he said. "Stockdick's technology and design will allow us to deliver the curriculum in some very new and exciting ways."
Stockdick Junior High will have about 650 students in grades 6-8 for its inaugural 2017-18 school year, and should reach its capacity of 1,400 students in about four years, Bailey said. In its first year, the school will have about 50 teachers and staff members, most of them transferring from with Katy ISD.
Stockdick will share a common "learning green" space with the neighboring Paetow High School, which also opens in August. The two new schools will join Bethke Elementary, opened in 2016, to create a K-12 tri-campus approximately two miles from Elyson.
Bailey said the close proximity between Stockdick and Paetow will allow for some groundbreaking collaborations between the two schools.
"All of our fine arts programs at the junior high and high school will be aligned, with team teaching and collaboration on a constant basis," he said. "We plan to expand collaboration into athletics and other academic areas in the future."
The entire Katy ISD community will be invited to get a first look at Stockdick and Paetow with the Ignite! celebration on August 12, a week before school starts. Festivities will include food trucks and activities such as bounce houses.
We'll have more details on Ignite!, plus a preview of Paetow High School, in future blog posts.