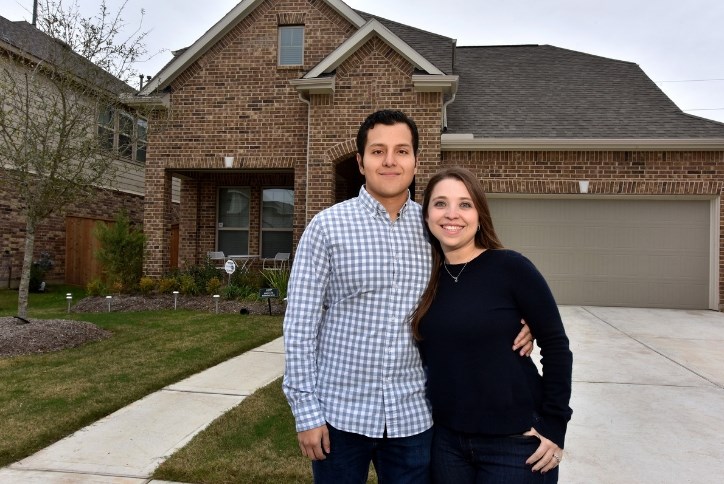 Elyson was "meant to be" for this couple's relocation to Houston
High school sweethearts who grew up in New Jersey, Carolina Pelaez and Javier Parra have moved several times since they graduated from college, got married and started their careers in the energy industry.
Last year, when they learned that their companies planned to relocate them from Baton Rouge to Houston, they decided to take the plunge and buy their first new home.
After deciding that they wanted a newly constructed home in a master-planned community, Carolina and Javier did extensive online research while still in Baton Rouge.
Even before their first visit to Houston to meet the real estate agent assigned to work with them, they already had made some preliminary decisions. In general, they wanted to live in Katy. Specifically, they had zeroed in on Elyson.
"At first, our preference for Elyson was all about location," said Carolina. "I work for BASF in the Energy Corridor, and Javier works for Exxon near The Woodlands, so we wanted commutes that would be semi-equal for both of us. With its location on the Grand Parkway, Elyson offered that."
When they first met their Realtor, Robin Navarre of Coldwell Banker, Carolina and Javier did not mention their preference for Elyson.
"We kept quiet because we wanted to see what Robin would recommend on her own," Carolina recalls. "When Elyson was her first suggestion, we knew it was meant to be."
After their first visit to Elyson, Carolina and Javier were even more impressed. "We loved the open space and the way everything looked so green," she says. "Since we moved in, we've really enjoyed all the amenities, like Elyson House and the trails, and we're looking forward to the new dog park."
Just as they found their new community online, the couple had also found their preferred builder. They decided that Chesmar Homes would suit their needs perfectly, and they loved the Poplar, Chesmar's model home in Elyson.
Unfortunately, Chesmar didn't seem to have a Poplar plan that would be ready for the couple's quick timeframe.
But a surprise was in the making. A completed Poplar plan had just come back on the market, because the original buyer had to withdraw from the contract. Colleen Blair, Chesmar's Elyson sales consultant, kept that secret close to her vest, surprising the couple with it at the end of their visit.
"We were so surprised and so happy," Carolina recalls. "Our relocation was happening very quickly, and within two days of our first visit to Elyson, we had a contract on the perfect home."
And it gets even better: that Poplar had all the finishes and amenities that Carolina and Javier would have chosen themselves.
"It was as if this home had been personalized by our clones," Carolina said. "The kitchen was exactly as we would have designed it, and we loved the light hardwood floors. They had built the formal dining room space as a study, which we would have done. Our favorite pastime is hanging out at home and watching movies, and we were thrilled to find out that they had already prewired the gameroom for surround sound."
Robin Navarre, the real estate agent, couldn't be happier with the way everything fell into place for Carolina and Javier. "They are the cutest couple. I'm so glad this worked out," she said.
"I thought of Elyson because it's a young community that would grow with them, and the location is perfect for both of their commutes," Robin added. "I've sold homes in Cinco Ranch, another Newland community, for over 20 years, and I also live there. Knowing Newland's track record as a developer, I was very confident in recommending Elyson."
Discover more resident stories from Elyson or explore our inventory homes to see if we might have your perfect fit as well!