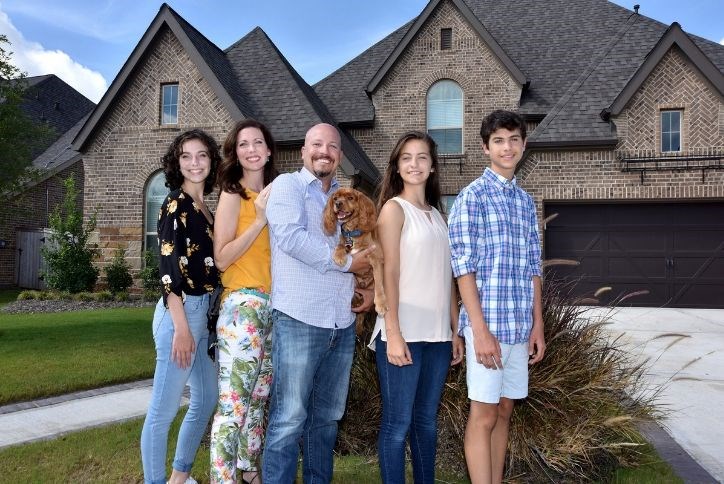 How "musts" and "wants" guided this family's journey to Elyson
With only one upstairs bathroom for three tweens and teens, and a dining room that had to double as a full-time home office, the Mena family decided last year that it was finally time to move up from their 10-year-old home in south Katy.
Despite their old home's shortcomings, the decision to move was difficult. Rebecca and Hector Mena had watched their three kids, now ages 12 to 16, grow up in their old home, which was the first home they had ever owned. Everyone in the family had developed many strong friendships in their Katy neighborhood of Silver Ranch.
"We loved our neighborhood and home so much, we thought we could make it work until the kids grew up and finished school," said Rebecca. "We delayed our move for many years, until it ultimately became obvious that we couldn't wait any longer."
The family actually began to outgrow their first home just after one year, Rebecca recalls. Hector became self-employed and needed a home office, so he started working in the dining room, even though the family frequently held large parties and sorely needed the space for entertaining.
"We've always loved to host friends and family for birthday parties, sports watching parties and all kinds of occasions," Rebecca said. "We divided the dining room with drapes and put in some makeshift tables, and that worked for a time. We were always happy to get together, but we felt very squished in."
The fact that the home had only one upstairs bathroom for all three kids was another limitation, especially as the young ones grew. And that wasn't all. Hector needed storage space for the many large boxes he received in his business. A guest room for visitors was lacking. And it would have been nice to have space downstairs for movie and karaoke nights.
When they first started considering a new home, the Menas soon discovered that new construction in the immediate surrounding area in south Katy was out of their price range. Existing homes fit their budget better, but most needed many thousands of dollars worth of repairs and updates.
"We couldn't find what we wanted in our price range, so we decided to hunker down and stay put," Rebecca recalls. "We stopped looking for a while. Instead, we did some remodeling, such as painting, putting in new flooring and adding crown molding."
The family's on-again, off-again home search reached its final chapter when their oldest daughter became seriously ill. After staying in the hospital, she came home for an extended recovery period. Having an additional bathroom and extra privacy for her became essential. Remodeling was out, as the Menas didn't want to put their daughter through the stress of construction right next to her bedroom.
Having explored south Katy, the Menas decided to look north of I-10, in the Old Katy and north Katy areas. They soon discovered Elyson, located a few miles north of I-10, at Grand Parkway and FM 529.
To focus their home search, the family created a list of "musts" and "wants" for what they had to have.
"Musts" included a minimum of five bedrooms and 3.5 bathrooms, along with a three-car garage to provide storage for Hector's packages. Also for Hector, the home had to have a separate study that could be closed off. They decided that an open floor plan for entertaining large groups was a must, and the floor plan had to be two stories, with space for the kids upstairs.
"Wants" included a media room, a mudroom where the kids could drop off their school stuff, a large walk-in pantry, and an open kitchen with a bar where Rebecca could be with the kids while they did their homework. 
The Menas walked into Perry Homes' model home in Elyson, because they had visited the builder in Cinco Ranch (another Newland community) and felt attracted to their floor plans and designs.
They ticked off their musts and wants to the sales consultant, who quickly said she had three homes that were completed and met all of the family's requirements.
The Menas toured all three homes, but the first one stole their hearts. It had five bedrooms, 5.5 baths, a huge laundry room, and a kitchen with granite countertops and other finishes that everyone loved. The downstairs media room was perfect for movie nights and karaoke parties. It also had a large covered patio. Best of all, it fit their price range.
The next day, the family signed the contract. They moved into their new home in December, just in time to celebrate the holidays and hold a New Year's party for 45 people, who were easily accommodated in the new floor plan.
Six months later, this active family has been fully engaging in Elyson's community life. "We've been so busy we haven't fully unpacked yet, but we've already volunteered to help out at some of the community events," Rebecca said.
"Our old neighborhood didn't come close to offering all the amenities that Elyson has," she said. "We've enjoyed Elyson House, the pool, the fitness center, the café and all the events. The kids love playing ping pong in the gameroom."
While the Menas were at first a little reluctant to move north of I-10, getting to Elyson has proven to be an easy drive for their old friends in south Katy, as well as for friends and family in other parts of Houston. And Elyson is actually closer to the charter school attended by all three of their children, the Aristoi Classical Academy.
Meet more Elyson residents with our Resident Stories.