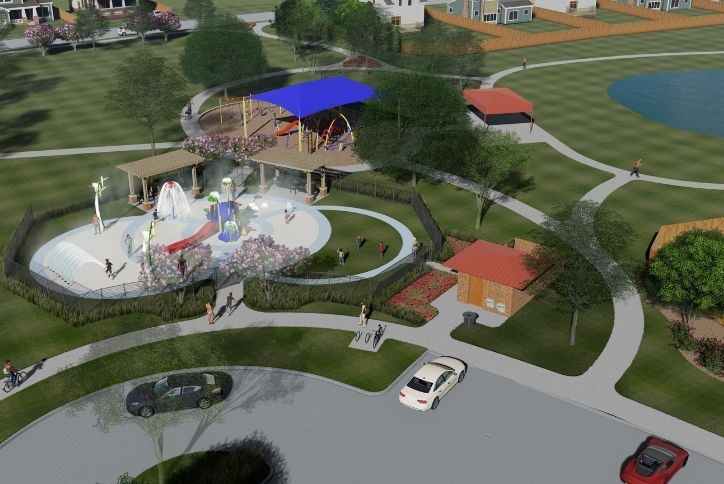 Splash pad, playground slated for Elyson's newest amenity
With a fun-filled splash pad, a shaded playground and large oak trees, Elyson's newest amenity will be a cool and refreshing place to enjoy outdoor recreation all year long. Now under construction, this new amenity is planned to open in early fall.
The splash pad will be the focal point of this park, but it will also offer many more features that will make it a year 'round attraction for Elyson residents.
The splash pad will include a water slide, a tunnel of spray jets, cascading fountains and other cool features that will invite residents to enjoy watery fun during warm months.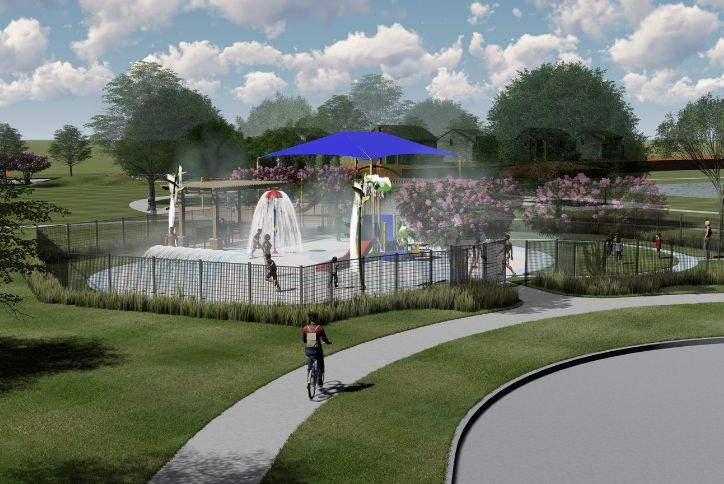 On one side of the splash pad, a crescent of artificial turf will provide a resting place free of mud and insects. On the other side, two arbor shade structures with benches offers a place for parents to watch kids play, and for enjoying snacks and shade.
Other amenities will include a cabana with restrooms and water fountains. There will be a parking lot, and the park will be connected to Elyson's overall trail system, so residents will have the option of walking or riding their bikes.
Next to the splash pad, a playground covered with a shade canopy will offer even more opportunities for residents of all ages to have fun. Residents will also have a 16,000 sq. ft. open lawn to enjoy for picnics, playing ball, community events and more.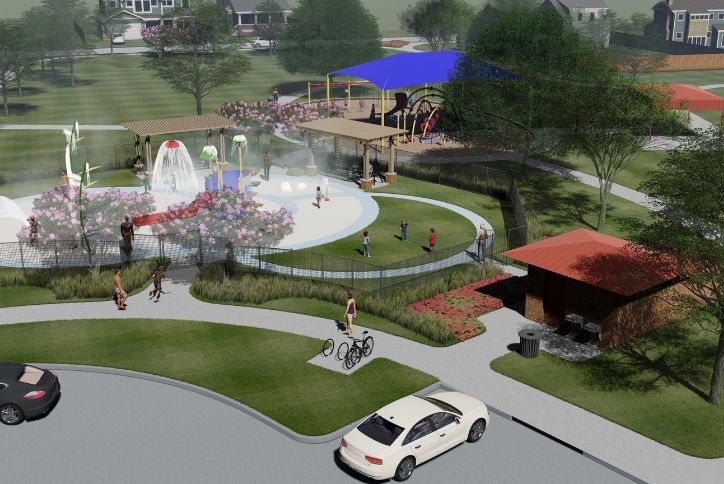 One of the highlights of the playground will be a Global Motion feature where kids can climb, rotate and explore on two levels. This unique feature is designed to provide a thrilling and challenging experience for kids. Its patented progressive resistance technology prevents it from being turned too quickly, making sure kids always feel safe and in control. The playground will also include swings for toddlers and larger kids.
Several large oak trees will be transplanted from Elyson's tree farms to this new park to provide additional shade and natural beauty.
This new park will flow seamlessly into a lakeside park area surrounding a scenic seven-acre lake. A trellis with picnic tables will overlook the lake. A half-mile trail will loop around the lake, leading to the splash pad park and connecting to Elyson's overall trail system, which will ultimately extend for almost 30 miles when completed.
This new park is part of Elyson's overall vision to create more than 750 acres of parks, trails, recreation centers and natural open space amid its 3,600-acre master plan.
Elyson's flagship amenity, Elyson House, offers a swimming pool open for year 'round swimming, an event lawn, playground, fitness center, and a meeting room. The gameroom at Elyson House has foosball, ping-pong, shuffleboard, a TV and a variety of board games.
Elyson House is also home to Elyson Cafe, offering a full menu of pizzas, salads, burgers, wine and beer, with poolside and patio service available. Elyson Café hosts Friday night dinners and monthly wine dinners with live music, and offers family meals to go nightly.
*The artist renderings are for illustration purposes only, based upon current development concepts, which are subject to change without notice. No guarantee is made that the features depicted will be built, or, if built, will be as depicted.