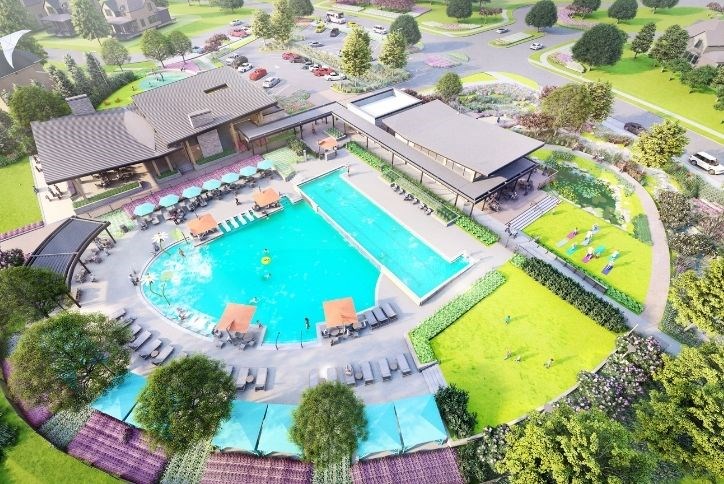 Lakeside Landing, Elyson's newest major amenity, will open in 2023
Elyson has announced its newest amenity, Lakeside Landing at Elyson, which will be a vibrant community center for swimming, fitness, special events and other activities. Now under development, it is planned to open in Summer 2023.
Lakeside Landing will anchor development for Elyson on the north side of FM 529 as the community expands north and west with a wide variety of home styles and price ranges.
"Lakeside Landing is the next big thing from Elyson, a major addition to our vision of having more than 750 acres of recreational amenities and natural open space for residents to enjoy," said Rainer Ficken, vice president of operations for Brookfield Properties, the developer of Elyson. "Lakeside Landing will be a focal point for our major new phase of residential growth north of FM 529 and west of Porter Road, and like all Elyson amenities, it will be open to all residents."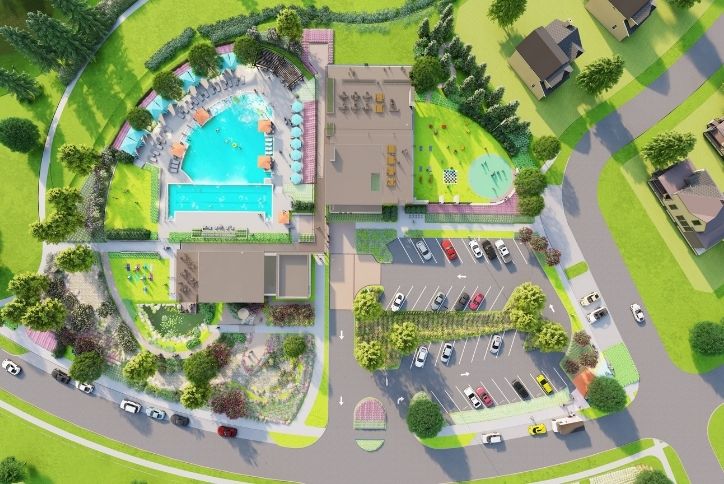 A new major community entrance at FM 529 and Elyson Village Drive will lead directly to Lakeside Landing, which spreads out along the shore of a 31-acre lake. The location is just west of Porter Road.
Lakeside Landing will feature a community building with a fresh take on the Prairie-style architecture of Elyson's first major amenity, Elyson House, which was inspired the work of famous American architect Frank Lloyd Wright.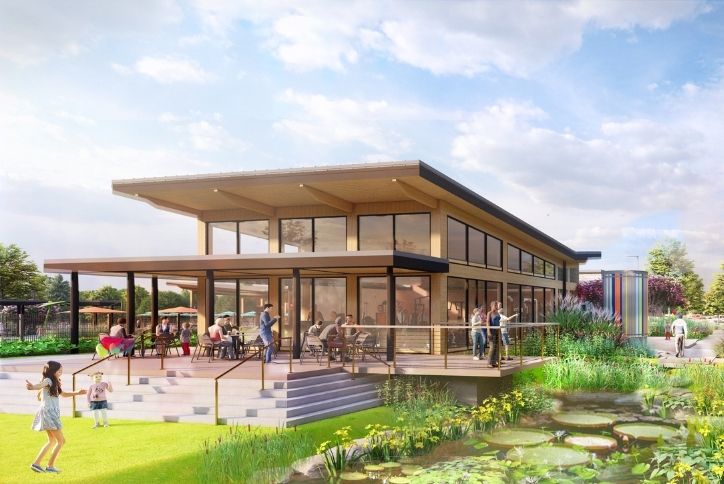 "The building's features are reminiscent of Wright's acclaimed Fallingwater house in Pennsylvania," says Micah Simecek, partner at Studio Red Architects, which designed Elyson House as well as the new building. "The design of Lakeside Landing and other amenities in Elyson draw from the Prairie Style of architecture trademarked by Wright. With its strong horizontal lines that embrace the surrounding landscape, this style is uniquely suited to fit the Katy Prairie," he said.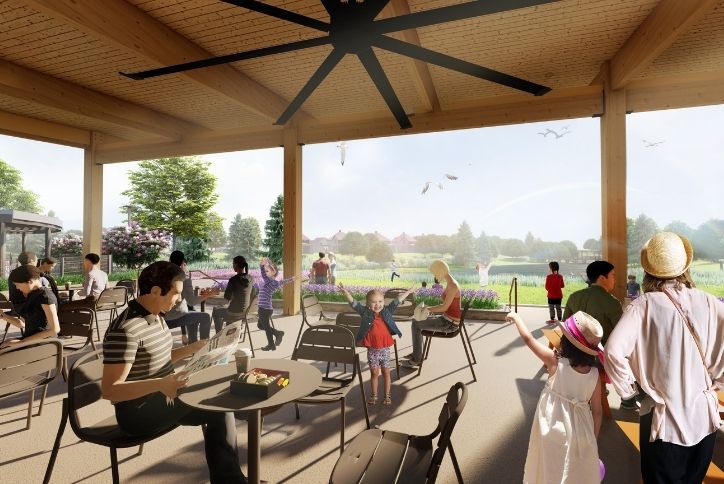 The building will feature a large gathering room for resident groups and activities, with a covered pavilion for outdoor events. Designed to be filled with natural light, the building will open to an event lawn on one side, with other sides facing the swimming pool complex and a lake overlook.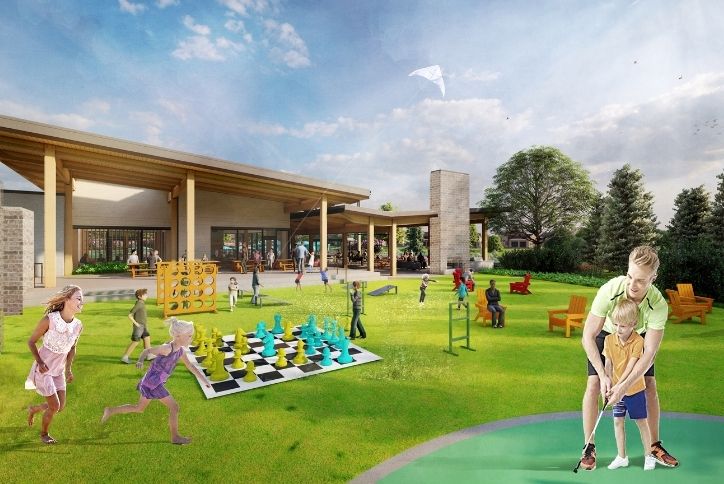 Lakeside Landing will also include an indoor fitness center that will open onto an outdoor fitness area.
Water will be a focal point at Lakeside Landing, from its two swimming pools to the many features designed to connect residents to the natural lakeside setting.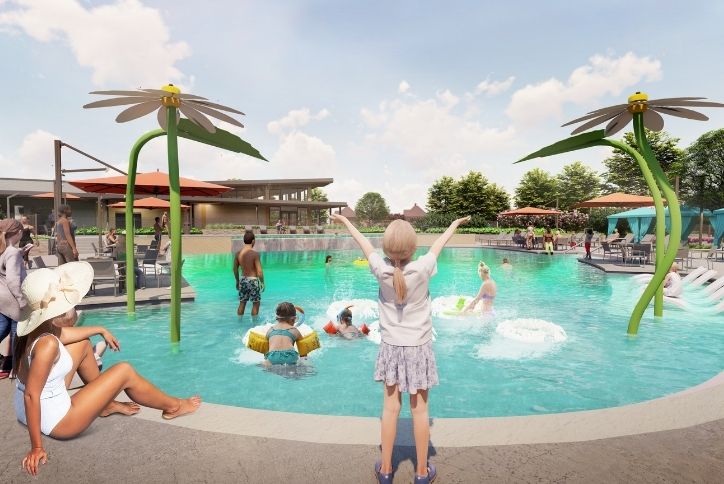 This amenity will have a resort-style pool surrounded by poolside lounging areas, including open areas to enjoy the sun as well as shaded cabanas. Next to the resort-style pool will be a lap pool with lanes for exercise. This area will also have a poolside lawn and a trellis area with shaded seating.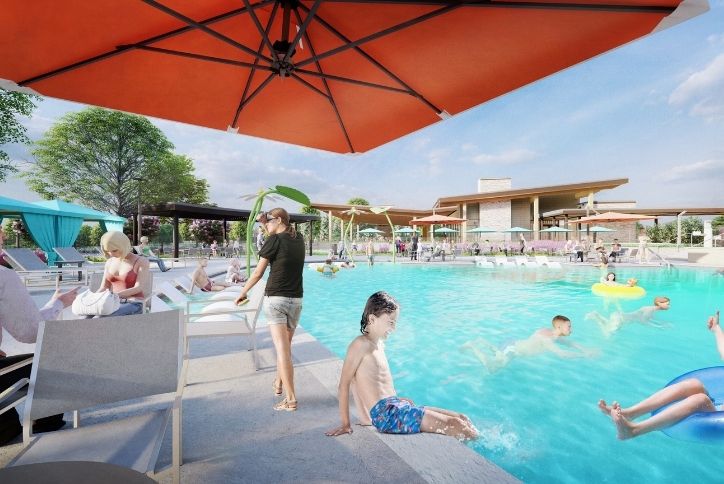 Several features will add natural beauty and interest while also serving environmental purposes. Large bioswale areas landscaped with native plants will capture and naturally filter rainwater from the parking lot and building. 
A cistern will capture rainwater from the roof of the building, which will be conveyed through the bioswales to be naturally filtered. Other natural features will include a stream garden, a serenity pond and an interpretive nature trail.
Lakeside Landing will also have viewing areas where residents can enjoy looking at nature. One is an overlook near the back of the community building, oriented to offer views of the scenic lake that inspired the name for this new amenity.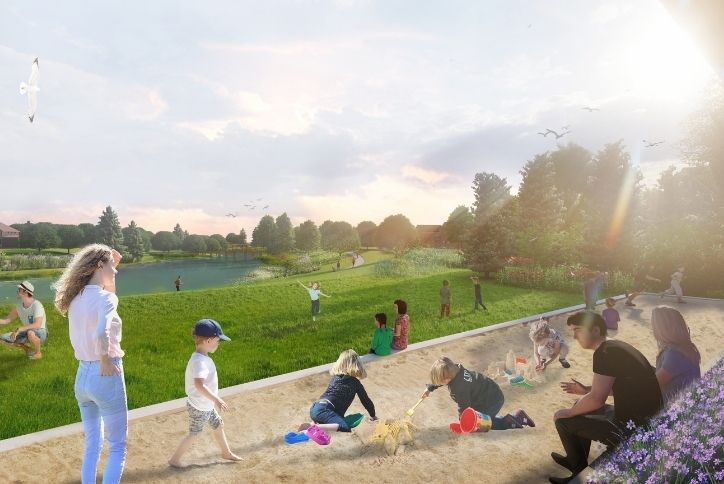 A pond overlook at the fitness center building will be cantilevered over the serenity pond, with views extending across the stream garden, bioswales and landscape.  
"The site design of Lakeside Landing seamlessly blends Elyson's nature-based landscape themes into a diversity of outdoor spaces that embrace its architecture. We're proud to have been part of Brookfield's design team and excited for the community to begin making new memories here," said Matt Baumgarten, principal of SWA Group, a landscape architecture firm that has worked with Elyson since the beginning.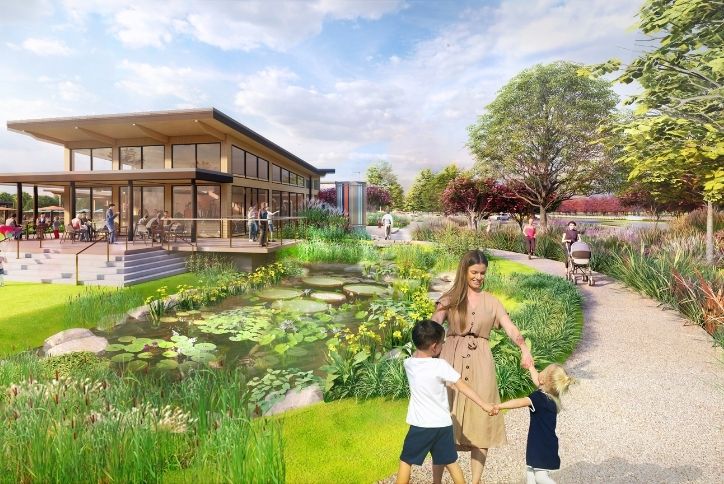 An entry plaza with Elyson's earth tone colors will welcome residents, with space for food trucks and seating areas for diners. The parking lot will be landscaped by one of the bioswales, and the entry loop will include a drop-off area.
Lakeside Landing will be connected to Elyson's overall trail system, which will extend for approximately 30 miles when completed.
To see more of Lakeside Landing at Elyson, watch our video here.
Other major Elyson amenities include Elyson Commons, a 145-acre park with sports fields, a dog park, outdoor fitness facilities, a wildflower trail and other features, is Elyson's newest major amenity.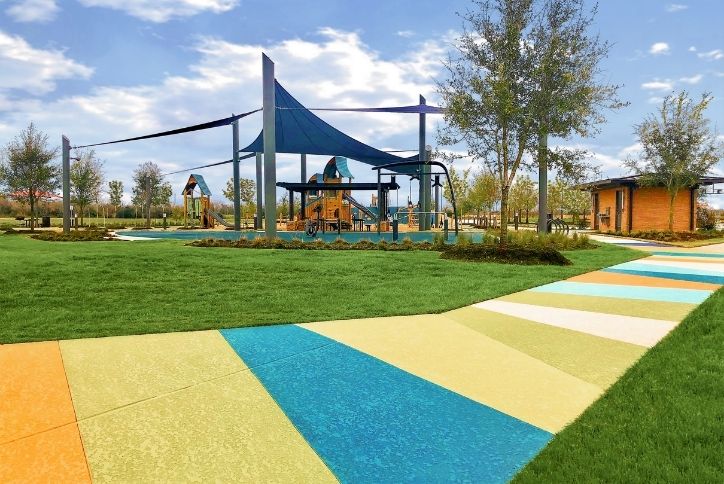 Timber Grove Park, opened in 2021, has natural play areas designed to offer kids a sense of adventure and exploration, along with a large open play field, a pear orchard and seating areas under large oak trees.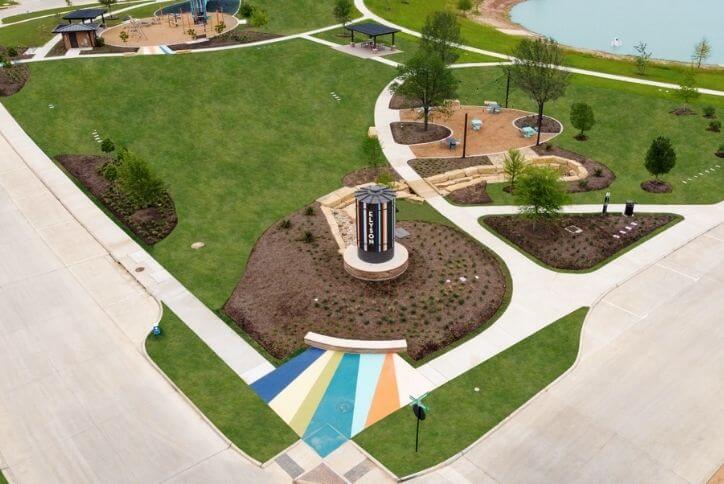 Elyson House, Elyson's first major amenity, was completed in time for the community's grand opening in 2016. It houses a café, fitness center, game room and meeting room. Outside, Elyson House offers a large swimming pool, tennis courts, playground and event lawn.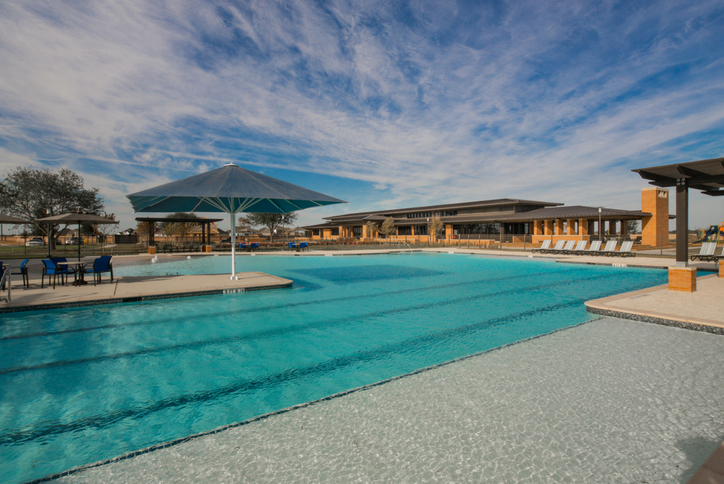 Learn more about Elyson's lifestyle.
The artist renderings are for illustration purposes only, based upon current development concepts, which are subject to change without notice. No guarantee is made that the features depicted will be built, or, if built, will be as depicted.