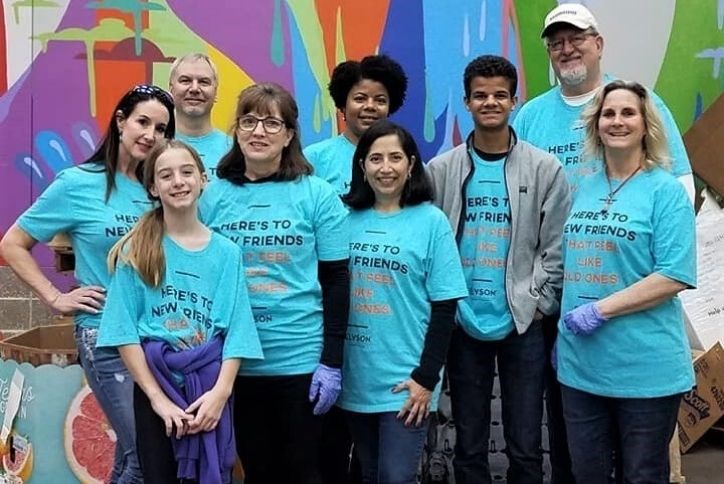 Giving back is becoming an Elyson tradition
Over the past few years, Elyson is already building a strong tradition of community service and giving back.
Much of this is due to the generous spirit of the 1,000+ families who already call Elyson home. Part is also due to vision of Newland, Elyson's developer, who believes that bringing residents together to do good helps to foster a strong sense of community.
"We plan social events for our residents all year long, and our volunteer opportunities are some of our most popular," said Kelly, Elyson's Lifestyle Director. "Giving back is one of our cornerstone visions, and Elyson is creating a strong culture of caring, early on in the life of our community."
Elyson's community service projects started in earnest in 2019, when the community surpassed 500 occupied homes. Enough residents had had enough time to settle in, get to know each other, and begin looking outward toward the surrounding Katy community and beyond.
Here's a look at some of the "giving back" projects Elyson has already accomplished. Many of them have been so well-loved by residents and community members, they are on their way to becoming annual traditions.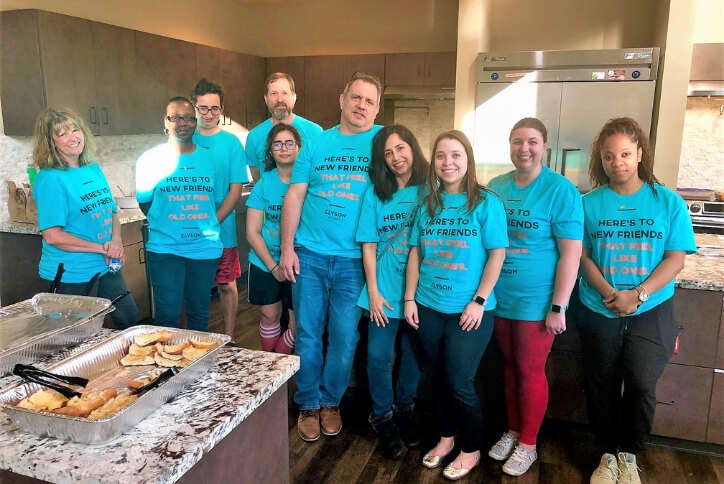 One of Elyson's first efforts was to sponsor dinner for residents of Ballard House in Cinco Ranch, Elyson's sister Newland community in Katy. With 40 rooms and other facilities, Ballard House provides lodging for patients and caregivers who have come to the Katy area for the treatment of life-threatening illnesses.
Served last March, the home-cooked meal was provided by Elyson Café and served by Elyson residents.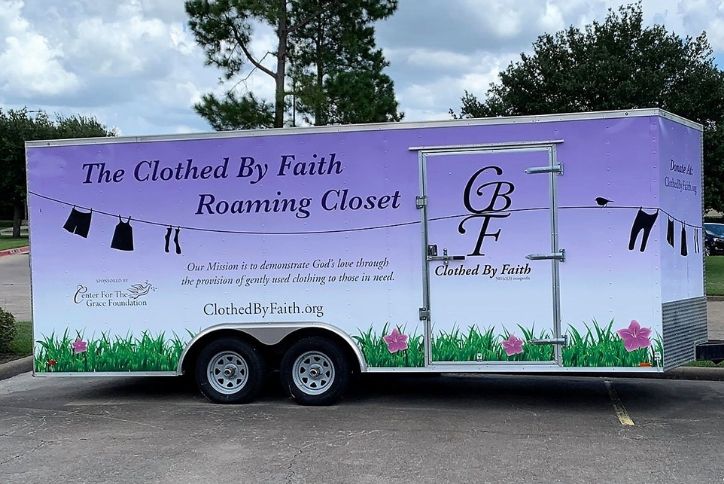 Last August, the Elyson Residential Association – the community's HOA – partnered with Clothed By Faith to host a back-to-school clothing drive. This Katy charity provides gently used clothing to those in need, with the motto of "dignity for all."
Elyson plans to co-host another back-to-school drive with Clothed By Faith this summer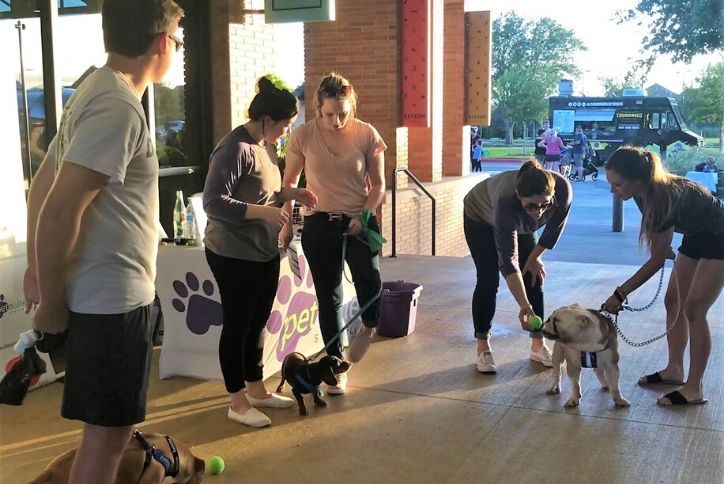 In September, Elyson partnered with Fort Bend County Animal Services to make dog adoption part of its Tails & Ales event. Elyson residents and the public were also encouraged to bring their own dogs to this fun party at Elyson House. It featured live music, food trucks, dog treats, kid's activities and much more. A second Tails & Ales is planned for this fall, and pet adoption will again be part of the festivities.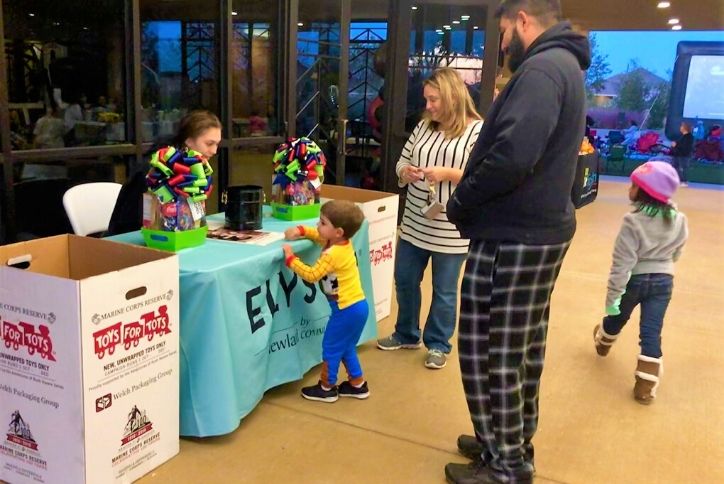 In November, Elyson hosted a toy drive in partnership with Toys for Tots Houston Northwest, as part of a community movie night featuring a screening of "Toy Story 4."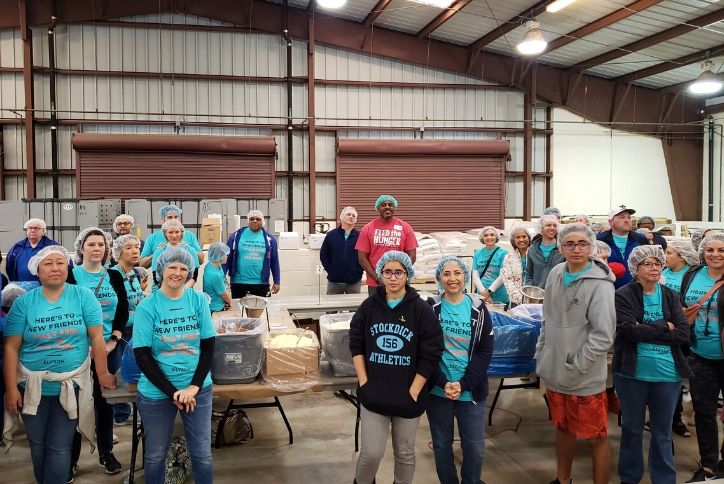 In February, Elyson started off 2020 by sponsoring a station at Katy's Feed the Hunger Packathon. Community volunteers helped pack meals that will be provided to at-risk school children every day of the school year.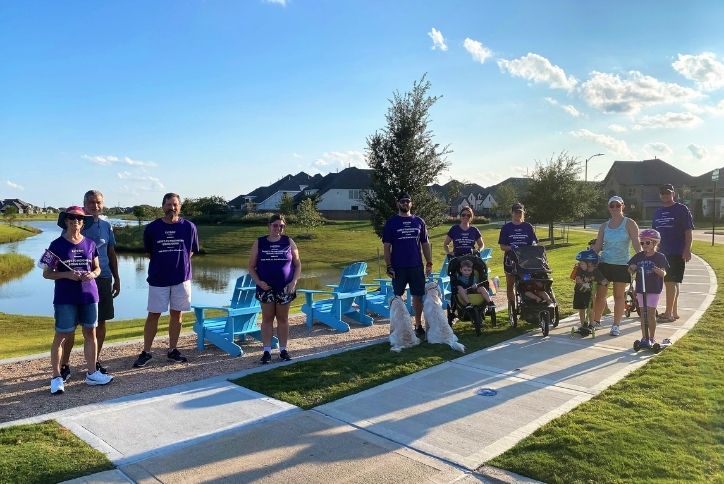 Elyson also sponsored a community team for the 2020 Walk to End Alzheimer's in Katy.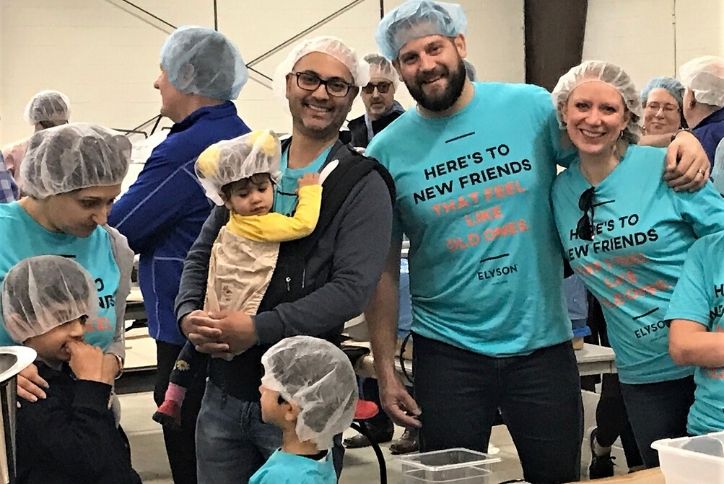 It's easy to spot Elyson volunteers out doing good in Katy and beyond. Just look for the happy folks with the blue t-shirts that say, "Here's to New Friends That Feel Like Old Ones."