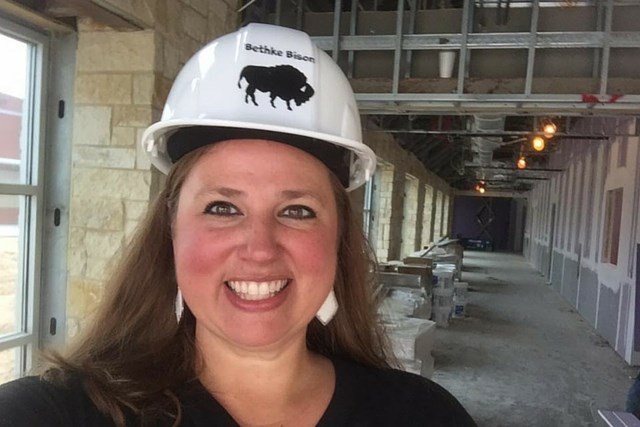 KISD's new Bethke Elementary designed for 21st century learners
Opening in August 2016, Katy ISD's new Bethke Elementary School will welcome the youngest students in Elyson with a state-of-the-art design that fosters collaborative learning.
The school's innovative design includes collaborative activity centers for each grade level, located at the end of each grade-level corridor. Bethke's curved hallways were also designed for learning, with stools, counters and charging stations where students can gather in smaller groups. Windows from the classrooms will allow teachers to keep a watchful eye. The school will also feature a "makerspace" type of learning lab where students can explore projects that intrigue them, such as robotics and coding.
Bethke principal Carrie Lowery says the school will offer the "latest and greatest" in technology, such as smart boards and iPads, and the entire building will be filled with natural light. Lowery said the collaborative approach is designed help students begin learning how to share knowledge at an early age. "Collaboration will become more and more important as we continue to evolve into a sharing economy and society," she said.
Lowery said that Bethke's motto about its official mascot, the bison, sums up the importance of collaboration: "The strength of the herd is the bison, and the strength of the bison in the herd."
Other highlights include science labs on the first and second floors, both with outdoor learning areas. The library opens to an outdoor amphitheater where students can stage performances, and the gym has a skylight and a rock-climbing wall. The school includes an art room with a loft-style blacked out ceiling with exposed ductwork. The art room also opens to a courtyard.
Bethke will also provide the newest learning equipment and environments for autistic students of all abilities and grade levels, Lowery said. In all, the school has 48 classrooms and a capacity for approximately 1,000 students. It is projected to have about 500 students when it opens in August.
Over 75 percent of Bethke's teaching staff will be transferring to the school from within Katy ISD. In its first year, the school will have more than 50 classroom and specialized teachers.
A graduate of Katy High School, Lowery is now in the 20th year of her career in education. Before coming to Bethke, she was the principal at Rhoades Elementary for five years. Prior to that, she worked five years as assistant principal at Hutsell Elementary, which she attended as a child.
Bethke will also have a living namesake, Catherine "Gigi" Bethke, who spent most of her 30-year education career as a kindergarten teacher and reading specialist in Katy ISD. "We're so excited that Ms. Bethke wants to play an active role in the school, reading to students and mentoring them," Lowery said. "She has a wonderful, grandmotherly presence that the kids will really love."
Lowery said that Katy ISD has stated that Bethke Elementary will have a direct enrollment feeder pattern, with its students going on to Stockdick Junior High and Paetow High School. Both of these schools are currently under construction adjacent to Bethke Elementary and will open in August 2017.
For more information, please visit Bethke's website or Facebook page.
(For the 2016-2017 academic year, Elyson students will attend Katy Junior High and Katy High School. The district has not yet officially announced secondary attendance boundaries for Elyson.)