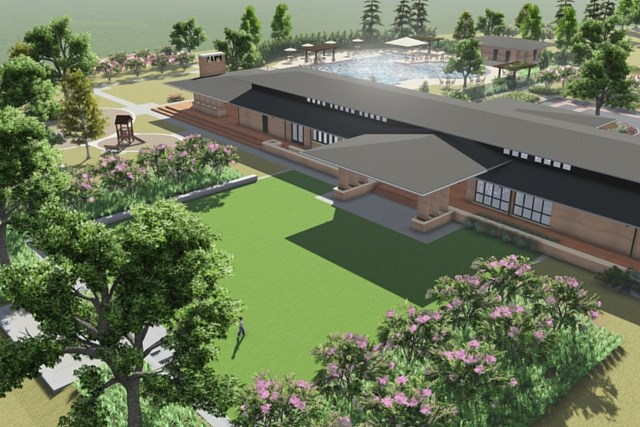 Elyson reinterprets Prairie style for Katy Prairie
If the architecture of the Elyson House and main entry monument at Elyson looks familiar yet fresh at the same time, that's by design. Working with Houston-based Studio RED Architects, Elyson has reinterpreted and updated the classic Prairie style of architecture (think: Frank Lloyd Wright) for this new community on the Katy Prairie.
It's easy to see the architectural heritage of the Elyson House in this definition from www.prairieschoolarchitecture.com:
Prairie School style architecture is usually marked by its integration with the surrounding landscape, horizontal lines, flat or hipped roofs with broad eaves, windows assembled in horizontal bands, solid construction, craftsmanship, and restraint in the use of decoration.
The horizontal lines of the Elyson House are intended to unify this exciting new community destination with the native prairie landscape of the Katy Prairie. The soft, natural colors of the brick, stone and shingles were also selected to reflect the tranquil setting of the Katy Prairie. The same horizontal lines, native materials and restrained yet elegant ornamentation can be seen in Elyson's main entry monument at FM 529 and Elyson Boulevard.
Celebrating the prairie and agrarian heritage of the land, the Elyson logo was inspired by the rice plant, which was an important crop in the history of Katy. The basic shape of this logo is echoed in the main entry monument and in other structures throughout Elyson.
The Katy Prairie is also a major inspiration for the overall vision for Elyson, which will devote more than 750 acres to parks, trails and natural open spaces. These amenities will be beautified with native trees, flowers and grasses that will help to restore the prairie, and groves of pecan and citrus trees will reflect the land's agricultural heritage.
While it's firmly anchored in tradition, the Elyson House will also introduce some of the newest ideas for fun and recreation. Opening in Fall 2016, it will include a resort-style swimming pool with a beach entry, lap lanes and lounging shelves. It will also have a clubhouse with a fitness center and gathering spaces for meetings and special events.
The Elyson House will also have a playground and tot lot, an event lawn with a stage, and a large patio area with dining tables and a fireplace. It will also have a full-service café, the Elyson Café.
Located across from Elyson's first model home village, the Elyson House will also be the community's official Welcome Center for homebuyers.