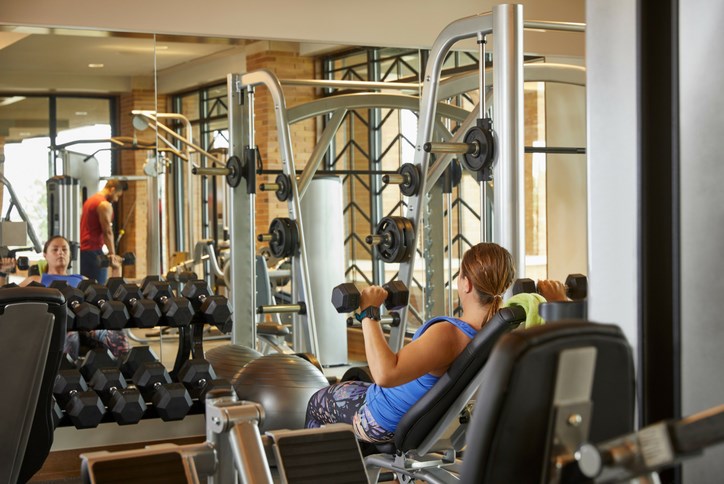 Elyson's fitness center lets you watch the kids while working out
What to do – work out or stay with the kids? At Elyson, you can do both at the same time, thanks to the thoughtful design of the community's fitness center.
Located in the Elyson House community center, Elyson's indoor fitness center includes a glassed-in play area that's easily visible from the workout area.
Filled with games, activities and a TV, this play area can keep kids entertained while parents get in a good workout using the state-of-the-art cardio and weight training equipment.
When neighbors with kids are also working out, that's a great opportunity for both adults and young ones to socialize a bit.
Other highlights of the fitness center include inspiring views to the outdoors as well as up. The high ceiling features rustic wood paneling that was reclaimed from buildings dating back to this land's history as a rice farm.
In fact, you can find hints of Elyson's history throughout Elyson House, from the old rice dryer doors in the gameroom, to the cedar paneling in the Elyson Café.
Speaking of the Elyson Café, it's the perfect place to grab a post workout snack or smoothie. To make life even easier, you can take home dinner for four.
And when you don't need to bring the kids along, other fitness options at Elyson include year 'round swimming, tennis and miles of trails to jog and walk.
Learn more about Elyson's master plan for 750 acres of recreational amenities, parks, trails and natural open spaces.