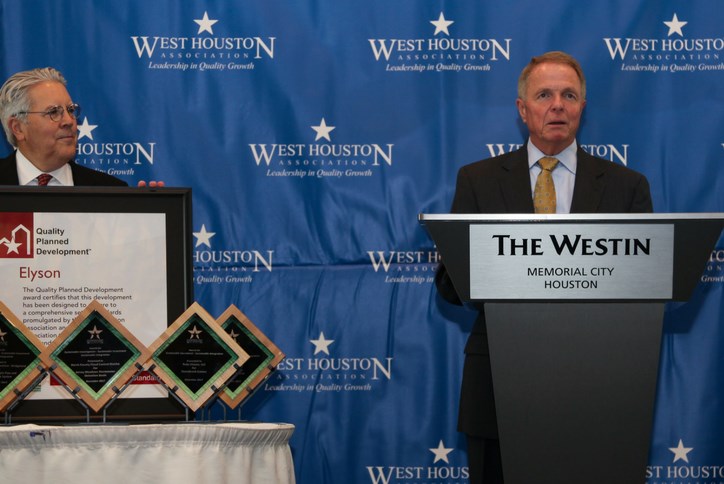 Elyson awarded Quality Planned Development honor from West Houston Association
Elyson has earned the Quality Planned Development designation from the West Houston Association for meeting and exceeding a series of benchmark quality standards for master-planned communities.
"At the heart of Quality Planned Developments are prescribed design and amenity qualities commonly found in superior master-planned communities," the WHA states on its website. "These quality standards blend seamlessly into the fabric of a development, creating a place where people want to live, work and play."
To earn the QPD seal, master-planned communities must meet at least 10 of the WHA's stringent criteria, including creating a homeowners association with restrictive covenants to maintain the community's character and appearance for many years to come.
QPD-approved developments must also have landscaped buffer areas along major thoroughfares, open park spaces, and uniform fencing and signage restrictions. Another determining factor that helped Elyson earn this designation is the fact that all residential units are located within one quarter mile of a park or open space area having a minimum size of 20,000 square feet.
Elyson has a 3,642-acre master plan that devotes more than 750 acres to parks, lakes, recreation centers and natural open space. The community's trail system will extend for almost 30 miles when completed. Its landscaped thoroughfares are lined with beautiful native trees, shrubs and flowers, as well as nut and fruit trees that residents are encouraged to harvest.
This is the second QPD designation earned by Newland, which previously received a QPD seal for its 8,100-acre Cinco Ranch community in Katy.
Learn more about the lifestyle offered in the Houston area's newest Quality Planned Development, Elyson.