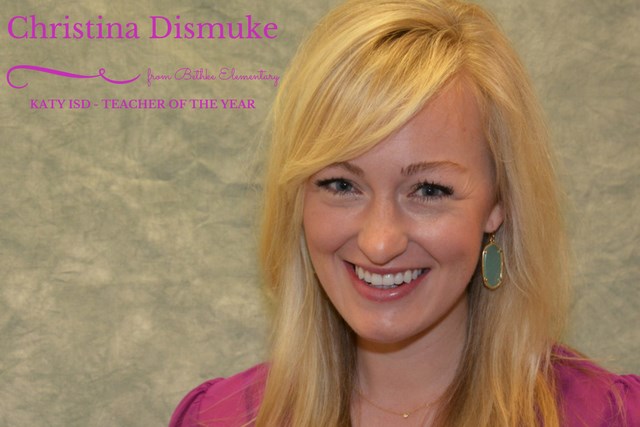 Katy ISD "Teacher of the Year" reflects on "wonderful" first year at Bethke Elementary
Katy ISD's Christina Dismuke, the 2016 Elementary Teacher of the Year for a region covering 50 Texas school districts, recalls a "wonderful" experience during her first year at Bethke Elementary, which opened in 2016 to serve Elyson and other communities.
"Bethke is a family, and a very enthusiastic one. The faculty is filled with teachers selected from Katy ISD and all over the state, and we're all committed to bringing our best ideas and making Bethke the best school it can be," she said.
A graduate of Cinco Ranch High School, Dismuke nearly finished her first year at Bethke, but she took maternity leave in April to give birth to her twin girls. She hopes to return to the teaching staff.
In 2015, Dismuke was selected as Katy ISD's Teacher of the Year when she was teaching at Morton Ranch Elementary School. Katy Magazine also named her as one of its Katy People of the Year in 2015.
In 2016, she was honored as Elementary Teacher of the Year for the Texas Association of School Administrators Region IV, which covers 50 public school districts with more than 1.1 million students.
In her application for Texas Teacher of the Year, Dismuke included an inspirational quote from Howard Thurman: "Don't ask what the world needs. Ask what makes you come alive, and go do it. Because what the world needs is people who have come alive."
"This quote by Howard Thurman was the driving force for me to not only enter the education profession, but also remain there," she said. "Seeing my 'littles,' as I call my students, pursue things that make them come alive daily, reminds me of the initial spark that made me come alive."
Dismuke taught second grade at Morton, and she welcomed the opportunity to teach kindergarten at Bethke.
"I taught kindergarten during my student teaching days, and I always had the itch to go back," she said. "I love getting to know my youngest learners. It's very important to see where they start and to build on that."
Dismuke graduated from Texas A&M University, and returned there to earn a master's degree in curriculum and instruction.
Bethke Elementary School is part of a K-12 Katy ISD tri-campus located approximately two miles from Elyson. Stockdick Junior High School and Paetow High School will open in the campus in August. Elyson students are zoned to attend all three of these new schools.