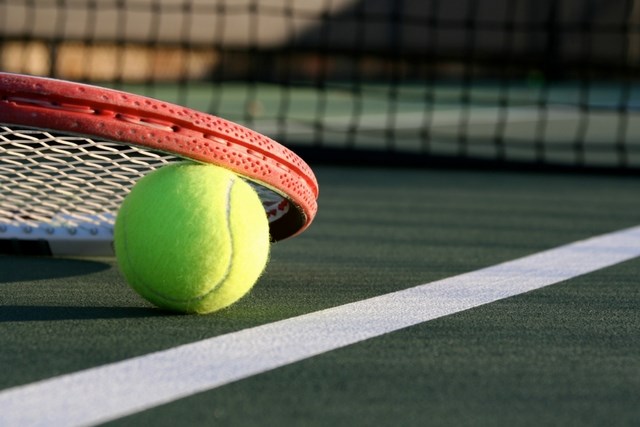 Tennis, anyone? Two new tennis courts to open in Elyson in spring 2018
With its classic Prairie-style architecture, Elyson's Elyson House community center looks like it could have stood on the Katy Prairie since the city of Katy was founded more than 100 years ago. Despite its timeless appearance, Elyson House is barely a year old, and it's already expanding with the addition of two new tennis courts.
The first of multiple sets of tennis courts planned for Elyson, the new tennis courts at Elyson House will open for play in early 2018, next to the big community pool.
The courts will add to Elyson House activities that already include working out at the indoor fitness center, taking the kids to the playground, or enjoying an outdoor movie or concert on the event lawn.
Elyson House also includes a game room with foosball, ping-pong and shuffleboard. The antique metal rice dryer doors that surround the big TV are just one of many historic details in Elyson House, reclaimed from this land's agricultural heritage and preserved to honor its history. (Another: look up in the fitness center and the main hall to see the historic wood ceilings.)
Elyson Café is another highlight of Elyson House, offering a full menu of pizzas, pastas, soups, salads, burgers, smoothies and more. Open seven days a week, Elyson Café has expanded its hours as Elyson has grown. It has also added poolside service, beer and wine selections, and take-home family meals. In addition to its regular hours, Elyson Café opens during special events at Elyson, with menu specials for residents and guests to enjoy.
Overall, Elyson's 3,642-acre master plan dedicates more than 750 acres to parks, lakes and natural open spaces. It also includes a trail system that connects neighborhoods to Elyson House and other recreational amenities, as well as to the site of a future Katy ISD elementary school planned for Elyson.
Read more about Elyson's lifestyle and see photos of Elyson House and other Elyson amenities. To find the perfect new home priced from the mid $200,000s to $600,000s at Elyson, take virtual tours of our fully furnished model homes, and use our convenient Homefinder tool.