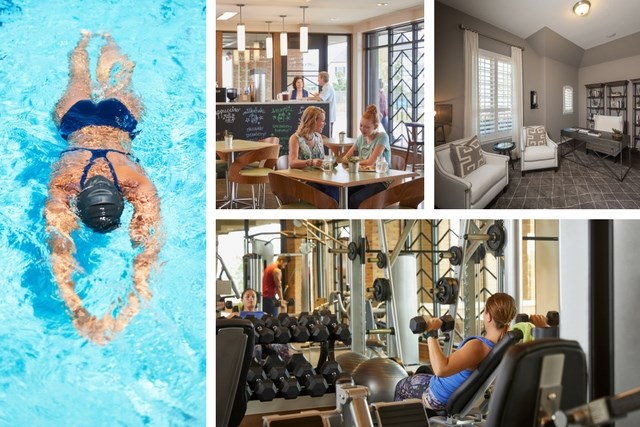 Work from home? Elyson has homes and amenities designed to boost productivity, slash stress
Working from home has never been more popular, and Elyson and its homebuilders are embracing this trend, with home plans and amenities designed to make telecommuters healthier, happier and more productive.
About one-quarter of all adults now do some or all of their work from home, according to the Bureau of Labor Statistics. Among those in management, finance and other professional jobs, the figure rises to 38%.
A 2017 Gallup survey of 15,000 adults found the number to be even higher, with 43% of employed Americans spending at least some time working remotely. The number of hours Americans spend working remotely is also increasing, Gallup discovered.
With the work-at-home wave getting stronger every year, communities like Elyson and their leading homebuilders are responding to changing homebuyer needs and preferences.
Even though technology makes it possible to work from any room at home, experts recommend setting up a separate, dedicated home office space. This promotes focus, and also helps you relax in non-work areas of the home.
Each of the 15 fully furnished model homes in the Elyson Model Home Village showcases a home office area. Most models feature a study located near the front door, with French doors and built-in bookshelves included or available as options.
Some plans offer options for more than one home office space. Pulte's Amherst model features a personal planning center with a built-in desk, open to the family room and kitchen area. The flex room near the front can be built as a traditional study, or an extra bedroom.
Wiring and technology available in today's new homes make it a cinch to use tech tools to connect with co-workers and participate in virtual telecommuter communities.
Beyond the home office, Elyson's master plan and amenities can help residents stay healthy and happy while working from home.
"Working from home can present a unique set of challenges. The abundance of alluring snacks in the kitchen, the lack of social stimulation and the temptation to work in an ergonomically unsound position, like in bed, can all sabotage an otherwise virtuous worker's best health intentions," writes Dr. Natasha Withers in Entrepreneur magazine.
Withers recommends getting up to move and stretch once an hour, and getting out at least once a day. Enjoy flexibility of a work-at-home schedule by planning workouts during the day, she advises. You can even schedule meetings at the gym, to get your work and workout done at the same time.
At Elyson, telecommuters can take a break and enjoy miles of trails that meander past parks, lakes and open natural spaces. For a healthy snack, they might even stop to gather some citrus or pecans from one of Elyson's community orchards.
Elyson residents who work at home have an added advantage: the Elyson House amenity center. Centrally located, Elyson House includes a fitness center for working out, an inviting pool for a midday swim, and the Elyson Café for a quick lunch with a friend or colleague. Elyson residents can also rent the meeting room at Elyson House for a business meeting or event.
Residents with children benefit from three Katy Independent School District schools located approximately two miles from the community. All three schools are located in the nearby Katy ISD tri-campus, which includes Bethke Elementary, Stockdick Junior High and Paetow High School.
Use our convenient Homefinder tool to find a new home with the perfect home office space at Elyson, along with all the other features you want. To preview the daily work breaks you'll enjoy at Elyson, visit our Lifestyle page to see Elyson House and other amenities.