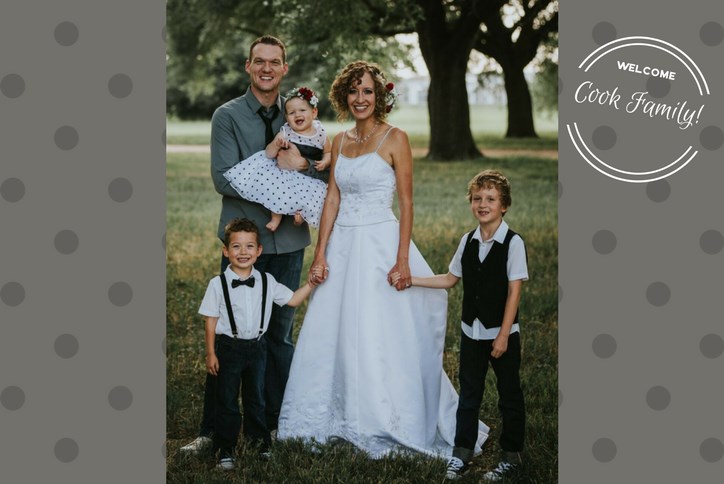 For the Cook family, moving to Elyson was divinely inspired
Many homebuyers say they moved because they got a feeling, even a voice, telling them it was time to look for a new place to live.
Ryan Cook, a pastor with Katy's Kingsland Baptist Church, heard a voice, too. In his case, it came came directly from God.
"We were perfectly happy in our current home in Katy," Ryan recalls. "In fact, we were just about ready for start construction on a garage apartment for my wife's parents."
Ryan says that after a weeklong prayer week last May, coinciding with the National Day of Prayer on May 4, he received a strong impression from God that it was time to move, even though the family was happily settled.
A couple of days after the National Day of Prayer, Ryan was driving down the Grand Parkway, right past Elyson. He turned in to visit the community, and discovered that a festive spring event was going on.
"We had heard of Elyson, and we knew that it was from the same developer as Cinco Ranch, Newland Communities, so we felt confident that it was a quality community," Ryan says. "When I arrived on my first visit, a friendly community representative asked what brought me here. I could only respond that the Lord told me to come."
Ryan said the family's most important concern for finding a new home was that it could accommodate their in-laws. They found the perfect design in Darling's Plan 7490, which includes a large, separate multi-generational suite and an additional separate one-car garage.
Next came the most difficult part: telling his wife, Ashlie, about the message from God, and that he had tentatively found a new home and community for the family.
"I decided that if this was to be, I wasn't going to say anything to Ashlie. I was going to let God tell her," Ryan recalls. "Very shortly after I first visited Elyson, we were driving in the car. Ashlie turned to me and said, 'You want to move, don't you?'"
After that, and another week of prayer, everything quickly fell into place.
"We had a lot of things that had to work to make the move happen," Ryan says. "We needed to hit some very specific numbers, and we wanted a cul-de-sac lot where our three young kids could play. We also wanted a lakefront homesite. The sales consultant agreed to hold our homesite for a week. On the last day, everything came together."
The move to Elyson also appeared to happen with divine ease and inspiration. "With three kids ranging from 2 to 7 years old, we only wanted to move once. In the middle of it all, Hurricane Harvey happened," he recalls. "It was very touch-and-go for a while, but in the end, we got a full price offer from our existing home and the buyers let us stay for a little while after the closing. We celebrated Christmas in our old home and started moving to Elyson the next day."
After six months of living in Elyson, the Cook family feels very much at home. They love the events and activities, and they enjoy walking along the trails almost every day. The grandparents love to take the kids – Peyton, 7, Gracen, 5, and Adeline, 2 – to Elyson House to enjoy the playground, the gameroom and Elyson Cafe.
Ryan also sees an exciting future ahead for his church. He is campus pastor for the North Katy Campus of Kingsland Baptist Church, which currently meets in a temporary home at Bethke Elementary School.
Kingsland Baptist has already purchased land for a permanent home for its North Katy Campus, located at Porter Road and Stockdick Road. In September, the church will move from Bethke Elementary to Stockdick Junior High School until its new home is completed in late 2019 or early 2020.
Located about four miles from Elyson, Bethke and Stockdick are part of a Katy K-12 tri-campus (along with Paetow High School) that serves the community's students.
Join the Cooks and other Elyson families – find your new home in Elyson.