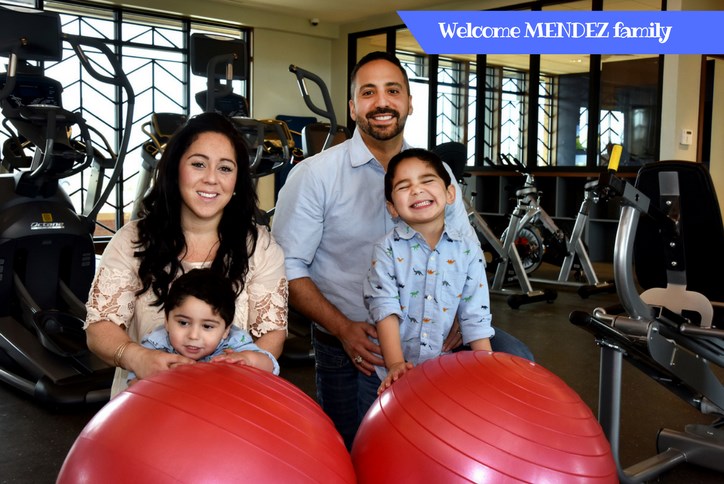 Elyson's location allows oft-moving Mendez family to put down roots
In the 11 years they have been married, Maria and Daniel Mendez have moved seven times, always to be closer to Daniel's work at a leading chain of automotive dealerships.
When they decided to buy their first new home, Elyson was the first and last community they looked at.
"When you have so much experience with moving, you learn to size up an area and neighborhood very quickly," Maria said. "We had planned to look at several communities, starting with Elyson. After we saw Elyson, we both decided we didn't need to look any further."
A combination of convenience and lifestyle convinced the Mendez family that Elyson was the community for them.
"With Elyson located right on the Grand Parkway, it doesn't matter where Daniel gets transferred in the future. Right now, he works in Sugar Land, and the Grand Parkway makes it easy to get to any part of Houston," Maria said.
The family was also impressed by Elyson's first major amenity, Elyson House, and its overall plan for more than 750 acres of parks, trails and natural open space.
"We could immediately sense that Newland was very thoughtful about their long-term vision for Elyson, especially in preserving a feeling of spaciousness and openness as the community grows."
Maria and Daniel are parents to sons Danny, 3, and Sebastian, 2, along with four dogs. "We call our sons the Dynamic Duo, and they love coming with us when we work out at the fitness center."
The fitness center at Elyson House includes a glassed-in playroom, so parents can keep an eye on kids while they work out. For the Mendez family, this amenity works exactly as designed.
"The kids get really excited when it's time to go to the fitness center," she said. "Danny grabs his backpack, and Sebastian loves to hold the key card. They have a ball all the time we're there, and that's a wonderful benefit. We all get to get out of the house and burn off some energy."
The family also enjoys other Elyson amenities. "We use all the amenities to the max. We love the pool, the playground, and all of the activities that Elyson has for residents," Maria said.
Maria said the whole family is impressed by the welcome center staff at Elyson House, and also with their builder, Highland Homes.
"The community representatives at Elyson were so friendly and helpful from the first minute we walked in," she said. "Highland was very helpful and professional. They worked with us to build our dream home from the ground up, so we could get the exact floor plan and designer selections we wanted."
Maria says they wanted their home to have a rustic, farmhouse feel, with warm hardwood floors and a fireplace with a cozy raised stone hearth.
Maria also taught in the Katy Independent School District for eight years, so she needed no convincing about the excellence of the schools serving Elyson.
"We feel like we have put down roots in Elyson, and we can see staying here until the kids graduate from high school," Maria said. "We also lucked out in getting the funnest group of neighbors in our cul-de-sac. We all sit outside and play with the kids at least twice a week."
Learn more about the Elyson story, and find your own new home with our Homefinder.