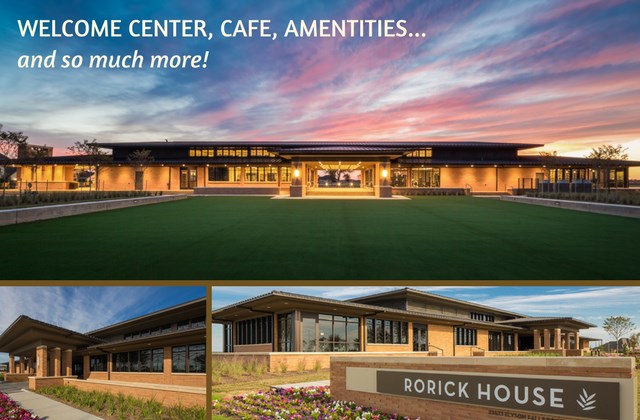 Elyson wins Houston's Best Award for Best Recreation Center
Elyson House, Elyson's fun-filled community center, has won a Houston's Best PRISM Award for "Recreation Center of the Year" among Houston area master-planned communities.
This award was bestowed by the Greater Houston Builders Association, with winners chosen by judges who work outside of the housing industry.
The judges were impressed by Elyson House's inviting Prairie Style architecture, designed to harmonize with the surrounding environment of the Katy Prairie.
Inspired by the classic designs of American architect Frank Lloyd Wright, Elyson House embraces residents and visitors with open and flowing interior spaces, abundant windows with Prairie details, and warm natural materials such as wood and stone.
This unique building also embraces the history of the land that is now Elyson, incorporating reclaimed materials from the old agricultural structures that once stood here.
Elyson House fitness center has a unique design that lets parents work out while keeping an eye on the kids, who can entertain themselves in an adjoining glass-walled playroom.
Elyson House also offers a gameroom with foosball, ping pong, shuffleboard, a big-screen TV and a variety of board games. The meeting room hosts resident events.
Another highlight is Elyson Café, a café that welcomes residents and visitors with a diverse menu of pizzas, pastas, burgers, salads, coffees and much more. Elyson Café also serves wine and beer selections, and poolside service is available. It also offers complete Meals to Go for four, a tasty convenience for Elyson residents.
Outside, Elyson House has a playground and an event lawn that hosts special events such an outdoor movies and concerts. The fun swimming pool and splash pad complex is open for year-round (although unheated) swimming. Two tennis courts will open in 2018.
Elyson House is also home to Elyson's Welcome Center, which also won a Houston's Best PRISM Award for "Developer Welcome Center of the Year."
Learn more about Elyson's master plan for more than 750 acres of parks, trails, lakes, recreation centers and natural open spaces.