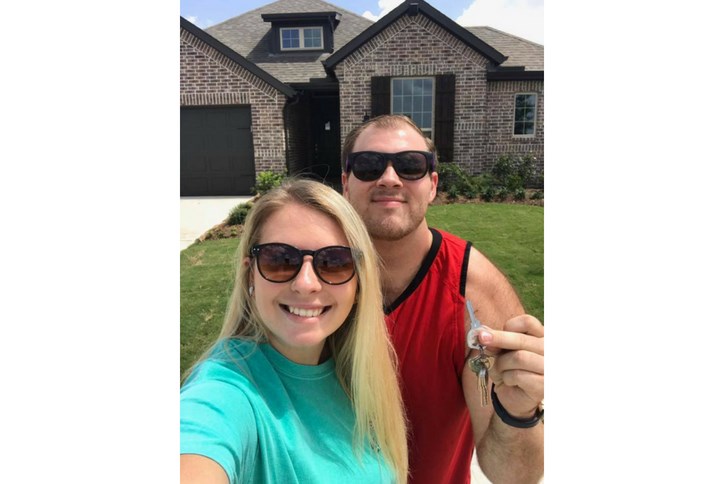 A first-time buyer himself, Realtor Tyler Knowles helps fellow Millennials find path to homeownership
After graduating from Nicholls State University in Louisiana, where he played football, native Katy resident Tyler Knowles has quickly found success as a real estate agent. For the past three years, he has been a Realtor with the Jimmy Franklin team at RE/MAX Grand, specializing in Katy, Cy-Fair, Richmond, the Inner Loop and other areas.
Tyler is also completing his first year as a homeowner. Last summer, he moved into a new Highland home in Elyson, which he shares with his girlfriend, Mikayla.
Having grown up in Katy, he was very familiar with the area, and he narrowed his choices down to two communities when he decided to buy his first home. In the end, he chose Elyson for what he calls its "value proposition."
"I've helped many of my friends' parents sell their homes in Cinco Ranch. Most had bought early in the life of the community, and they were doubling their money or better," he said. "For myself, I saw the same kind of opportunity for appreciation in Elyson, a new community by Newland Communities, which also created Cinco Ranch."
Tyler, 25, encountered a few obstacles along his journey to homeownership, and he uses that experience to help others get into their first homes.
When he starting looking at homes for himself, he was just a little over a year out of college. As a new Realtor, he didn't have a W2 or several years of tax returns to show.  The first three builders he approached turned him down, but he found success with Highland Homes.
Today, he advises his fellow Millennials and buyers of all generations about the rewards and challenges of buying their first new homes.
"I try to dispel several misconceptions, including the idea many people have that they need a lot of money to get into their first new home," he said. "I advise putting 10 percent instead of 20 percent down, because you can buy a lot more home that way, and there are several strategies for dealing with the Private Mortgage Insurance that's required with less than 20 percent down."
He said many younger buyers don't appreciate how historically low interest rates are today. "Buyers might get scared off when interest rates tick up a fraction of a point, but they don't realize that rates are still incredibly low," he said. "Both of my parents are Realtors, and I remember them talking about rates near 10 percent back in the day."
Tyler's helpful approach has been very successful, especially at Elyson, where he estimates he will have closed about 12 new homes by the end of this year.
As an Elyson resident, Tyler is enjoying all of the community's amenities, along with the rewards of "watching my home investment grow."
He uses the fitness center at Elyson House almost every day, and enjoys Elyson Cafe at least once a week, especially for the take-home meals-to-go.
Tyler also loves Elyson's location and the way it is convenient to both Katy and Cy-Fair. "I do a lot of business in Katy and Cy-Fair, and I can get to either in 15 minutes or less from Elyson," he said. "Having grown up near Cinco Ranch and gone to Cinco Ranch High School, I love being so close to all the amenities there, including LaCenterra. It was also critical for me to buy a home in the Katy Independent School District, and that was another box that Elyson checked."
To talk to Tyler about finding a new home in Elyson, call him at 832-752-0427, or send him an email.