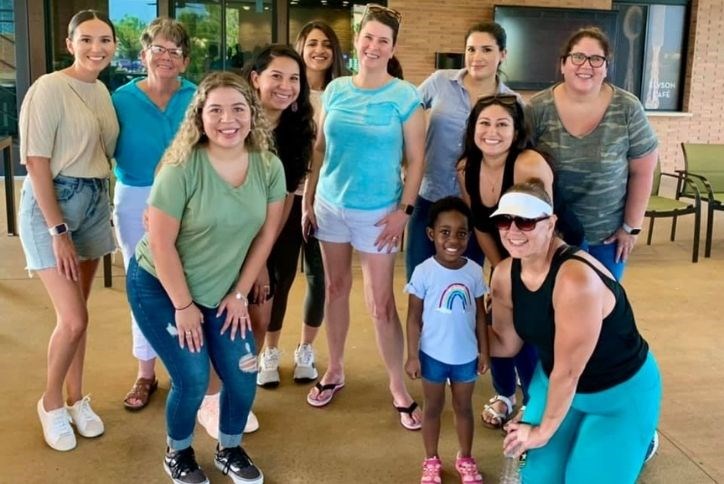 Elyson's social groups connect residents over shared interests
Since Elyson welcomed its first families five years ago, social groups have become an important part of our neighborly lifestyle, along with special events and just being able to meet neighbors out on the trails and at amenities like Elyson House.
The number of social groups has grown along with Elyson, now home to more than 1,700 families. So far, residents have started groups devoted to men, women and teens. There are also clubs for running, racquet sports, biking and other activities.
Residents are encouraged to form new groups if they have an idea or interest that doesn't already exist, with communications support provided by the HOA, and meeting space available at Elyson House and other amenities.
For this blog, we spoke to the leaders of four of our most active social groups, to find out what they've been doing and what's coming up. At the end, we list all of Elyson's clubs, along with a link where residents can join and get more information.
Women of Elyson
Open to women residents over the age of 18, this group meets monthly at Elyson House, typically on the first Wednesday. Members are welcome to bring their favorite beverages, and they can purchase drinks from Elyson Café, which serves wine and beer along with specialty coffees, smoothies and many other drinks.
Coordinator Nayra Soriano says these monthly social hours are a big hit because they provide residents with a casual setting where they can chat and get to know each other. For many, the café is within walking distance, or just a short drive away.
"We are all very different people, and Elyson brings us together in a safe space," Nayra says.  "It has been fun meeting the other ladies in the neighborhood, and it's nice to walk around and see friends you know from the socials."
The group has an active Facebook page where members exchange advice and offer goods to members in need. Mothering and babies are some of the most popular topics of discussion.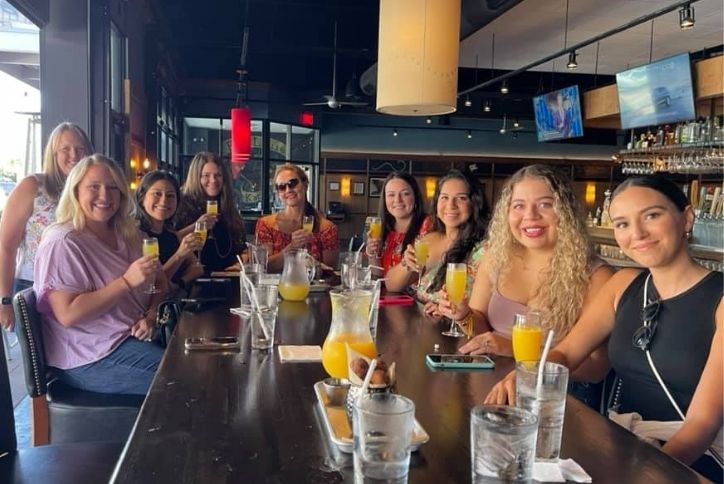 The group also hosts occasional outings near Elyson, such as brunch at Bar Louie at LaCenterra at Cinco Ranch, and an evening at Katy's ErmaRose Winery.
Teen Club
Elyson's Teen Club was founded several years ago when the Sellers family first moved to Elyson, and kids Nico and Daniella wanted to meet other teens living in the community.  
Nico is now and 18, and Daniella is now 15, and the Teen Club has grown into a thriving group of junior high and high school students who gather for games, social events, arts and crafts activities, volunteering and community service projects.
Some of their most talked-about events have been making S'mores by the fire pit in one of Elyson's parks, and an end-of-summer pool party with a DJ, food, games and toys.
Mom Martha Sellers was on board the minute she heard about the idea for the club, and she has loved being an adult facilitator.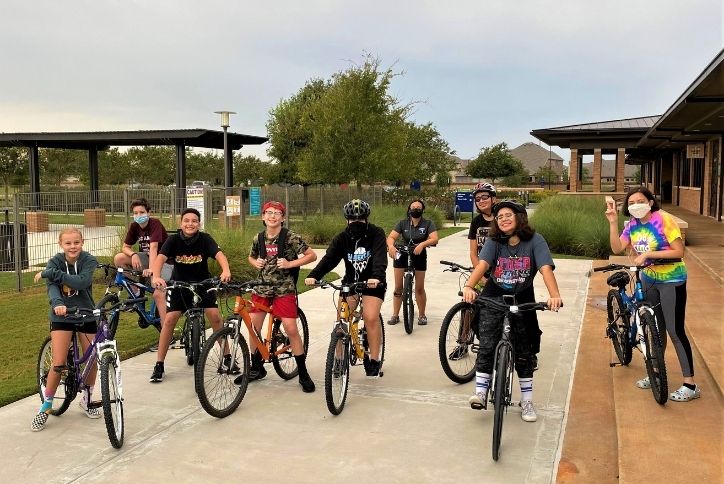 "As a parent, I was thrilled with the idea because I wanted to encourage my kids to socialize and be active, instead of spending too much time on the couch and their screens," Martha says. "So far, my kids and other kids I've met love being a part of this club, and they always look forward to the activities every summer."
The Teen Club meets weekly during the summer and tries to hold at least one or two events during other seasons. This fall, they are planning a Halloween social and a community service project for the holidays.
Men of Elyson
Fishing trips, paintball games and grilling classes are just a few of the activities coming up for the Men of Elyson Club, which has quadrupled its membership over the past few months and continues to grow at a fast clip.
Open to men ages 21 and up who live in Elyson, the group hosts a monthly social hour at Elyson House, along with an active slate of activities in the surrounding area.
Recent outings have included a field trip to the Fellas and Firearms event at Athena Gun Club, sports days at a local park, and Touchdown Sundays at Bar Louie. One of its most successful events was a meetup at Katy's No Label Brewery, where members enjoyed live music, games, food, and of course beer.
Organizer Ryan Kasperek says they try to plan activities about six months in advance, to give members plenty of time to get them on their calendars. He said the group has a very open concept, encouraging members to plan smaller events and often meet informally.
Ryan said Men of Elyson reflects Elyson's diversity, avoiding politics and other divisive topics, while encouraging members to share their skills and interests.
"It's really a brotherhood. Members know we can ask each other for help, and that other guys in the group will be there for them," says Ryan. "I think the group has grown so fast because we provide a space for men to open up and break away from anything stressful that might be going on."
Elyson Book Club
Reading is fun-damental at Elyson, where the Book Club meets monthly at members' homes for informal gatherings with desserts and drinks.
The pre-selected book of the month is the main topic of discussion among members, who range from their 20s to their 80s. Any adult who lives in Elyson is welcome to join.
Organizers Beth Henderson and Melanie Royo said books are sometimes selected to coincide with the season, such as Halloween and the holidays. Given Elyson's diversity, they tend to avoid books with strong religious or political themes. All books picked with the consent of the attending members.
Discussions are intended to bring forth shared commentary about the book, how the story may have impacted each reader, and any relevancy historical or present times. If a member prefers, they may listen to an audio version instead of reading.
"Everyone enjoys a relaxing time, socializing and gaining the insights and takeaway of each story," Melanie says.
Sometimes, the club veers off the printed page, such as when they enjoyed a pre-Covid outing to watch the movie version of one of their selections, "Where'd You Go, Bernadette," at a local theater.
"It was a fun social activity that was relevant to the book of the month, and comparing the film version versus the book," says Beth.
More social groups
Following is a list of more social groups that are currently active in Elyson. Residents can access contacts and links to the groups' Facebook pages from MyElyson.com.
Biking Group – This group seeks to unite bikers young and old, and with all levels of skills and experience, to explore Elyson and share their fitness journeys. The group is active from spring to fall and meets two to three times per week.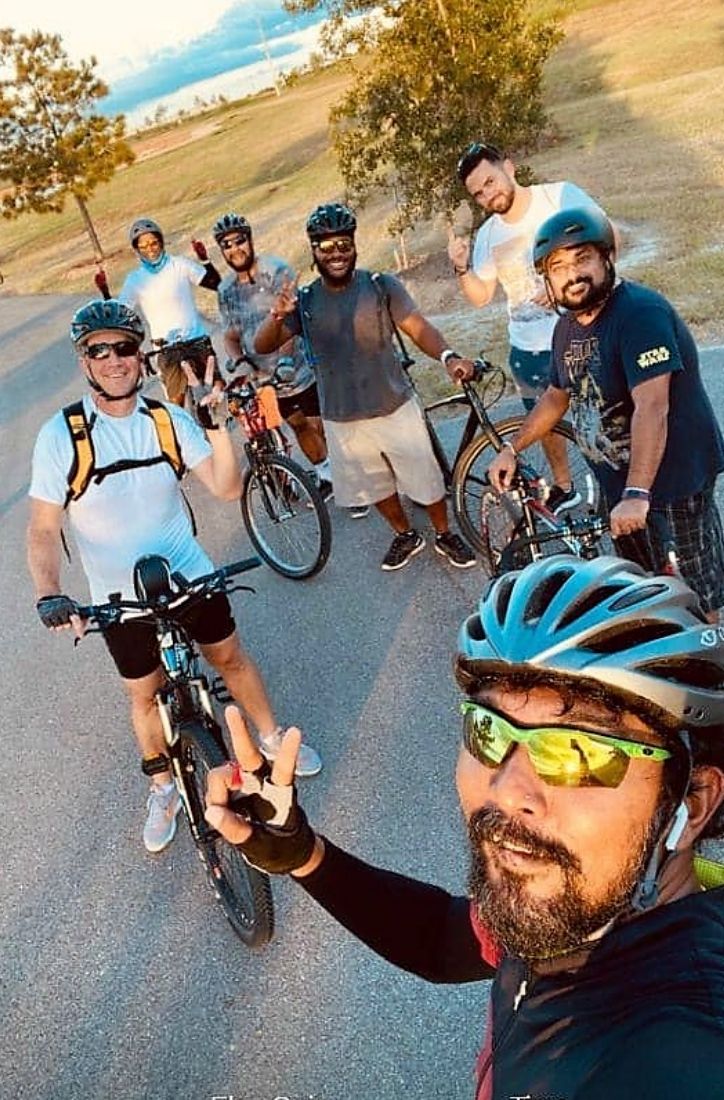 Bunco Group – This group meets regularly to socialize over one of America's favorite dice games.
Motor Club – A group dedicated to car lovers, with regular meetups and activities.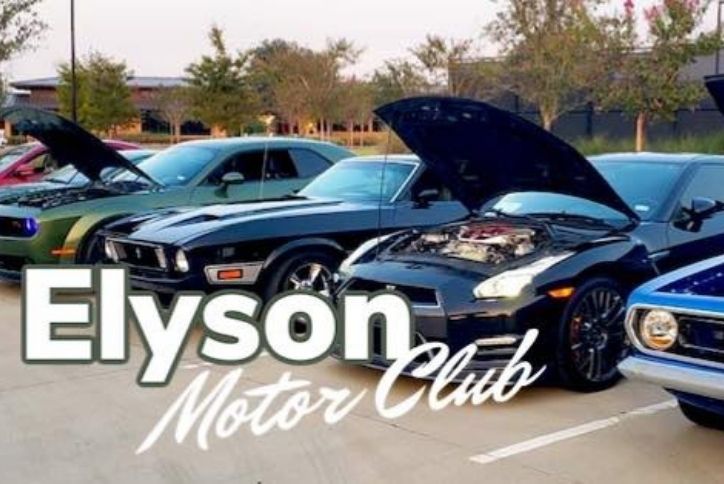 Racquet Club – For those interested in all racquet sports, including tennis, table tennis, pickleball, racquetball and squash.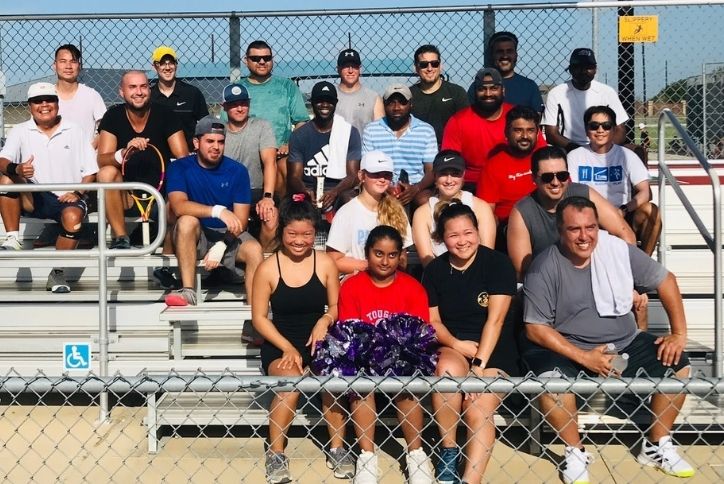 Running Group – Open to all ages and fitness levels, this group meets for runs throughout Elyson. As this group grows, so does Elyson's trail system, which will ultimately extend for nearly 30 miles.
Residents can visit the community intranet, MyElyson.com, for more information or to start your own club.