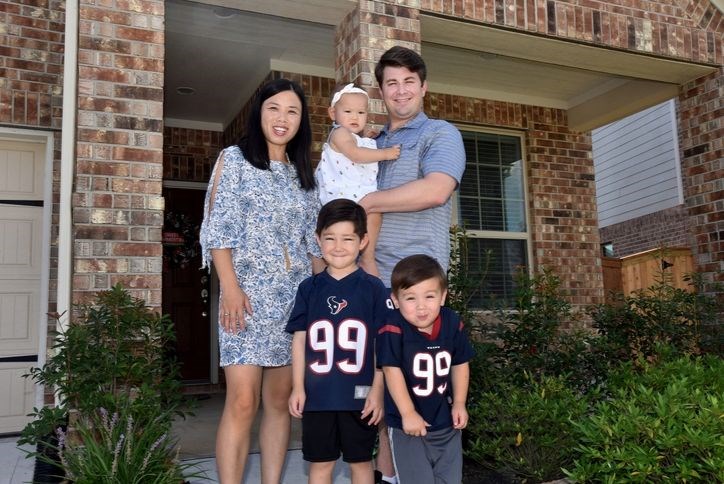 Meet the resident who started Mommy & Me at Elyson
When Zoey and Chris Marco's oldest child started getting close to school age, they did a little research on the elementary school they were zoned to in their Tomball area neighborhood, and found out it wasn't highly rated.
More research convinced them that the Katy Independent School District, rated as the No. 1 Best School District in the Houston Area by Niche, would be the best district for all three of their young children. After visiting several Katy ISD communities, they chose Elyson, impressed by a master plan that included more than 750 acres of recreation and natural open space.
With three growing kids, they also needed more space than their old home could offer, and they found the perfect floor plan from Pulte at Elyson.
Not long after moving into the family's new home, Zoey started enjoying the monthly Story Time readings at Elyson House, but longed for more frequent activities for young kids and their moms.
Fortunately, Elyson is a community that encourages residents to form interest groups, and supports them with communications to fellow residents and meeting space at Elyson House.
Zoey decided to use her degree in early childhood education, and her experience as a preschool teacher in China, to create a new Elyson group that would that would give young kids a chance to develop their cognitive and motor skills. The group would also give her a chance to meet and socialize with some of her fellow moms at Elyson, Zoey reasoned.
Her group, Mommy & Me, has turned out to be a hit. About 10 kids and their moms meet every Monday morning for Mommy & Me activities each week at Elyson House. During the school year, activities are designed for kids ranging in age from infants to up to two years old. During summer and holiday breaks, kids of all ages are welcome.
The activities take place inside Elyson House during summer and winter. When the weather is nice, the group spreads out on the Event Lawn and playground to enjoy fresh air and sunshine.
Each class begins with Zoey leading the kids in a welcome song that begins, "The more we get together, the happier we will be…"
The classes include more singing, story readings, games, art projects, and playing musical instruments. Zoey has also created a variety of games using a colorful giant parachute.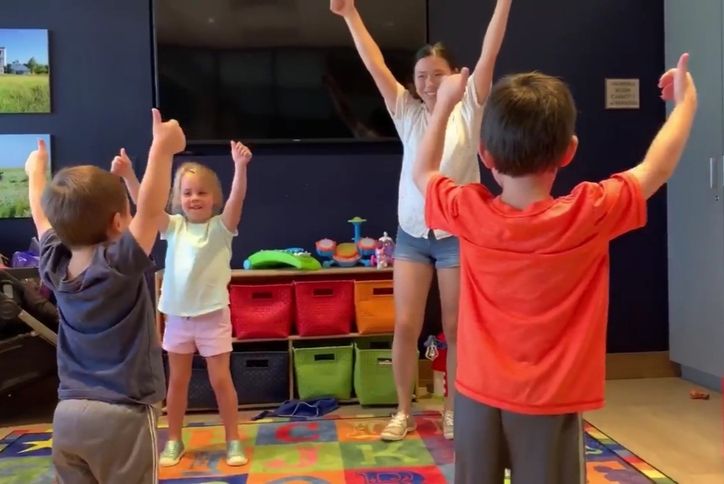 Mommy & Me classes are free, and Zoey has also introduced a monthly painting class for kids, with a small fee to help defray costs for canvasses and art supplies. Each art class starts with a theme, such a painting an autumn tree or springtime landscape, with fingers as well as brushes.
Zoey says the Mommy & Me group, and the social nature of Elyson as a whole, has provided a sense of community and belonging for her. She is still relatively new to Houston and the U.S., moving here in 2013 with her husband. An American, Chris was studying Mandarin in China when he met Zoey. After they married, they relocated to the U.S. and Houston for Chris' job, with a company that provides high-strength gloves to the energy industry.
Elyson's location on the Grand Parkway, about midway between the Katy Freeway and U.S. 290 West, is convenient to both the Energy Corridor and to Chris' other family members, who live in the Copperfield community in the northwest Houston area.
Read more resident stories from Elyson and see upcoming events and activities.