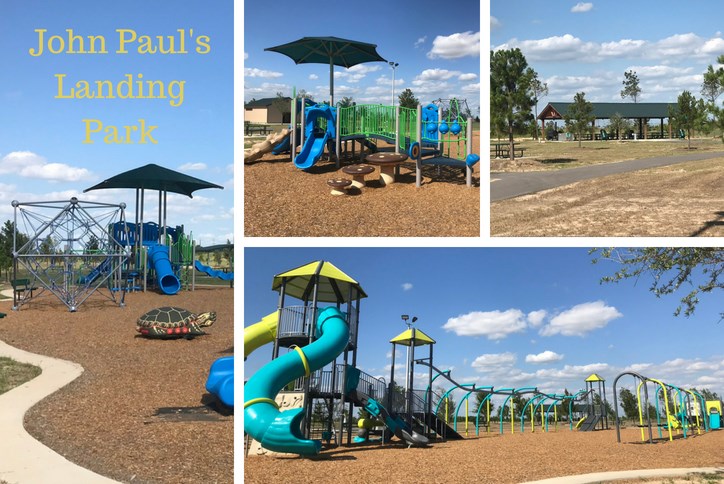 John Paul's Landing Park adds to Katy's recreational opportunities
Opened this spring, the 850-acre John Paul's Landing Park is the newest of many recreational opportunities in Katy and it is less than 4 miles from Elyson.
Located on West Road, between the Grand Parkway and Katy Hockley Cut Off Road, the park features three distinct areas, all connected by a walking trail. Amenities include playgrounds, picnic pavilions and a 150-acre fishing lake stocked with bass, catfish, crappie and sunfish.
An environmental education center is under construction and scheduled to open in early 2019 at the park. It will include a classroom area, a great room and exhibits to help visitors learn about the area's native vegetation and ecosystem. It will also have demonstration gardens displaying some of the many ecosystems found in Texas.
John Paul's Landing Park is one of Katy's biggest parks, but it is far from the only one. Here are more nearby recreational highlights:
Paul Rushing Park is a 232-acre park also located less than 4 miles from Elyson. It offers softball fields, a playground, 3 cricket fields, a dog park, hiking trails, fishing and a chain-of-lakes wildlife viewing area. 

The chain-of-lakes wildlife habitat is a centerpiece for the park covering more than 100 acres. The area consists of a series of interconnected lakes of varying depths that provide the perfect habitat for native and seasonal birds.

Exploration Park, located in Cinco Ranch, offers a design rooted in children's play, environmental stewardship, educational principles, and an overall site design inspired by water. It also offers visitors a multipurpose play area, an open lawn for unstructured play, and a pavilion with covered picnic area.
Central Green, also in Cinco Ranch, is a signature public plaza space providing the community with a multi-purpose venue for special events, festivals and community gatherings. Designed to feel as if it was built in and around large existing trees, the space provides a variety of open lawn area and comfortably scaled seating spaces for maximum flexibility. A restroom building serves as backdrop for a small performance stage as well as an architectural focal point that fits within the style and character of the surrounding site.
Mary Jo Peckham Park offers many activities within its 32 acres, including a fishing lake and an aquatic and fitness center that offers programs such as Zumba. Ranked as TripAdvisor's No. 1 Katy attraction, this park includes the accessible Playground for All Children.
For some history and culture with your recreation, check out Katy Heritage Park, which includes historic homes, a railroad museum, a bandstand and other treasures from Katy's proud past.
Dogs love the City of Katy Dog Park, a 14-acre off-leash park for dogs of all sizes, offering an agility course, a wading pool, and custom dog showers and water fountains.
Elyson also offers many opportunities to enjoy the great outdoors right at home. With so many fun things to do in around Elyson, how can you ever be bored?