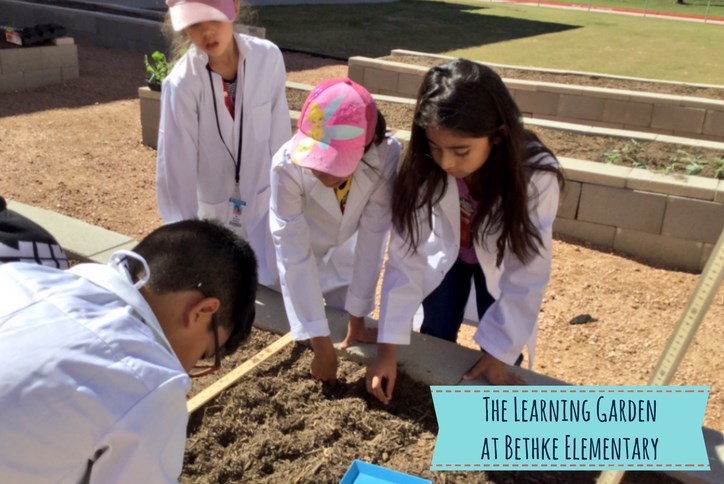 Learning Garden at Bethke Elementary offers kids lessons in nutrition and science
Students at Katy ISD's Bethke Elementary School are getting some nourishing life lessons on the importance of good nutrition, thanks to the school's new Learning Garden.
The 1,600-square-foot garden is located next to the science lab, providing access for students in all grade levels.
The garden was made possible in part by a $10,000 "Expanding the 3Es" grant from the Texas Department of Agriculture. The three "Es" are education, exercise and eating right, reflecting the department's goal of promoting better health and nutrition, and preventing childhood obesity.
The garden was built during a community-wide event in the fall of 2017, with students, teachers, staff, parents and other volunteers contributing 450 hours. Older students from the neighboring Stockdick Junior High and Paetow High schools also pitched in.
The project was spearheaded by Heather Gower, math and science instructional coach at Bethke.
"We thought that building the garden would take eight hours, but with so many volunteers, we got it done in half the time," Heather said.
See this 24-second time-lapse video of volunteers building the garden.
Measuring 40 feet by 40 feet, the garden provides eight raised planting beds, with at least one for each grade level. Each bed is about 12 feet long and two feet deep.
Now in its second growing season, the garden is fulfilling its mission of getting kids excited about eating more fresh vegetables.
"Our goal is to give kids the opportunity to taste veggies they might not want to try otherwise," Heather said. "Since they're very involved in the growing process, getting their hands dirty and watching the plants grow from seeds, the kids have been very eager to taste what they've grown."
Last fall, the students grew carrots, spinach, lettuce, broccoli and snap peas. "It was a short growing season, but everyone got excited, and it left us looking forward to spring."
The garden provides a true cooperative learning experience for Bethke students. The older students do research and decide what varieties to plant in the sunnier and shadier spots of the garden. Each grade level takes turns watering, weeding and fertilizing.  On "Farm Fresh Friday" lessons, the students learn about different veggies and herbs, then plant them in the garden.
Find out more about the benefits of getting kids involved in gardening at home and at school.
Bethke Elementary is one of three Katy ISD schools serving Elyson. All are located in a K-12 tri-campus located approximately two miles from the community.