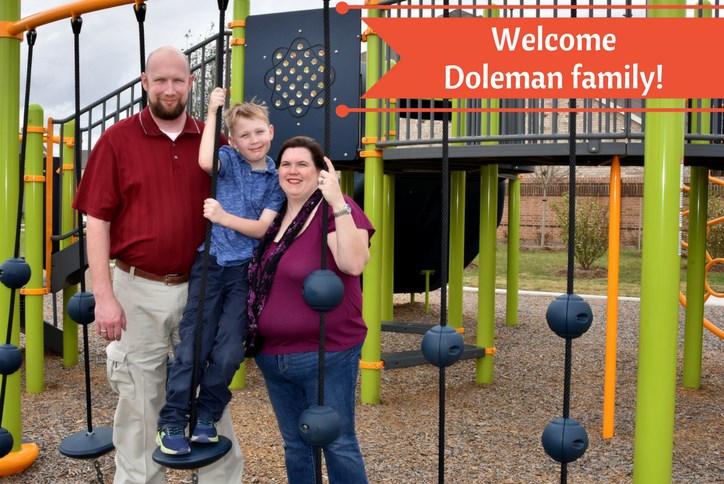 Moving from Cy-Fair ISD, Doleman family notes positive differences in Katy ISD
A graduate of Cy Falls High School, Marjie Doleman describes herself as a "proud product" of the Cypress-Fairbanks Independent School District.
But when it came to schooling their eight-year-old son, Marjie and Brad Doleman realized that he wasn't thriving in Cy-Fair ISD. Like most elementary schools in that district, Braden's school had an open-concept floor plan, with few walls between classrooms.
"Braden wasn't doing well with the open concept," Marjie said. "It was very distracting for him, and he had a hard time concentrating."
Finding a school district that was a better fit for Braden was the family's top priority when it came to looking for a new home.
The Dolemans were aware of the excellent reputation of the Katy Independent School District, having family and friends who taught in the district. They were also familiar with the positive parent reviews of Katy ISD's Bethke Elementary School, which opened in 2016.
"The word of mouth about Bethke was overwhelmingly positive, and we knew that Katy ISD has closed-concept classrooms, so our decision was very easy," Marjie said.
The Dolemans found a new home in Elyson and moved in last summer. With Braden nearing the end of his first year at Bethke, their verdict is in. "We absolutely love Bethke," Marjie said. "The principal and the teachers are wonderful, and everyone is very easy to reach. They also have excellent special education programs."
Finding the best school for Braden was "90 percent" of the Dolemans' reason for moving, but they also wanted to find a new community where they could get to know their neighbors, according to Brad.
"Our old neighborhood had a pool and a couple of small parks, but it wasn't really a lifestyle. We knew a couple of neighbors, and that was about it," Brad said. "We wanted a community that was a real community, where the residents got together and enjoyed family activities. At Elyson, we found much more than we had originally gone out looking for. We are very happy."
Since moving in last summer, the Dolemans have enjoyed many events at Elyson, including Movies on the Lawn and crafting events. They also enjoy the fitness center and Elyson Café.
"We love the park across the street from our home," Brad said. "We've met many neighbors and their families while enjoying the park with Braden. When I brought lunch to Braden at school the other day, many neighbor kids greeted me as 'Mr. Brad.' It was wonderful."
The Dolemans also weighed the costs and benefits of remodeling their existing home, versus buying a new home.
"It was an easy decision to build new. We got exactly what we wanted, down to the granite and tile. Our new Chesmar home came with almost everything, including the blinds, so we didn't have to move in and worry about covering the windows," Marjie said.
The family chose Chesmar's two-story Poplar plan, showcased as one of 15 fully furnished model homes at Elyson. The Poplar has four bedrooms, with the owner's suite and a guest bedroom both downstairs. The open family room and kitchen area overlook a covered patio, and two more bedrooms and a gameroom are upstairs.
The Dolemans are also happy about Elyson's location at the Grand Parkway and FM 529, between the I-10 West and U.S. 290 West.
"I can get to my job in 15 minutes via the Grand Parkway. It's beautiful," Marjie said. "Brad is an IT consultant, so he works all over Houston, and the Grand Parkway lets him get anywhere from Kingwood to The Woodlands in about an hour."
Learn more about how Elyson's location, lifestyle and schools are helping a growing number of families like the Dolemans live the life they want.