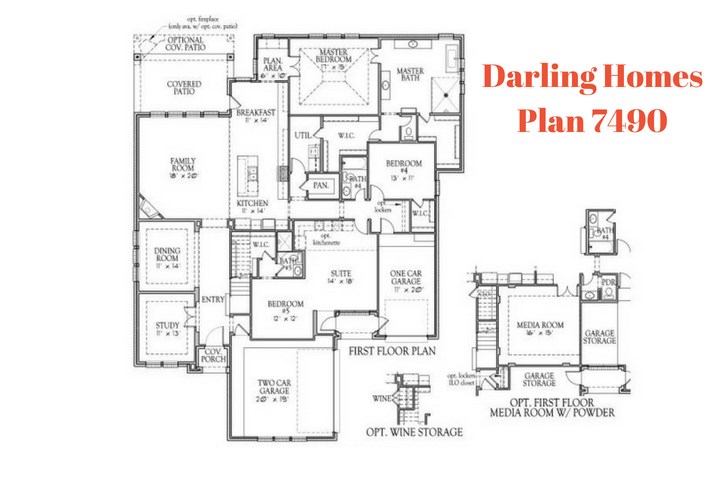 Multigenerational floor plans are perfect for extended households like the Cook family of Elyson
The Cook family's journey to Elyson involves a long and inspiring story, and one of their top priorities for moving was finding a floor plan that would accommodate the maternal grandparents of their three young children.
"We were perfectly happy in our current home in Katy," says Ryan Cook, campus pastor for the North Katy Campus of Kingsland Baptist Church. "In fact, we were just about ready to start construction on a garage apartment behind our home for Ashlie's parents, Dennis and Martha."
One day last spring, Ryan says he received a message from God, strongly urging him to think about moving.  The next time Ryan drove past Elyson, he turned in to take a look at its amenities and new homes.
"I loved Elyson at first sight, and there was a wonderful family event going on when I drove in," he said. "When I started talking to the builders, my first and most important filter was finding a new home that could accommodate all of us, including the grandparents."
The Cooks found the perfect design with Darling's Plan 7490, which includes a multigenerational suite on the first floor.
Located at the front of the home, the multigenerational suite is nicely separated from other bedrooms and living areas in the home, providing privacy for everyone. At the same time, the grandparents can be in the middle of family activity in the kitchen and family room in just a few footsteps.
The suite has a private porch entry and a separate one-car garage. It also includes a living room, a bedroom, and a full bath with a walk-in closet. The Cooks added the optional kitchenette as well.  
"Dennis and Martha really like the privacy of the suite, and they also love it when the kids come to visit them," Ryan said. "They appreciate the fact that the suite is on the first floor, so there are no stairs to climb."
As the approach their first anniversary of living in Elyson, all three generations of the Cook family are happily settled into their new home, and the grandparents love taking the kids out to enjoy Elyson amenities such as the playground and pool at Elyson House.
Elyson offers a growing number of choices for homebuyers seeking multigenerational floor plans, including Ellsworth and Picardy II designs from Village Builders, which has joined the Elyson family of builders since the Cooks moved in.