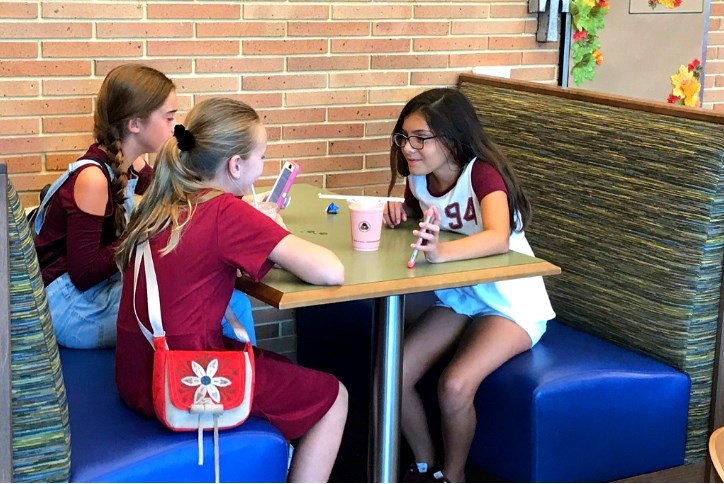 Elyson House is a popular after-school hangout for tweens and teens
Nearly 500 families have moved to Elyson since the community opened in 2016, and for the community's growing number of tweens and teens, Elyson House is a popular afterschool hangout for Elyson students attending Stockdick Junior High and Paetow High, two of the community's highly regarded Katy ISD schools.
Here are the top 5 reasons tweens and teens – and their parents – appreciate after-school time at Elyson House:
Location. Elyson House is located a short distance from the Katy ISD school bus stop in Elyson, making it safe and easy for students to walk right over after school.
Free Wi-Fi. Many young people practically live on their Wi-Fi, and the free Wi-Fi at Elyson House is perfect for helping them get their homework done.
Elyson Café. Anyone with a teen knows they get hungry in the afternoon, and Elyson Café offers a variety of snacks, drinks and smoothies to help calm those hunger pangs. Parents can set up at account at the café so kids don't have to carry cash. The café is open until 5 p.m. on weekdays, and its tables offer a perfect place for students to hang out, eat and use the Wi-Fi.
Activities. Teens and tweens love the game room at Elyson House, which offers foosball, ping-pong, shuffleboard, board and card games, and TV. They can also enjoy the event lawn and playground. The patio is another popular hangout spot, with its big-screen TV and walk-up window for café service.
Staffed hours. The Welcome Center staff at Elyson House is on duty during business hours on weekdays. While the staff doesn't provide any supervisory attention to tweens and teens using the amenity, many parents appreciate knowing that adults are present at Elyson House after school.
Making friends. After-school hours are a great time for Elyson's young residents to get to know each other better amid a fun and relaxed atmosphere that offers plenty of things to do.
See more of Elyson House with our photo gallery.