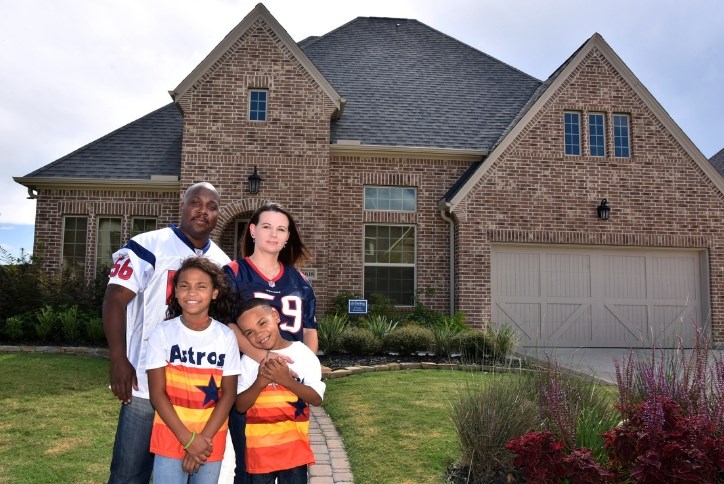 Ferguson family moves up to more space, more amenities at Elyson
Last year, the Fergusons decided it was time to find a bigger home for their growing family, which includes parents Kevin and Kimberli, and their kids Vivian, 9, and Victor, 7.
They had been living in their previous community in the Cy-Fair area for about 12 years, and the space in their house was starting to feel a little cramped.
When the Fergusons started looking around, they soon found out that a one-story plan they were interested in was offered in Elyson, which they had never visited.
"Elyson was an easy drive up FM 529 from Yaupon Ranch, where we had been living," said Kevin. "Yaupon Ranch is a nice neighborhood, with a small pool and park, but not much more. When we visited Elyson, we were impressed by the level of amenities. We also like the open, country feeling at Elyson. We know it will be built up, so we feel like we got in at a very good time."
Kevin said the family is already enjoying swimming and other activities at Elyson House, the community's flagship amenity. An avid runner, he regularly uses Elyson's trail system, which will ultimately extend for nearly 30 miles.
In all, Elyson's 3,642-acre master plan will devote about 750 acres to parks, trails, recreation centers and natural open spaces when the community is completed.
The Fergusons also found the perfect new home in Elyson. "We were adamant about finding a one-story plan, so we wouldn't have to deal with stairs," he said. "We chose a home with over 3,100 square feet, with four bedrooms and 3.5 baths. That was a big upgrade in space from our old house."
With two kids in school, Elyson's Katy ISD schools were another big draw for the Ferguson family. So was Elyson's location at the Grand Parkway and FM 529. About midway between I-10 West and U.S. 290 West, the location makes it easy for Kevin, a police officer, to travel to different parts of Houston. 
Read more resident stories, then explore new homes at Elyson to join happy families like the Fergusons.