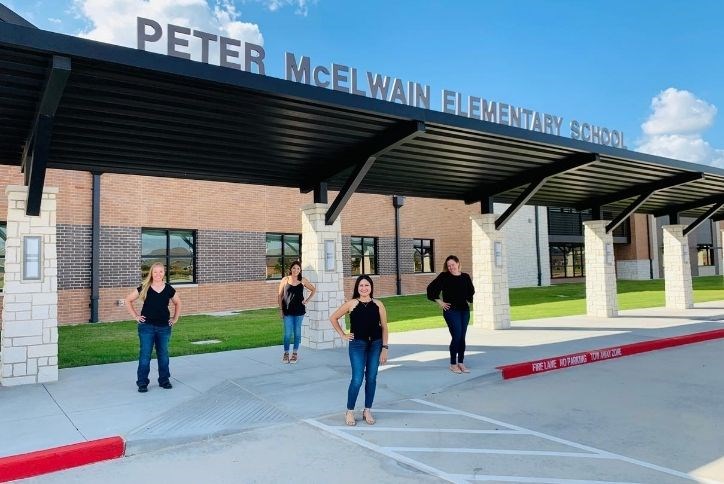 Meet the PTA Board of Elyson's new McElwain Elementary School
With the opening of Elyson's first onsite Katy ISD school, Peter McElwain Elementary, right around the corner, we're excited to introduce the inaugural board of the school's Parent Teacher Association. With members hailing from places as close as Katy, and as far away as Ghana, the board is as diverse as Elyson itself. We thank them in advance for their service!
Yasmin Wilkinson, President
Originally from Ghana, West Africa, Yasmin moved to Houston in 2005. She works for an oil & gas company supporting initiatives and programs for diversity and inclusion. She has a 7-year-old daughter who will be starting the second grade at McElwain this fall, and a two-year-old son. Yasmin joined the PTA to be more engaged in her daughters' school. Her goal is to build stronger connectivity between the school and community by creating inclusive and exciting programs for all.
Nayra Soriano, VP Membership
Nayra is mom of an 8-year-old boy who will be starting the third grade at McElwain. She joined the PTA to be more active in his school and the community. Her goal is to help build a culture where teachers and families come together to provide the best educational and emotional support for young learners. Having grown up in Katy, Nayra is an agency specialist in the insurance industry.
Montoya Hudson, VP Programs
With her youngest daughter starting the third grade at McElwain, Montoya joined the PTA to increase her involvement in the community and promote diversity and inclusion initiatives within the school. An application architect in the healthcare industry, Montoya truly believes children are the start of a new tomorrow and she supports enriching their education as much as possible.
Danielle Malinowski, Treasurer
Danielle is a Colorado native, IT Manager, and mom of an 8-year-old boy who will be starting the third grade at McElwain. She joined the PTA with the primary objective of becoming more active and helping to build a culture that is fun, inclusive, and safe for young learners. 
Sorayda Heugel, Secretary
A mother of four, Sorayda Heugel has two children who will attend McElwain. Her oldest daughter, Alayna, will be starting the fifth grade, and her second-oldest, Natalie, will begin the third grade. The family also includes Brantley, 3, and Savannah, 1. One of her reasons for joining the PTA board is that her daughters have attended other Texas schools where the PTA wasn't very active. "I want to be a parent who is helping to achieve the goals we have for our school," she says. "I want the kids of McElwain Elementary to be able to tell their friends about all of the fun and neat things that their school did."
Meet the namesake of McElwain Elementary, and learn more about all of our K-12 Katy ISD schools.