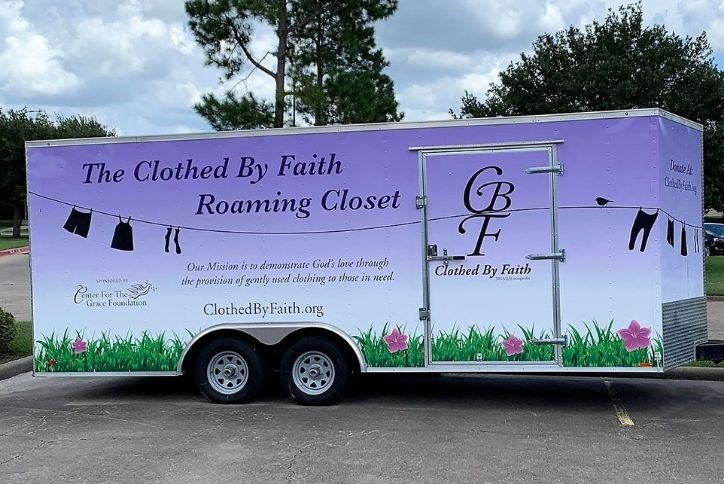 Elyson's 2nd annual school clothing drive is Aug. 3-4
With the new school year coming up soon, Elyson is again partnering with Katy-based Clothed by Faith for our 2nd annual Back-to-School Clothing Drive on Monday, August 3 and Tuesday, August 4.
From 10 a.m. to 8 p.m. on both days, Clothed by Faith's 20-foot-long "roaming closet" will be parked in front of Elyson House, 23623 Elyson Falls Dr.
This year, school uniforms will be collected in addition to other types of new and gently used clothing. Clothed by Faith hopes to provide uniform sets to 100 boys and 100 girls in the Houston area. Each set will include 4 polo shirts plus 2 pairs of shorts, skirts or pants.
Clothed by Faith's website has details on uniform items being collected, plus links to easily purchase and donate bundles of uniform items from Walmart. The website also accepts cash donations.
New and gently used clothing in all sizes and genders, as well as new and gently used shoes, will also be collected. They also need new underwear and socks, and new and gently used accessories such as purses, hats, sunglasses, belts and scarfs.
"As Katy ISD prepares to open our very first Elyson school, McElwain Elementary, in August, the Back-to-School Clothing Drive is a wonderful opportunity to share with families in need throughout the Houston area," said Heather Gustafson, Elyson's marketing director. "As one school counselor told Clothed by Faith, when kids don't have to worry about their clothes being old or not fitting properly, they proudly come to school ready to learn."
Clothed by Faith was founded in 2013 by Katy resident Abi Morton with a simple mission, "Clothed by Faith demonstrates God's love through the provision of gently used clothing to those in need." Today, Clothed by Faith maintains its main warehouse and office at 802 Dominion Dr., Suite 100 in Katy, and it has a southeast area branch location in Deer Park.
See other ways Elyson and our residents give back.