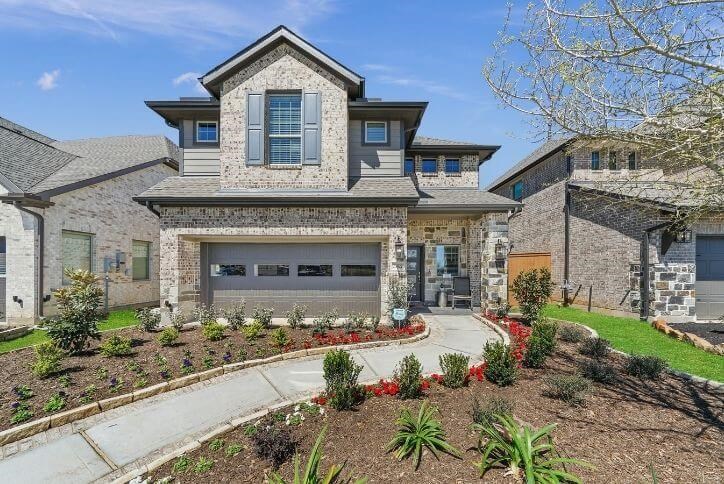 10 things to love in Chesmar's new San Francisco model home in Elyson
This is part of a series of profiles of 12 new model homes now open in Elyson's new Model Home Village. Click here to see more model home profiles. 
Chesmar's new model home in Elyson is called the San Francisco, but this modern four-bedroom plan is pure Texas, starting with a brick-and-stone exterior with a friendly front porch. It even has a bedroom that honors Katy's historic roots – more on that later.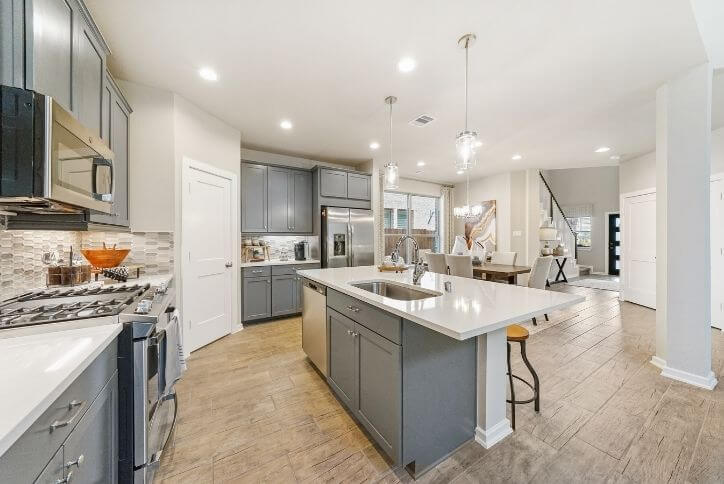 One of 14 model homes now open in Elyson's Model Home Village, the San Francisco showcases a collection of Chesmar homes priced from the $300Ks. Here are our 10 favorite things about this spacious four-bedroom plan.
Two-story family room. Open to the kitchen and casual dining area, the family room has a ceiling that rises two stories. With double-stacked windows overlooking the backyard, this dramatic ceiling height adds an open feeling and floods this room with natural light. The painted horizontal stripes on the entertainment wall draw the eye upward while also adding a bold décor element.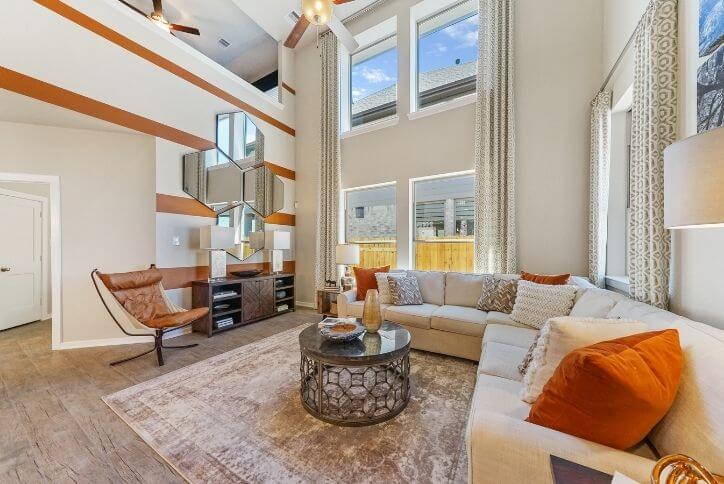 Recipe for good looks. The San Francisco's kitchen is centered around a spacious island that has bar seating for four, with generous overhangs on three sides plenty of space for food prep and serving. Granite countertops, 42-inch upper cabinets and recessed LED lighting are just a few of the included features in this area. The hard-surface flooring, also included, combines the beauty of wood with the durability and easy maintenance of tile.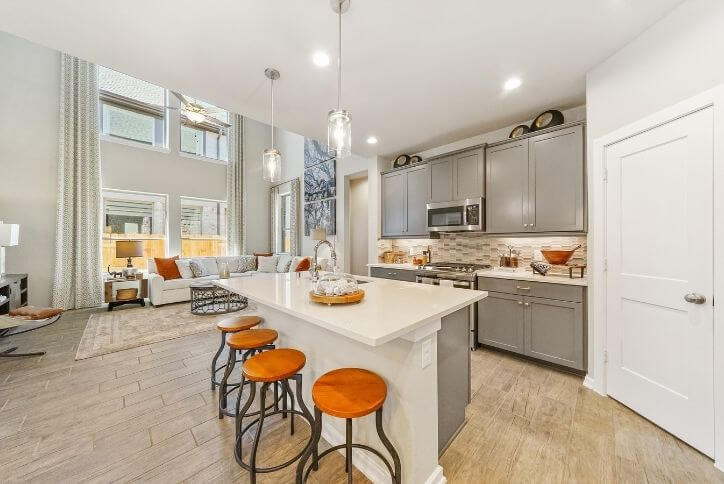 Work from home. The San Francisco offers an option for a formal dining room or a study. With more of us working from home, we bet many homebuyers will opt for the private home office with French doors, as displayed in the Elyson model. This spacious study includes a trestle desk for two, along with a cozy sofa for visitors or well-earned breaks.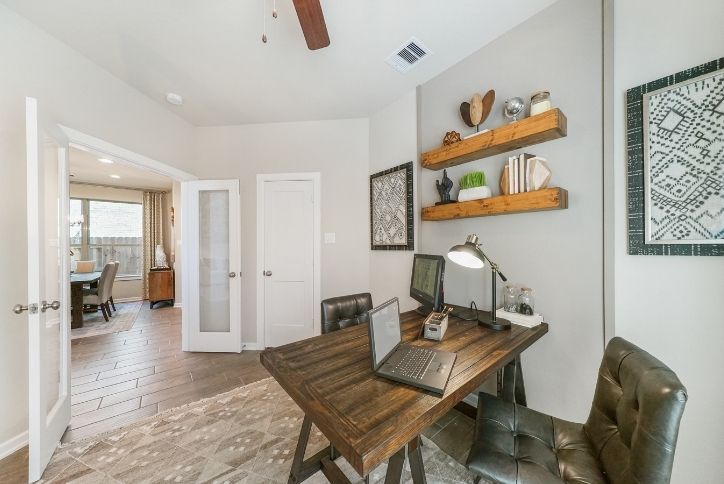 Railroad bedroom. We always love to visit the secondary bedrooms in model homes, because designers usually show lots of creativity here. The San Francisco is no exception. One of the bedrooms has a railroad theme complete with M-K-T décor that honors Katy's origins. The M-K-T, or Missouri-Kansas-Texas railroad, became commonly known as "the Katy," inspiring the name of this new settlement on the prairie in the late 1800s. A signal crossing, a section of rails, an "Engineer" valance and "trestle top" bunk beds add to the fun in this bedroom.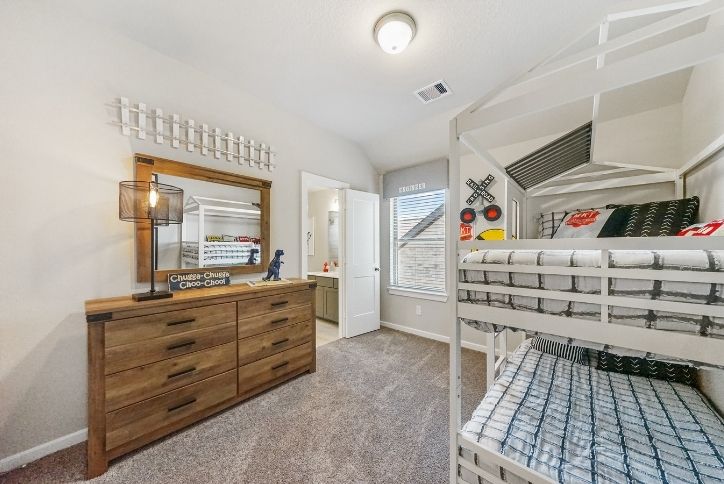 Rainy day bedrooms. Another bedroom has a colorful "rainy day" theme complete colorful umbrellas, clouds and rainbows. Inspiring wall art reminds us that "Life isn't about waiting for the storm to pass, it's about learning to dance in the rain." In all, the San Francisco has three bedrooms and two full baths upstairs.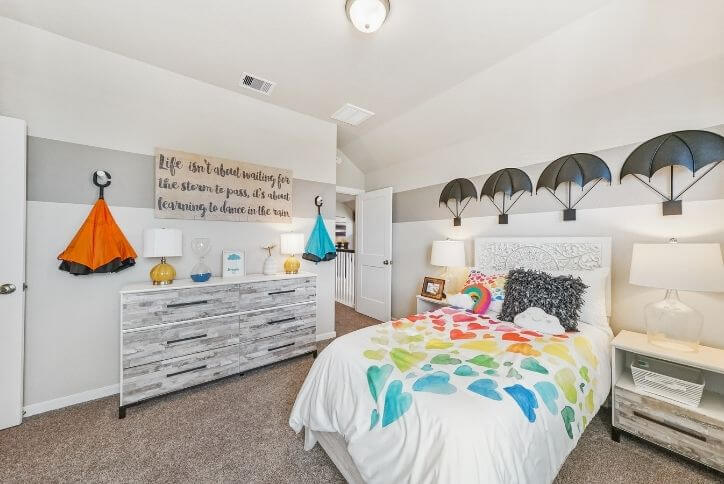 Outdoor living. This model home displays the covered patio included with the San Francisco. It also shows an open-air patio with four cozy chairs gathered around a fire pit. Offering both shade and sun, this outdoor living area overlooks the spacious fenced backyard.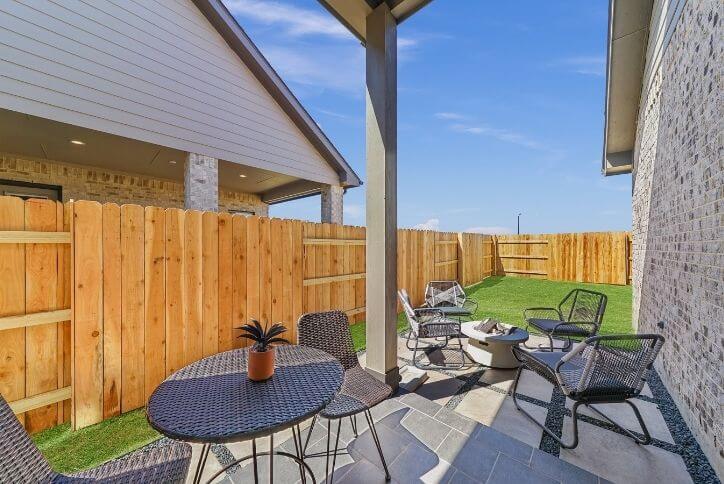 Primary luxury. Secluded at the back of the main floor, the San Francisco's primary suite has a spacious bedroom area that easily accommodates a king-size bed and oversized nightstands. The suite includes a luxurious bath with wood-look tile flooring, and the painted cabinets add an elegant touch. The model displays the optional oversized glass-enclosed shower and double vanity layout. With its built-in shelving and double rows of hanging rods, the walk-in closet offers plenty of storage space.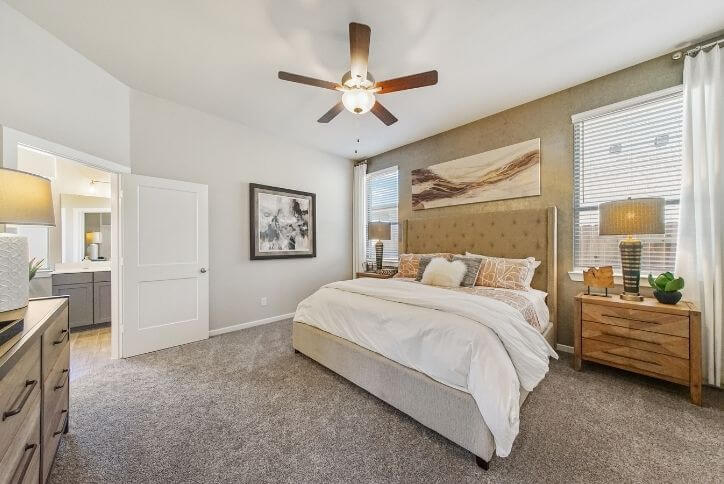 Convenient laundry room. Laundry rooms are the number one requested feature in the National Association of Home Builders' "What Home Buyers Really Want" survey. The San Francisco checks this box with a walk-in laundry room conveniently located near the primary suite. This placement also offers easy access from the rest of the home.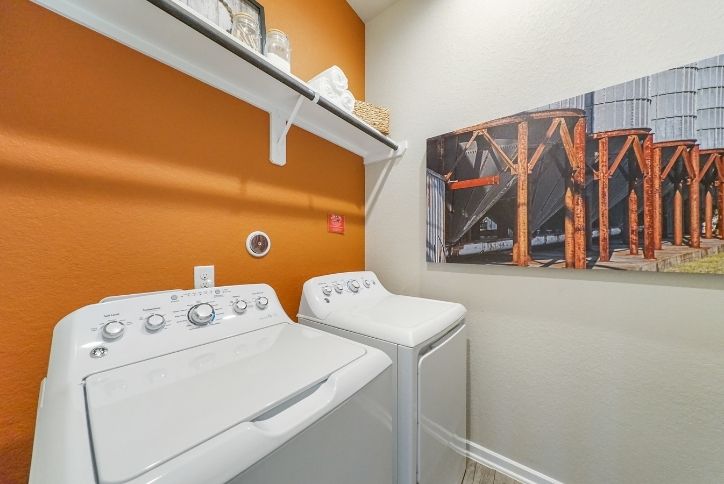 Gameroom with a view. The San Francisco's upstairs gameroom strikes a smart balance between volume and function. One of the longest walls has a cutout open to the two-story family room below, creating a feeling of light and airiness while preserving usable wall space for a comfortable sectional sofa. The opposite wall offers plenty of space for an entertainment center and shelving. The happy orange color of this wall complements the family room décor, and the "Play" wall art adds a fun touch. Kids will especially love the video game area.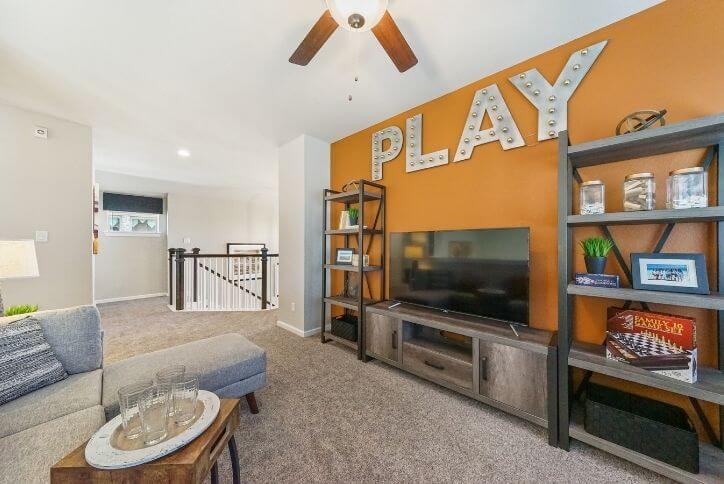 Built to be green. Step into the San Francisco during a warm Houston summer, and you'll immediately feel the cool comfort. This comfort is easy to maintain, thanks to the long list of standard energy efficiency and comfort features included. Chesmar homes in Elyson are built to Environments (EFL) for Living Diamond and Certified Green standards, with the EFL Heating and Cooling Energy Use and Comfort Guarantee included along with much more.
See all new home plans offered by Elyson's leading homebuilders.