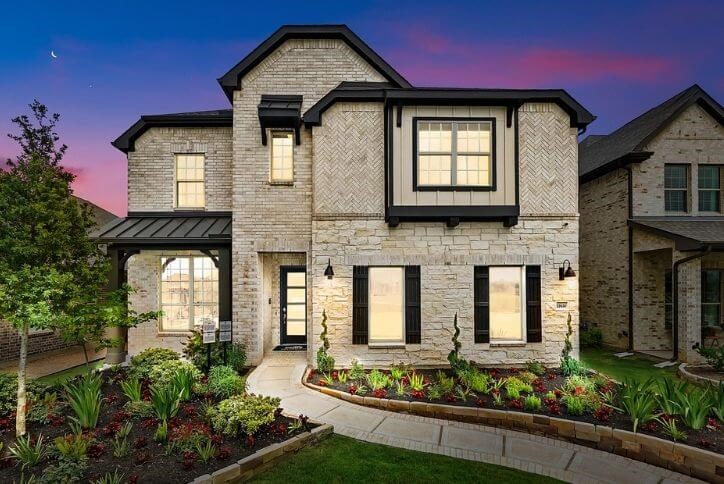 Super Pantry leads list of innovations in Pulte's new Amherst model home in Elyson
This is part of a series of profiles of 12 new model homes now open in Elyson's new Model Home Village. Click here to see more model home profiles.
Each year, Pulte talks to prospective homebuyers to find out what they want most in their new homes, as a key part of its Life Tested design process.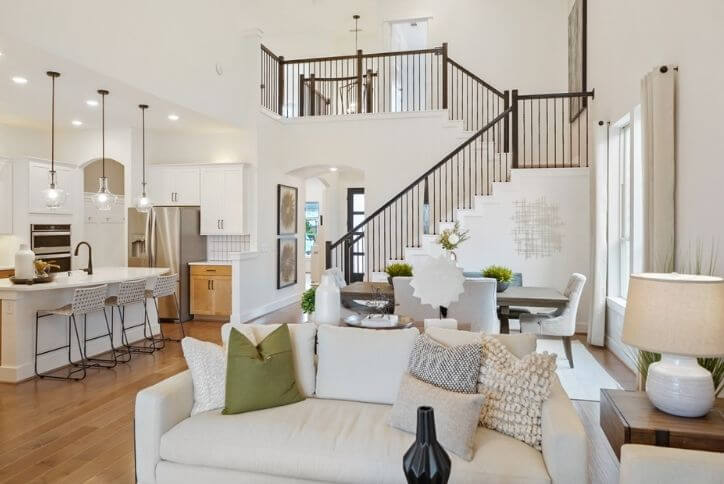 After 2020, many buyers voiced some strong preferences about what they wanted in their next homes, after the pandemic changed so much about how we live and work. Pulte listened, and you can see many of the ways this leading builder has responded in its new Amherst model home in Elyson.
A four-bedroom home with an optional fifth bedroom, the Amherst showcases a collection of Pulte homes priced from the low $300Ks, located near some of Elyson's most exciting amenities, including Timber Grove Park and Elyson Commons at Bear Creek (opening late 2021).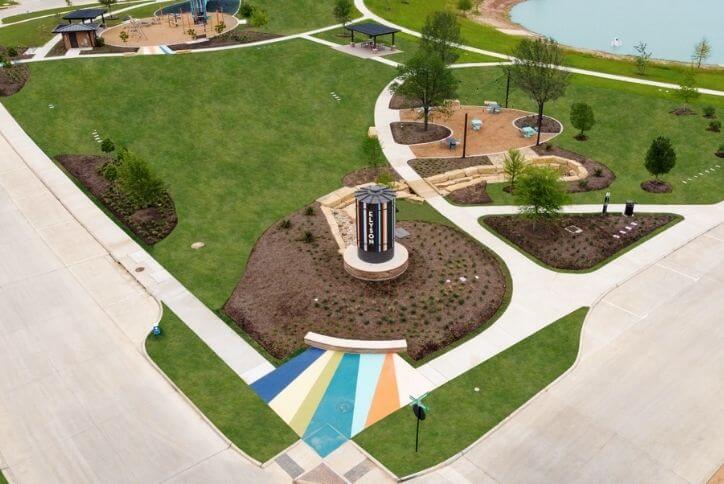 Storage space emerged as a top priority for homebuyers, and one of Pulte's most ingenious responses is the Super Pantry option, which adds an extra room-sized pantry to the walk-in pantry that's already included in the Amherst.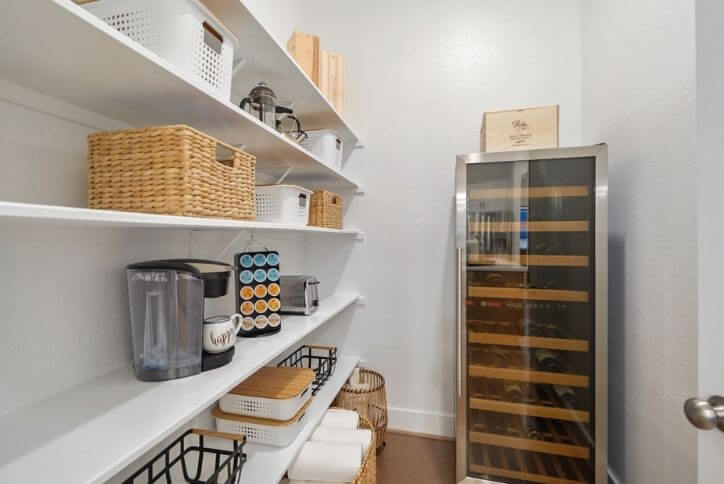 "It's a Costco room," laughs Pulte sales consultant Alexandra LaFont, referring to the Super Pantry's ability to store large bulk purchases, with space left over for a second full-size refrigerator. A wine refrigerator is displayed in the Super Pantry at Elyson, which also has plenty of room for a coffeemaker and other countertop appliances.
The Super Panty is an option that can be built instead of the popular Pulte Planning Center, which provides a convenient workspace for homework, planning and other tasks, in an open location between the family room and kitchen.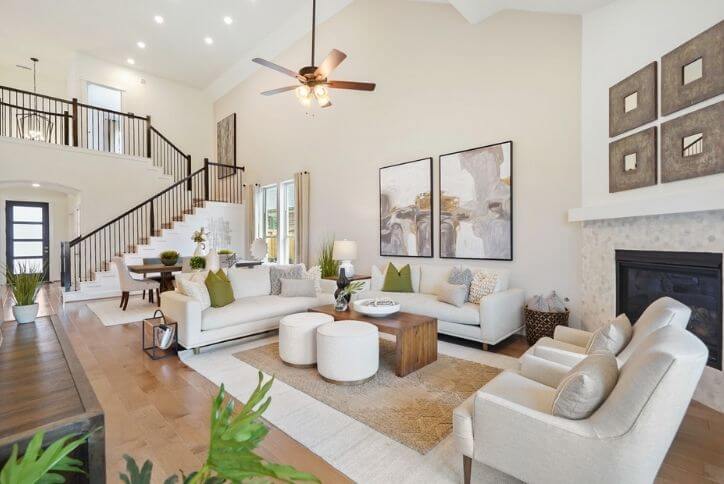 If the Amherst seems brighter and lighter than other Pulte models you've seen just in the past year, it's not your imagination. The Amherst showcases a minimum 10-foot first-floor ceiling height, now included in every Pulte floor plan in Elyson.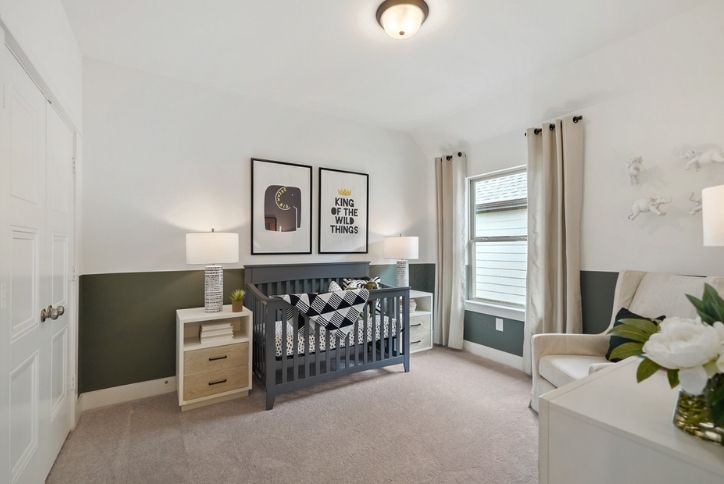 The advantages of these lofty 10-foot ceilings are aesthetic as well as practical. The added height has allowed Pulte to increase its first-floor window height to 7 feet, letting in plenty of natural light. All windows are fully operable, allowing homeowners to open them up and let in fresh air when they desire.
The 10-foot ceiling height extends to the garage, making it possible to add overhead storage and not interfere with garage door operation. Pulte also includes extra storage space in garages, along with space for two cars. For some plans and homesites, garage extensions are available.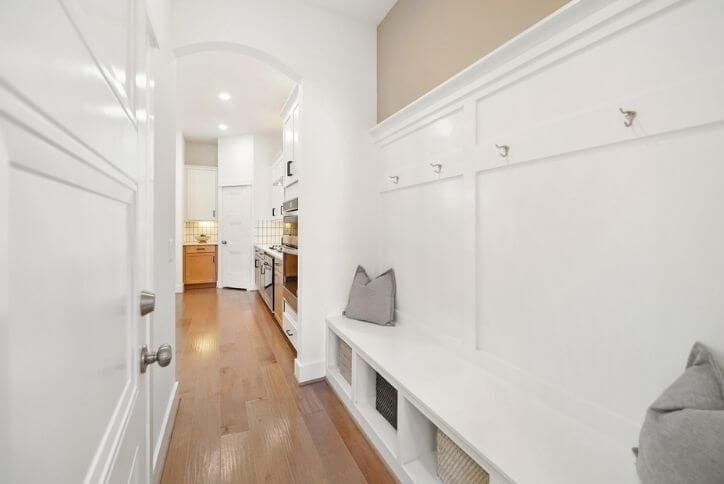 The garage opens to one of Pulte's signature features, the Everyday Entry. This thoughtful area has a built-in mud bench with storage cubbies underneath, and convenient hooks above. Located between the kitchen and laundry room, the Everyday Entry provides an area for life's stuff as soon as you walk in the door.
Like all Pulte plans, the Amherst has a downstairs flex room that can be used as a formal living or dining room. It can also be built as an extra bedroom with a full bath.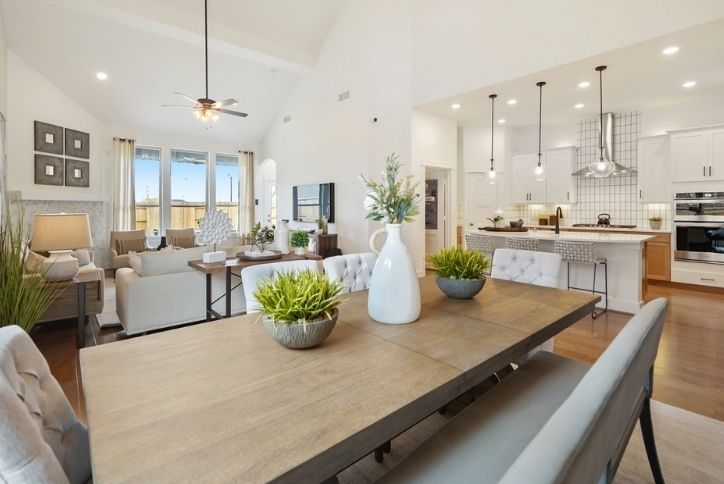 At Elyson, the Amherst model displays the flex space as a study. Complete with French doors for privacy and a storage closet, this option is in high demand, since so many of us are now working more from home.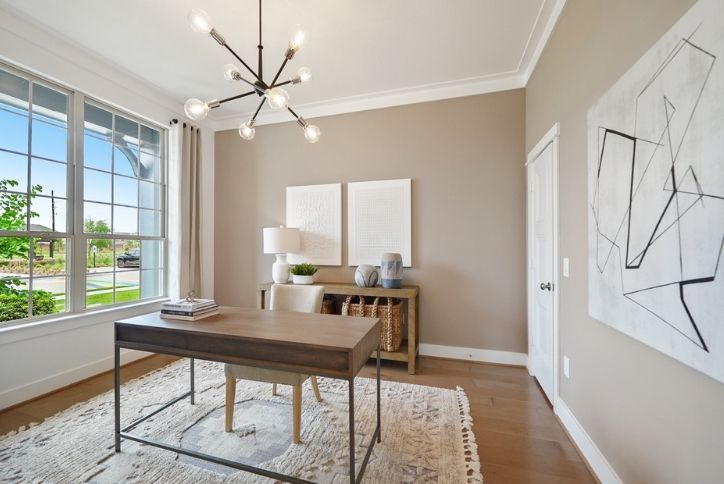 The Amherst provides additional spaces for every member of the family to get their work done.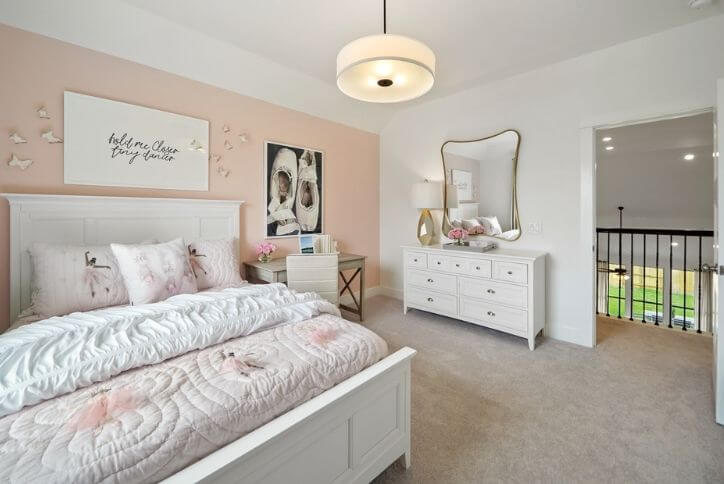 Homebuyers said they wanted larger secondary bedrooms, and the Amherst model showcases upstairs bedrooms with plenty of space for wide computer desks, along dressers and full beds. One bedroom even has a cozy built-in window seat.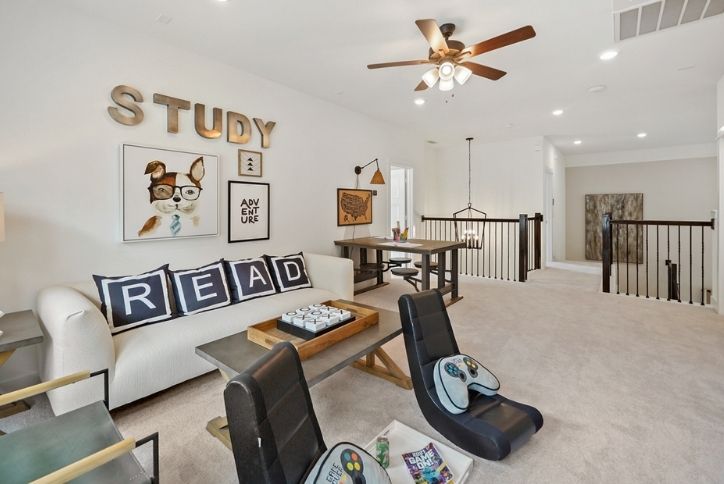 The upstairs gameroom also includes a double-sided desk, showing how Pulte builds in convenient and productive places for work and study throughout the home.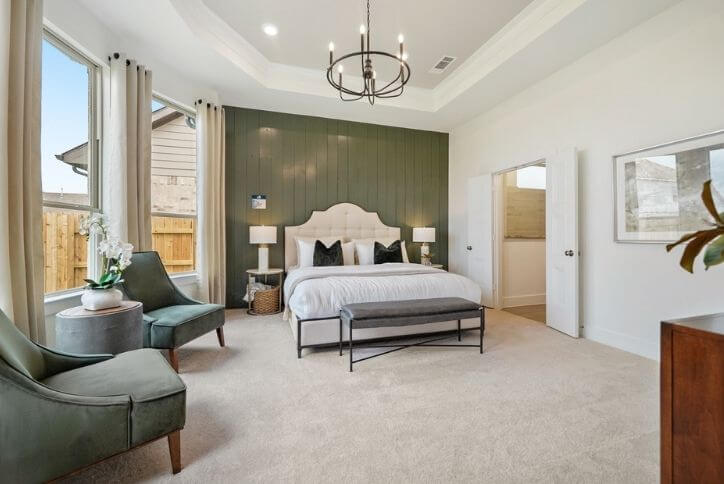 Downstairs, the primary suite displays the optional bay window, adding even more light to this spacious bedroom, which includes a coffered ceiling and a textured accent wall painted in a relaxing shade of green. The primary bath shows the optional spa shower with dual heads, a feature chosen by about half of Pulte buyers in Elyson. Double vanities and a large walk-in closet also highlight this suite.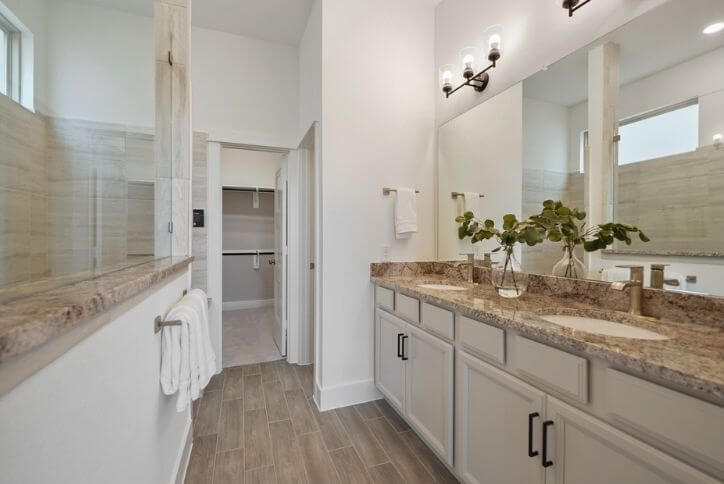 Technology is another area where Pulte has given a lot of thought. All homes include Category 6 Structured Wiring, with a Wireless Access Point to provide reliable, consistent Internet access in every room. Pulte also offers several technology option packages, allowing homebuyers to personalize their preferences for incorporating Alexa, keyless smart locks and other cutting-edge features.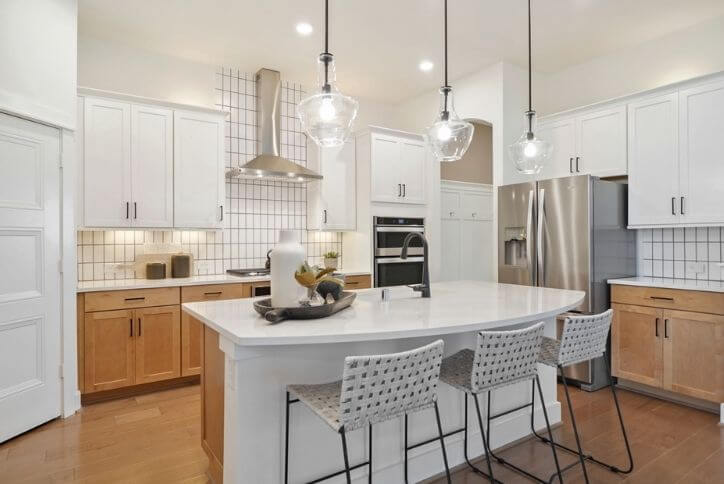 Granite countertops are a standard feature, and the quartz countertops shown in the Amherst model allow buyers to choose surfaces with antimicrobial features built into them. For homebuyers concerned about indoor air quality, Pulte also offers the Lennox line of Healthy Climate whole-home air filters as an option.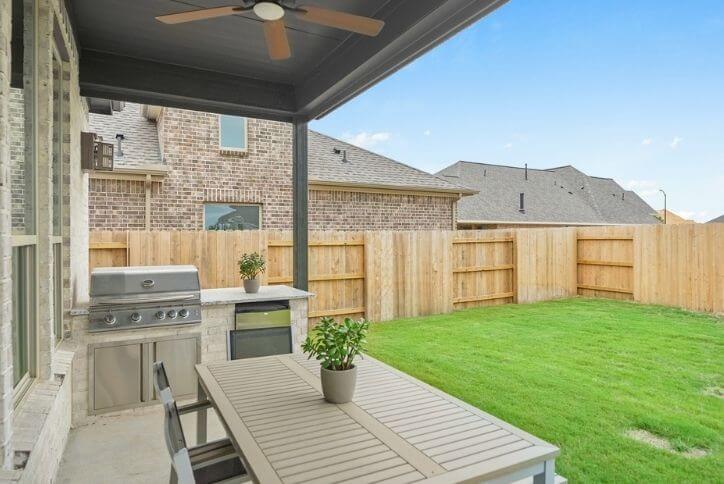 Outdoor living space is another priority for homebuyers, and the Amherst checks this box with a spacious covered patio, complete with an optional outdoor kitchen.
See all new home plans offered by Elyson's leading homebuilders.