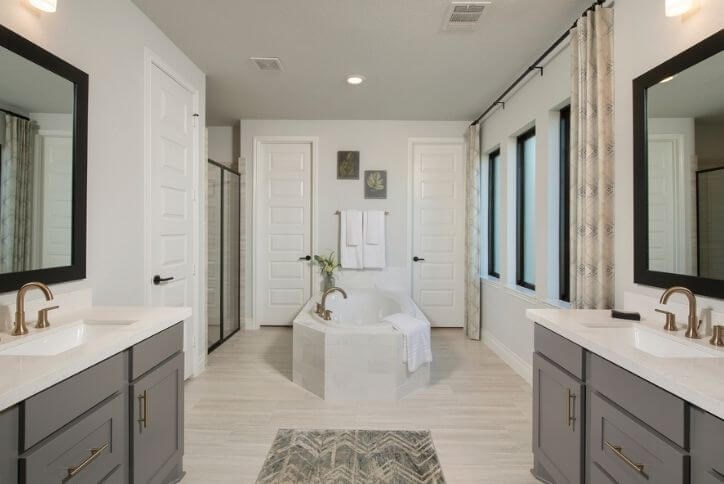 Seven ultra-luxe bathroom trends found in Elyson's model homes
With the hectic pace of life today, it's no surprise we're looking to our bathrooms to become spa-like havens from the world. We're lingering longer in our bathrooms, too – about 30 minutes a day for the average American woman. (Sorry, guys, there's no data on you.)
The latest survey from the National Kitchen & Bath Association confirms the bubbling desire for primary bath retreats, with homebuyers using words like "organic, calming, serene and spa-like" to describe their dream bathrooms. Style preferences are evenly split between Contemporary (57%) and Transitional (53%). Organic/Natural is rapidly gaining in popularity, at 47%.
The 14 fully furnished model homes at Elyson are dreamy showcases of luxe bathroom design and décor. In this blog, we pair these gorgeous model homes with some of the most popular bathroom trends.
Wood-look tiles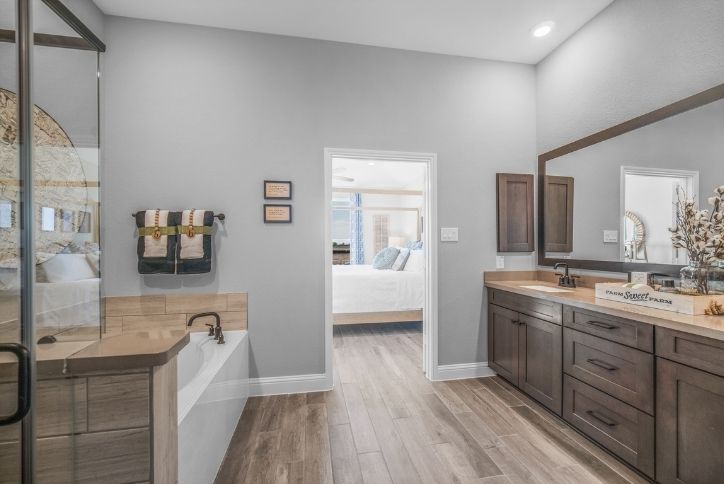 Wood-look tile flooring has reigned as one of the most popular surfaces in kitchens and family rooms for several years now, and this beautiful and durable material is now making itself at home in baths. Our blog on flooring trends highlighted the low-maintenance appeal of wood-look tile flooring, especially in wet areas, so it comes as no surprise that designers and homeowners have embraced this natural-looking tile for bathrooms floors and walls.
Beazer's Messina model home offers a great example of how Elyson's homebuilders are using wood-look tile flooring to add good looks and easy maintenance in the primary bathroom.
Large-format tiles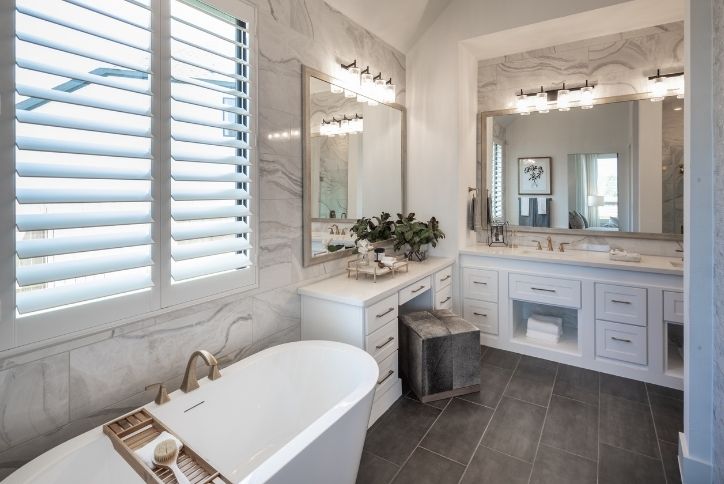 Goodbye tiny mosaic tiles, hello big and bold tiles. We're not completely abandoning small tile, but bathroom design is trending toward large-format tiles for walls and flooring. These tiles make a dramatic design statement, and they're also highly practical. Fewer grout lines mean less to clean, especially in the shower.
Pairing large-format tiles with natural stone and stone-look materials is another trend, along with blending colors, textures, sizes and finishes.
You can see all of these trends in the luxurious primary bathroom in Highland's Plan 216 model home in Elyson. Large white marble tiles with elegant gray veining adorn the walls of this bath, both in the tub area and inside the oversized shower. Large brownish-gray tiles cover the floor, and smaller stone-look tiles surround the shower's cut-out window, which provides a nice sense of openness.
Soaking tubs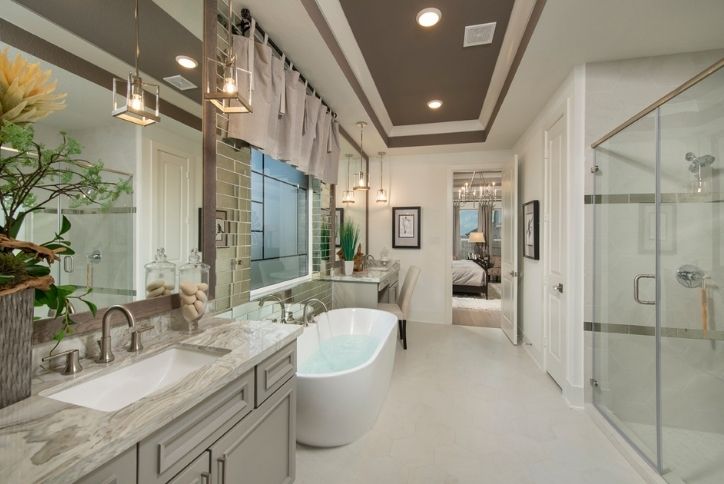 Showers seem to get larger every year, but bathtubs are still a sought-after feature in today's primary bathrooms, because you can't take a long relaxing soak or be soothed by whirlpool jets in a shower.
Clawfoot tubs will always be a classic, but today's most on-trend bathrooms are embracing freestanding, flat bottom tubs.
Westin's Preston III model home offers a gorgeous version of a freestanding tub, tucked in between two separate vanities. The side-mounted faucet is as clever as it is appealing, letting the smooth white surface of this tub show off its curvaceous lines with no distractions. This beautiful bathroom also incorporates many more of today's hottest bath trends, including bold subway-style wall tile, luxe lighting, custom drapes and warm colors.
We also love how the spa-like tub in Perry's Design 3791 model home "floats" in the middle of the bathroom, easily accessible from any side.
Warm colors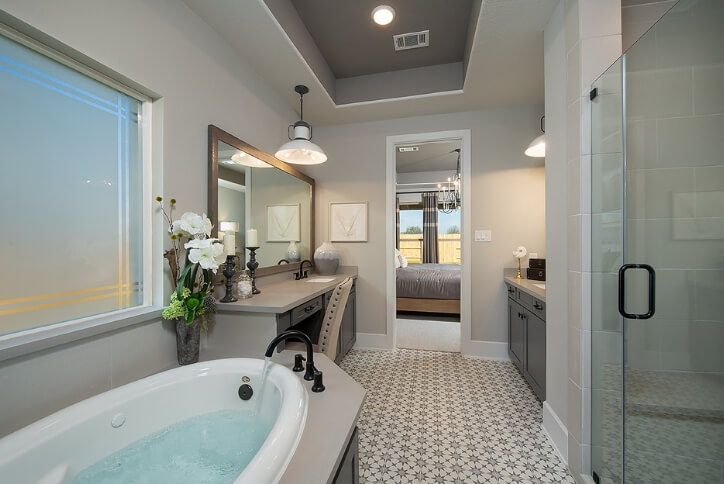 White is still king in today's bathrooms, but we're also starting to see an infusion of warm and vibrant colors.
Westin's Haven model home in Elyson is a medley of whites and warm colors, starting with the cheery sunburst ceramic tile on the floor. The painted vanities, vanity tops, shower tile and other elements add up to a harmonious symphony of warm welcoming tones.
We also love the way the dark paneling around the bathtub matches the paint detail of the coffered ceiling. The natural wood of the vanity mirrors and the hanging retro-look light fixtures add to the warm glow of this spa-like sanctuary.
Solid-surface vanity tops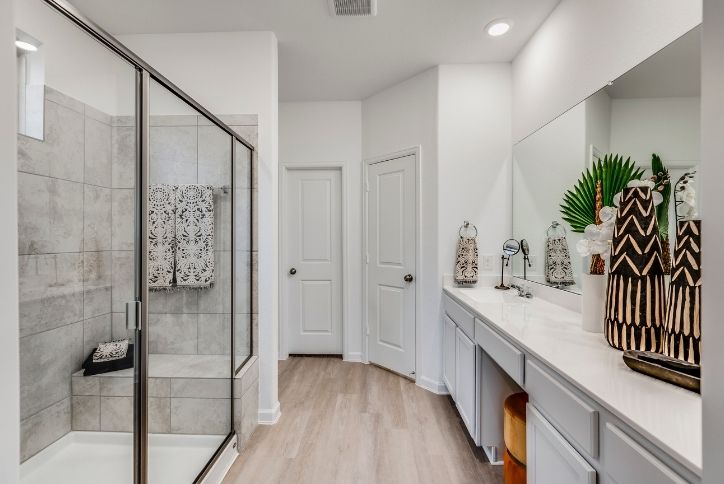 Whether they are quartz or another material, solid-surface vanity tops are everywhere in today's primary bathrooms, offering benefits both functional and aesthetic.
With today's renewed emphasis on cleaning and eliminating germs, solid-surface tops offer several advantages. Their non-porous surface helps prevent the fostering of bacteria, which is especially important in a damp environment. The lack of grout and seams is another major sanitary advantage, along with resistance to scratching and staining.
Aesthetically speaking, the sleek profile of solid-surface vanity tops fits in beautifully with today's contemporary-leaning bath styles.
You can find many solid-surface vanity tops in Elyson's model homes, and one of our favorites in in Lennar's Bennett model home, in part because they show the trend toward lighter vanity top surfaces.
Showered with luxury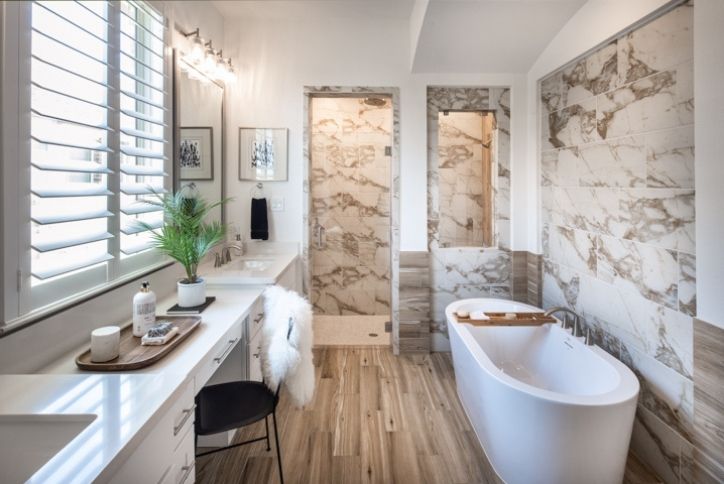 Showers have become the glamour spots in today's primary bathrooms, seemingly getting larger and more luxurious each year.
Some of today's most popular shower features includes zero-clearance entries and built-in seats, which not only look great, but are extremely functional for homeowners of all ages.
Rain (or waterfall) showerheads are another feature in demand, offering an exhilarating contrast to the serenity of soaking in the tub. These showerheads offer a sensory connection to water, reinforcing its connection to wellbeing.
We love the shower in Taylor Morrison's Bordeaux model home in Elyson, thanks to its built-in seat and other features.
With its wood-look tile surround, the shower is Highland's Plan 540 model home is a real showstopper.
Luxe lighting & more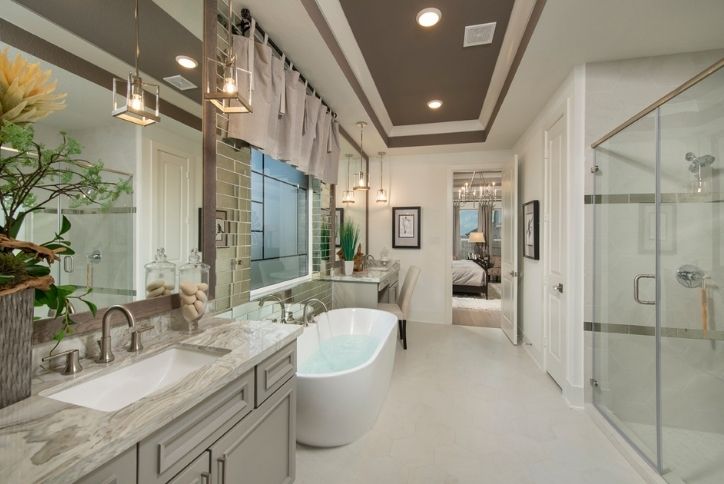 A few more bath trends you can see in Elyson's new model homes include luxe lighting. Designers say don't be afraid to go big with statement lighting that can include big chandeliers, drum pendants, and even giant floor lamps.
And who ever said that you can't use drapes in a bathroom? With waterproof fabrics that stand up to moisture and humidity, drapes add color, texture, and a measure of privacy when desired.
While silvery tones such as nickel and chrome continue to be the most popular choices for faucets, handles and other plumbing fixtures, varied tones such as gold and copper are making a comeback. They add richness when they're new, and they lend new depths of color and texture as they develop patinas.
You can see all three of these trends – luxe lighting, custom drapes and living metals – by taking another look at the Preston III from Westin.
To see more luxury in the bathroom and throughout the house, explore all of Elyson's new model homes.