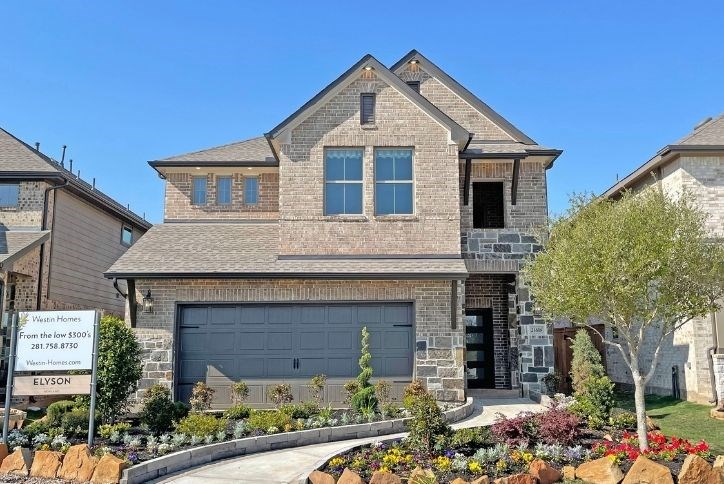 Westin's Haven model home shows grand design in a small(er) package
This is part of a series of profiles of 12 model homes now open in Elyson's new Model Home Village. Click here to see more model home profiles.
Houston-based Westin Homes is known for their grand rotunda foyers, creating an unforgettable first impression with spiral staircases and soaring ceilings topped with "wedding cake" details.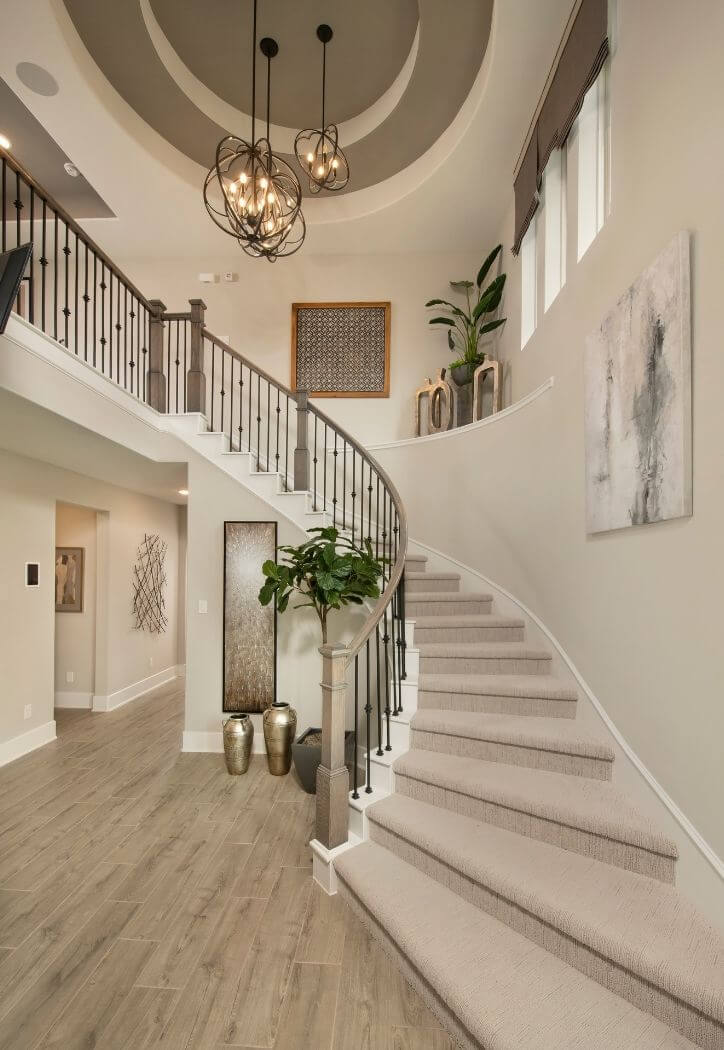 These foyers were first introduced in Westin's largest and most expensive homes, such as the Preston III model home in Elyson.
Also open in Elyson, Westin's new Haven model home in Elyson shows how Westin has translated their elegant design language into their most attainable homes, priced from the high $300Ks in Elyson.
The Haven's timeless appeal extends far beyond the rotunda foyer, infusing virtually every room of this flexible plan with architectural details you'd expect to find in a much more expensive home.
Room by room, here are some of the design flourishes that make the Haven such a beautiful and functional plan.
Beam me up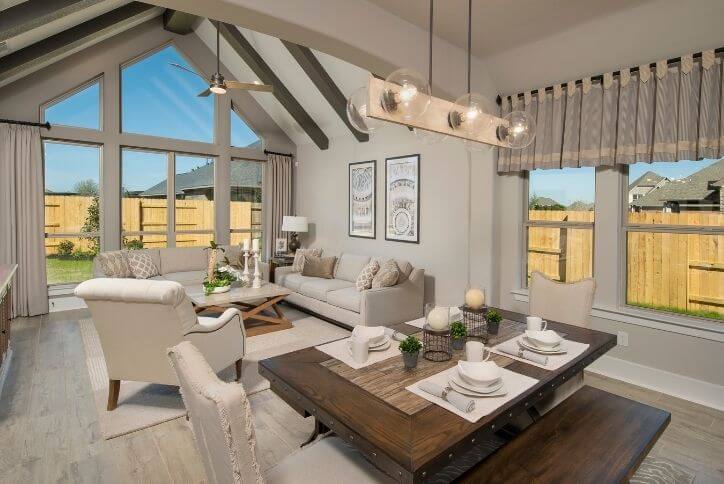 The Haven's family room has another feature usually associated with expensive custom homes – a cathedral ceiling with six wood beams extending down from the central beam, which provides a lofty focal point. Together with the casual dining room and island kitchen, this open family gathering area has seamless flow and is filled with natural light.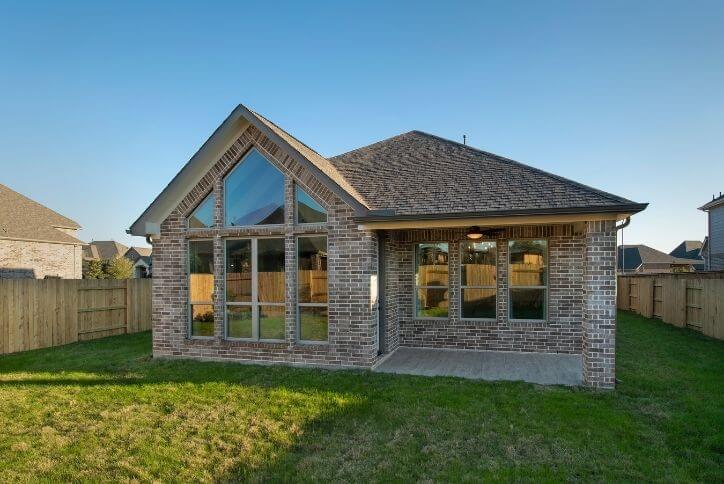 The back wall of the home is a showstopper, with a "house-shaped" window grouping that extends from floor to ceiling. From the outside, these windows make for a rear exterior view that's as attractive as the beautiful stone-and-brick front elevation. 
Coffered dreams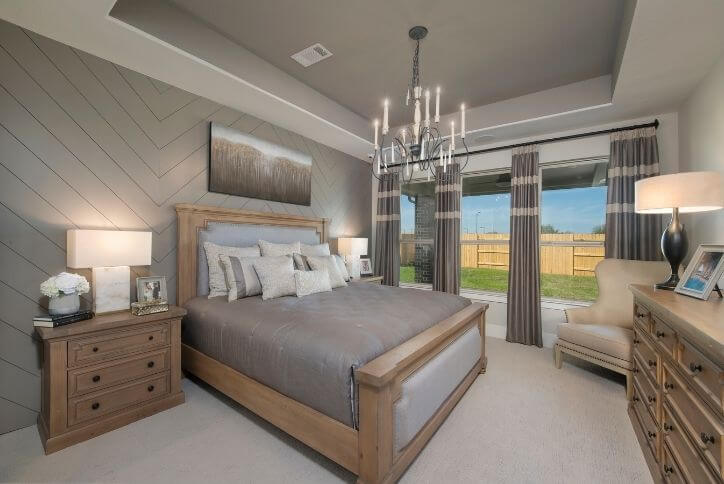 The Westin's primary suite has a recessed coffered ceiling that adds a strong element of volume and openness to this already spacious room. This recessed detail creates the perfect spot for the luxe chandelier, another detail that enhances the lofty ceiling height.
The gray inset color contrasts nicely with the white tones of the rest of the ceiling and most of the walls. It harmonizes with the detailed gray accent wall behind the headboard, and the soft gray accessories used throughout this relaxing retreat. For a finishing touch, a wall of windows offers a view of the covered patio and backyard.
Primary bath luxury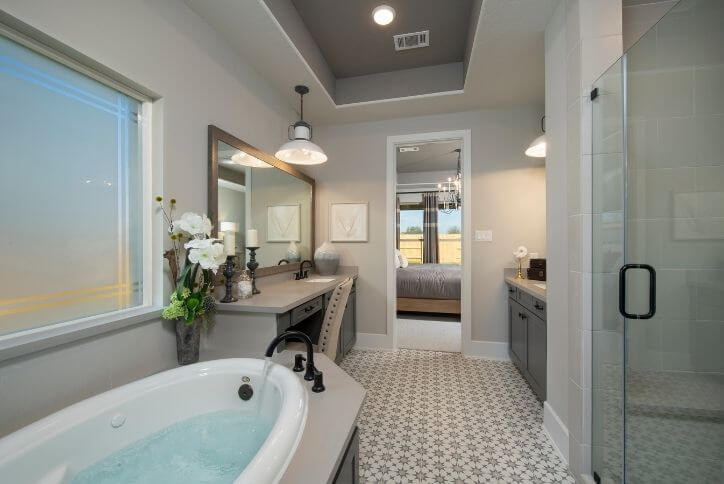 With the hectic pace of life today, it's no surprise we're looking to our bathrooms to become spa-like retreats from the world.
The Haven's primary bathroom is a true haven, from the cheery "sunburst" tile on the floor, to the high recessed ceiling above.
With its freestanding spa tub and glass-enclosed walk-in shower, the Haven offers choices for how you want to revive and wash off the dust of the day. A large frosted window next to the tub lets in diffused natural light while preserving privacy. The split vanities offer plenty of countertop space, with a makeup desk in one. There's also a room-sized walk-in closet.
Gourmet kitchen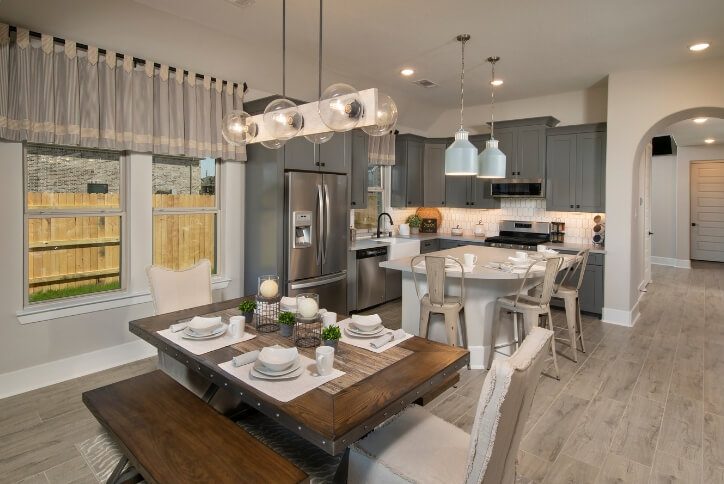 Decked out with wood-look tile flooring and oversized geometric backsplash tile, the Haven's light-filled kitchen checks the boxes for many of the latest design trends.
The floors are beautiful and low-maintenance, and the bold backsplash tile offers an energizing yet harmonious contrast to the cool whites and grays of the countertops and cabinets. The white apron sink adds a traditional touch to this bright and open kitchen.
The focal point is the large table island, which balances a square edge (echoing the kitchen layout) with a rounded edge that provides a welcoming transition to the dining and family area. This rounded edge complements the arched opening from the extended foyer to the kitchen, and it also creates an inviting place to gather around to socialize and eat.
Gameroom with a view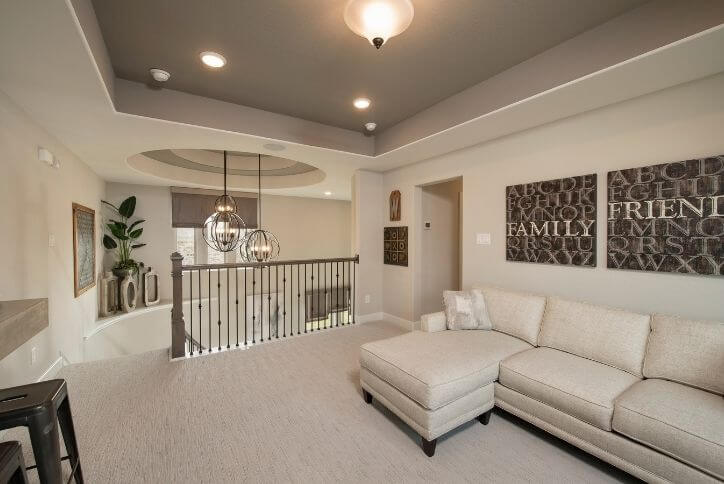 The Haven's upstairs gameroom offers a second informal living area next to two secondary bedrooms.
This room's spaciousness is greatly enhanced by an open iron railing that preserves a close-up view of the foyer and its detailed rotunda ceiling. The gameroom also has its own statement ceiling, with a recessed niche and contrasting paint color adding even more volume and openness.
As an option, the gameroom can be built as an additional bedroom.
More features to love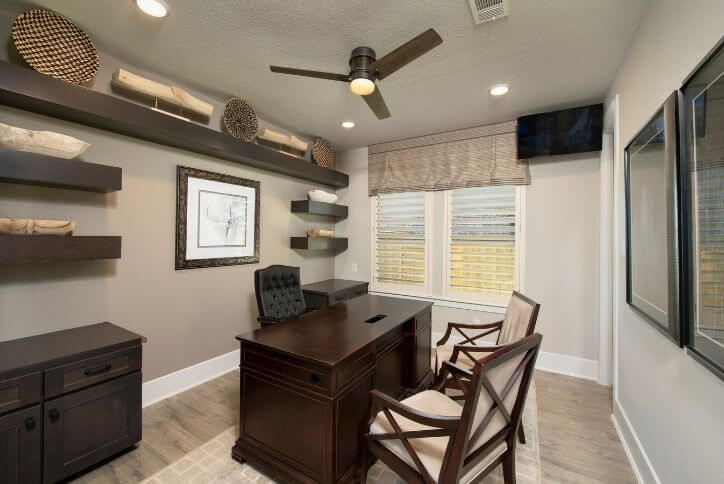 The Haven has even more features we love, including a home office on the main floor, next to the foyer. This study is an ideal option for a time when more of us are working from home either full- or part-time.
If they prefer, buyers can build this flex space as a media room or additional bedroom. The original Haven plan has three bedrooms, with options for up to five.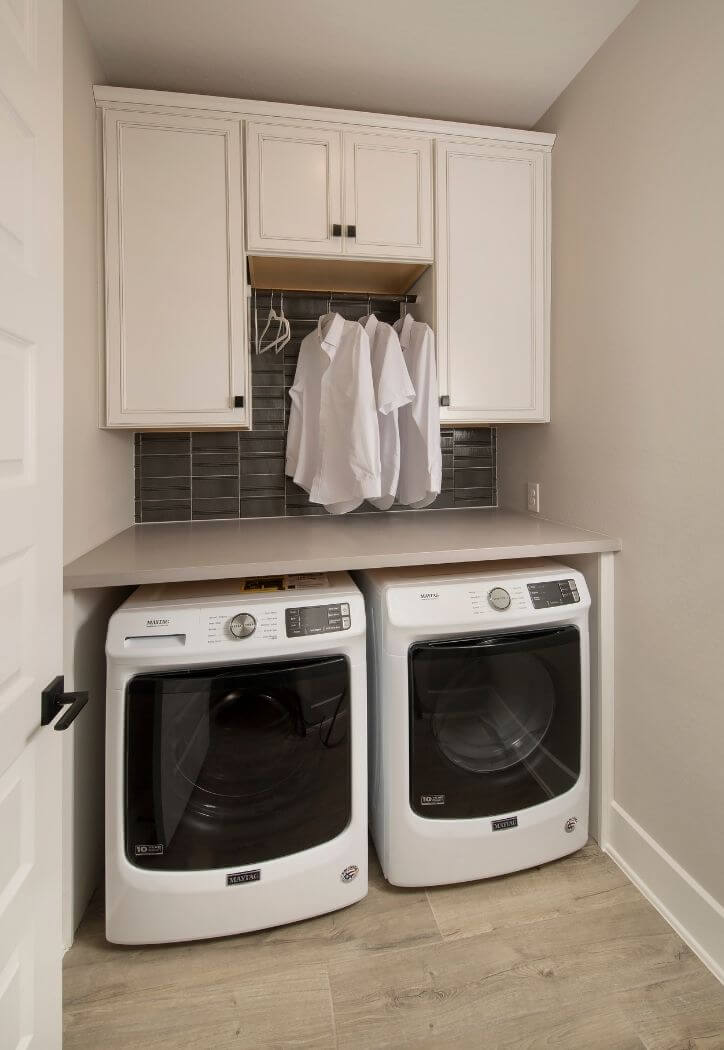 More thoughtful features include a spacious laundry room with countertop and cabinet space – the number one requested feature in the National Association of Home Builders' "What Home Buyers Really Want" survey.
The Haven has a mudroom entrance from the garage, with optional built-in storage cubbies. A spacious storage area under the staircase makes smart use of this space, making sure it doesn't go to waste.
See all new home plans offered by Elyson's leading homebuilders.