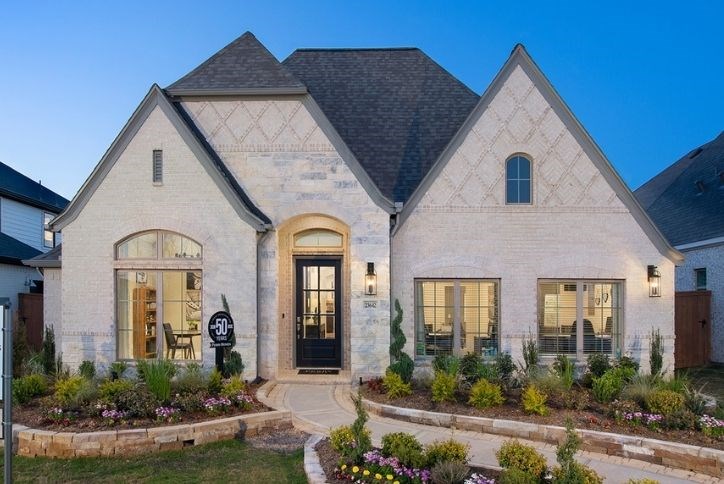 Perry's Design 2737 model home in Elyson is on Trend
This is part of a series of profiles of 12 new model homes now open in Elyson's new Model Home Village. Click here to see more model home profiles. 
Gray has been trendy for a while and it's still one of the hottest colorways, especially since Pantone selected a cool shade called Illuminating Gray for its 2021 Color of the Year.
In that regard – and many others – Perry's Design 2737 model home in Elyson hits the mark with some of the latest home design trends. From creative ceiling treatments to sliding barn doors, gray is a unifying color theme throughout this model, which offers four bedrooms and three full baths in a 2,737-square-foot floor plan.
One of three Perry model homes recently opened in Elyson's Model Home Village, Design 2737 showcases plans priced from the mid $400Ks on 55-foot-wide homesites. Plans range from approximately 2,300 to 3,300 square feet.
Why gray? As Pantone says about its Color of the Year selection, "Gray is emblematic of solid and dependable elements which are everlasting and provide a firm foundation. The colors of pebbles on the beach and natural elements whose weathered appearance highlights an ability to stand the test of time, gray quietly assures, encouraging feelings of composure, steadiness and resilience."
Perry's Design 2737 model home features a range wide of gray tones, from dark to light. Here are some of our favorite ways they've used this timeless color: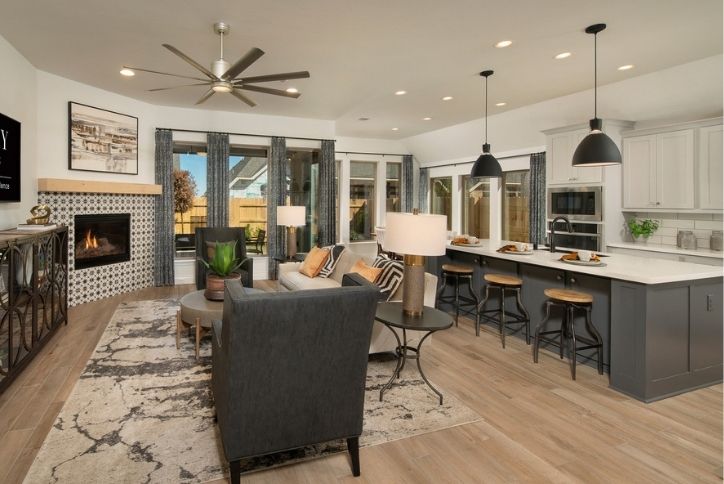 With its 12-foot ceiling, the lengthy foyer makes a memorable first impression, and provides well-planned access to the home office, bedrooms and gameroom as it extends back to the family kitchen area. Detailed gray ceiling insets with gleaming pendant lighting emphasize the lofty ceiling heights in this foyer.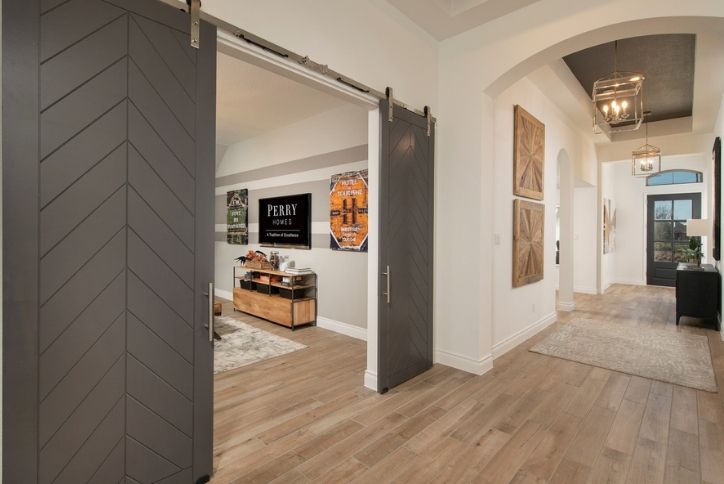 Dark gray sliding barn doors provide a fun and functional entry to the gameroom, which is displayed as a media room in this model home. Inside this room, gray and white walls offer eye-pleasing contrast, with small but effective pops of color in the art and rug.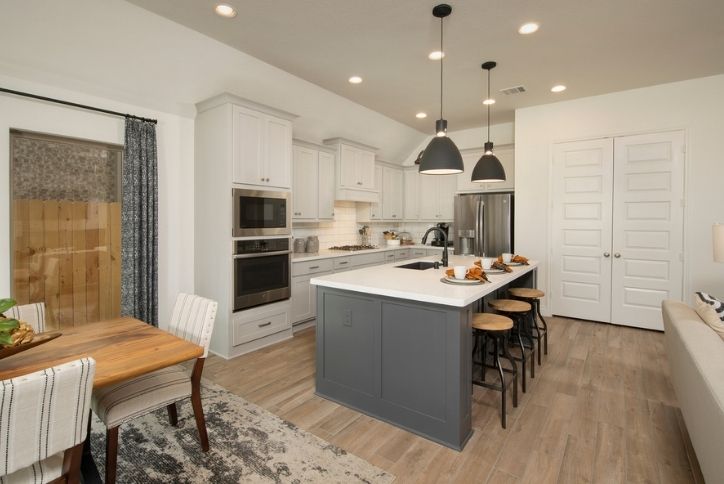 A large gray table island anchors the open kitchen/family area. Crisp white cabinets and gleaming white countertops offer a nice contrast, with warm wood-look tile floors filling the middle ground of the color palette. In the family room, the eclectic tile fireplace surround provides a festive focal point that pulls together all the colors of the room.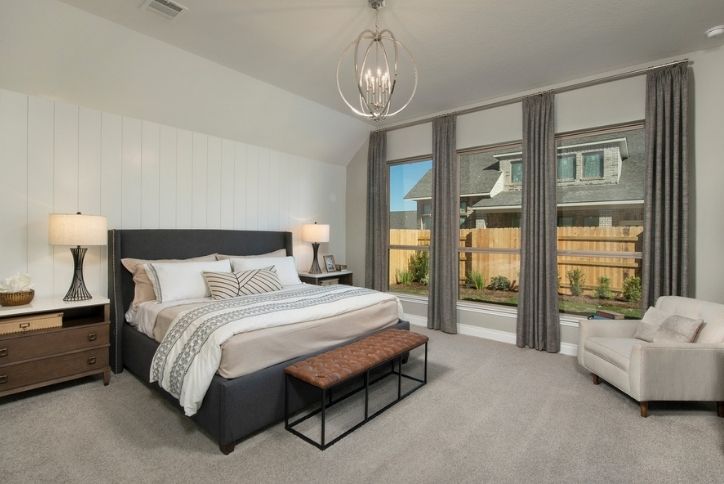 The spacious primary suite blends cool light grays and other neutrals to create a relaxing retreat. Details such as the shiplap wall behind the bed add more texture and interest to this suite. Dark gray vanities highlight the primary bath, which has a free-floating tub in front of an interior window-framed shower.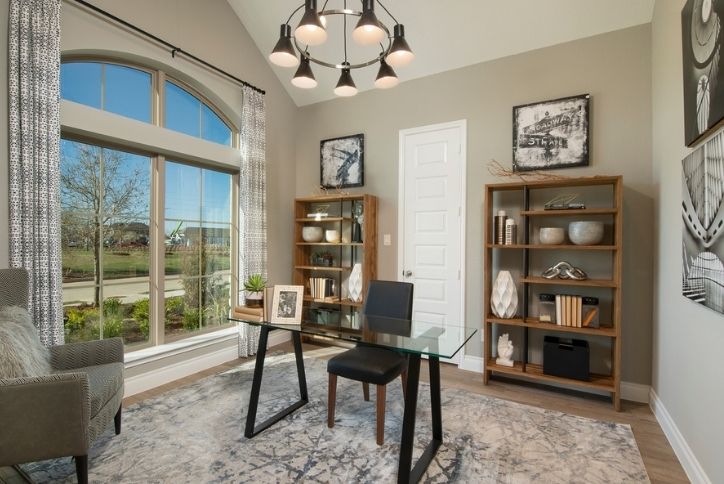 The number of people working full or part time from home has quadrupled in the past year, according to one recent report, and Design 2737's study provides a productive home office. The color palette is natural and neutral, with black-and-white architectural photographs and other accents bringing in a wide range of grays.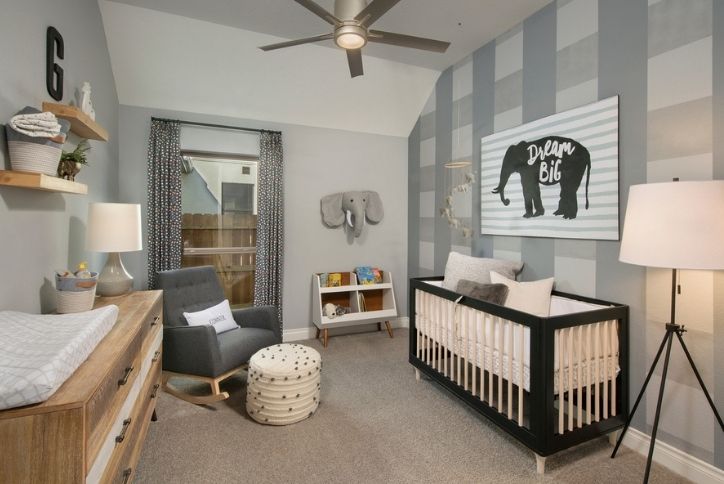 Gray is a natural for elephants, which provide the theme for one bedroom that is decorated as a nursery in this model. A gray "plaid" wall sets the tranquil mood for this important room, complete with several pieces of elephant art along with a crib, changing table and rocking chair.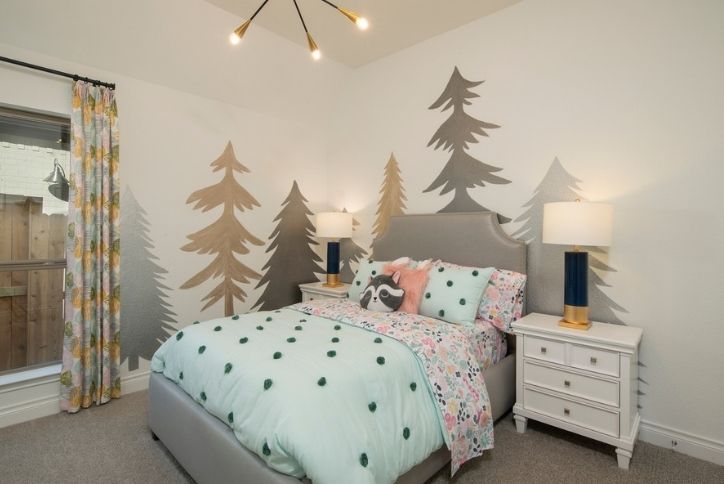 A gray forest mural is the focal point for another one of the four bedrooms in Design 2737. An upholstered gray headboard and a whimsical forest creature add to the appeal of this kid's bedroom.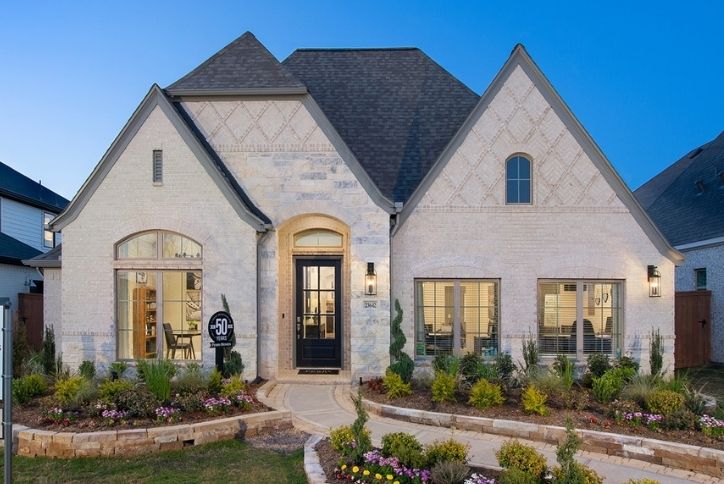 The gray tones also extend to the exterior, where the detailed light brick is accented by subtle shades of gray around the windows and roofline. Out back, this model home displays an extended covered patio.
See all new home plans offered by Elyson's leading homebuilders.