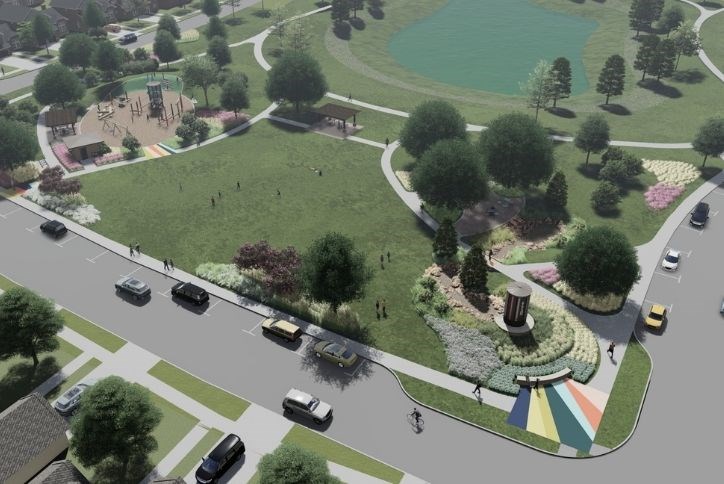 Timber Grove Park will bring new adventure to Elyson in Spring 2021
Elyson's newest amenity, Timber Grove Park, will bring a spirit of adventure for residents of all ages when it opens in Spring 2021.
Timber Grove Park will be located between Elyson Boulevard and Porter Road, in a new phase of Elyson north of FM 529. The park will be next to Elyson's new Model Home Village, also opening in early 2021 to showcase 12 new fully furnished model homes.
A tower bearing Elyson's name will welcome residents to Timber Grove Park, which will be divided into three distinct areas for play and relaxation.
Water flowing from the base of the tower will stream into a boulder-strewn brook. A small pedestrian bridge will lead residents over to the first area, a shady relaxation garden with benches, tables and chairs arranged under three large oak trees.
Along with the babbling sound of the brook, color and light will greet residents to this area both day and night. Colorful sidewalk graphics in front of the water tower will mark arrival to the park, with varied tones of green, blue and brown reflecting Elyson's colors and its natural environment. Additional trees, shrubs and flowers will add even more color to this area.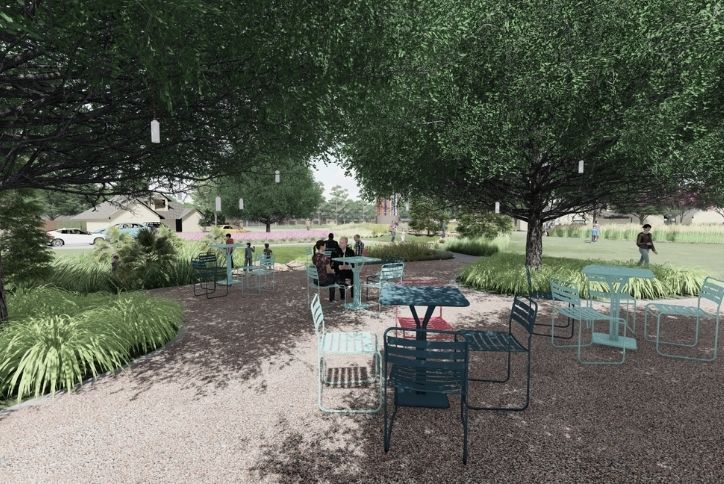 Light pendants will hang from the three large oak trees, creating a soft and shimmering appeal after dark.
A nearby area will also include a pear orchard, the newest addition to Elyson's growing array of community orchards where residents can harvest figs, pecans, loquats, peaches and citrus fruits.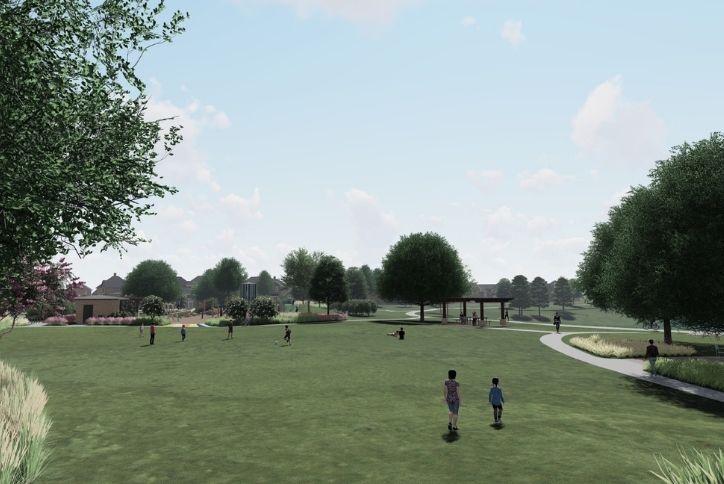 The second area will be a large open play field, perfect for flying kites, catching balls, throwing frisbees for dogs and many other activities. This area will preserve an open view of the lake that borders the park.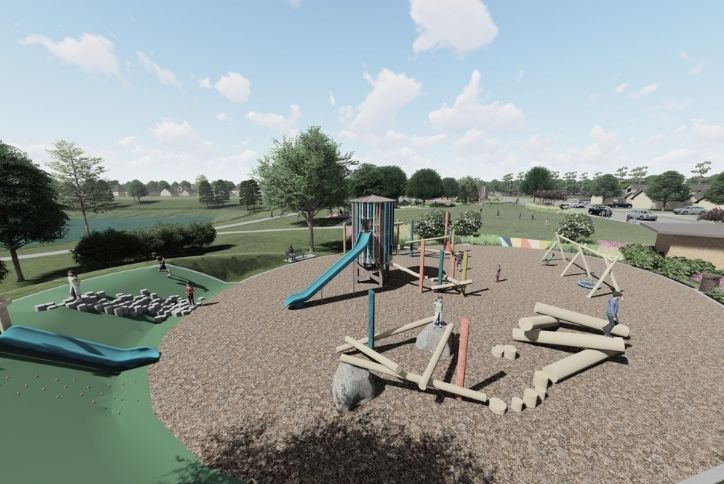 The third area will be a playscape area, with natural timber play structures that inspired the name for Timber Grove Park.
Another colorful sidewalk display and a smaller version of the Elyson water tower will greet residents as they enter the play area.
Instead of flowing water, the playground's water tower will house a fun slide, surrounded by other play elements created from natural timbers and boulders. At the edge of the sandy play area, a grassy hillside will have another slide feature, along with timber steps for kids to clamber over.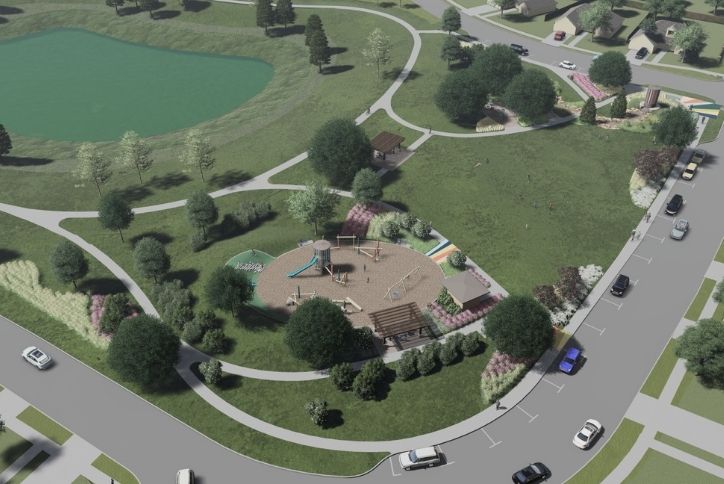 The play area will also have restroom facilities and shaded seating areas.
The inspiration for Timber Grove Park as a natural place to play and explore goes all the way back to 1898, when the land that is now Elyson was settled by the Freeman family, who arrived here from Iowa. Elyson is named after Ely Freeman, one of the original members of the family.
Ely's grandson, Jesse Lewis Freeman, Jr., recalls the wonder of playing in the natural world in his memoir: "The natural thing was to go out and explore the world. There were all sorts of things to discover, from birds that nested in the large oak and Chinese elm trees, to gophers that dug in the sandy loam soil. With an abundance of frogs, insects, snakes, lizards and even an occasional horned frog, we had much to discover."
This sense of discovery and connection to nature is one of the cornerstones of the vision for Elyson, which will ultimately devote more than 750 acres of parks, trails, amenities and natural open spaces.
"Kids of my generation used to roam and play freely in nature, and we want to offer our Elyson families the same kinds of opportunities today," said Rainer Ficken, vice president of operations for Newland, Elyson's developer.
Elyson's amenities already include the Elyson House community center, a relaxing lakeside park, and miles of trails meandering along scenic lakes. Learn more about Elyson's lifestyle.
*The artist renderings are for illustration purposes only, based upon current development concepts, which are subject to change without notice. No guarantee is made that the features depicted will be built, or, if built, will be as depicted.