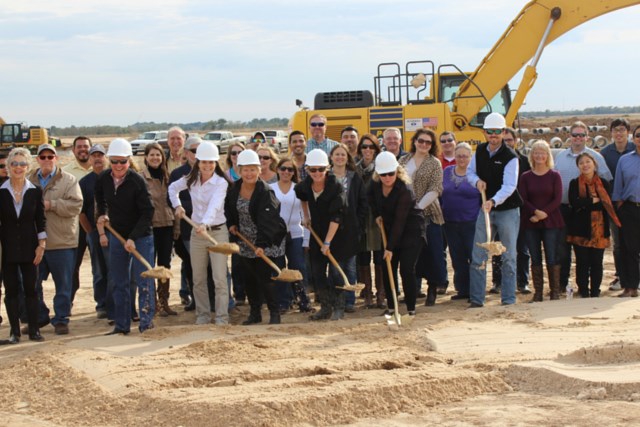 Looking back at Elyson's groundbreaking – and ahead to the grand opening
Last fall, Newland invited its employees and others involved in the development of Elyson to celebrate the official groundbreaking ceremony for this new Katy ISD community. Fast-forward to spring, and work is well underway for Elyson to be ready for its Fall 2016 grand opening.

The Elyson House, the first of three major amenity centers planned for Elyson, will be complete and ready for the grand opening. It will serve as the hub of resident social life and recreation in this new 3,642-acre community, as well as its homebuyer information center. It will also include a full-service café, Elyson Café.

Overall, more than 750 acres of parks, trails, recreational amenities and open natural space are planned for Elyson. An extensive network of trails, linear parks and waterways will help bring to life several of the major visions for Elyson. One is to create a community that celebrates the beauty and natural diversity of the Katy Prairie. Others are to provide residents with meaningful opportunities for connection, wellness and healthy living.

Also making its debut at the fall grand opening, the community's first model home village will feature a total of eight fully furnished model homes by a team of leading homebuilders. Details on these builders and their home plans are coming soon.

Elyson will be the fourth Newland community in Katy ISD, and part of a family that includes more than 40 Newland communities currently under development in 14 states.

The biggest and best-known Newland community in Houston (and perhaps all of Texas) is Cinco Ranch, which has grown to 8,100 acres since it was opened 25 years ago, in 1991. When Cinco Ranch is completed in 2017 or 2018, it will be home to more than 15,000 families.

Other completed Newland communities in Katy include Seven Meadows and Grayson Lakes. Newland also created the highly successful Telfair community in nearby Sugar Land, where residential development was finished several years ago.