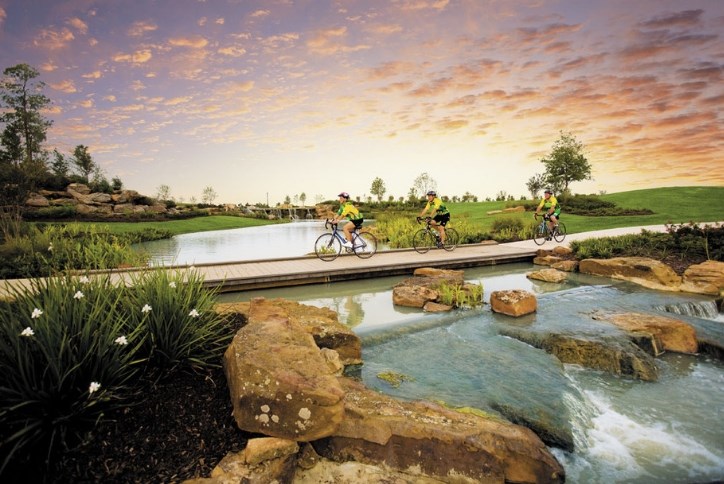 Elyson's sister communities rank as top 2 Places to Live in the Houston Area
It's said that one of the best ways to predict the future is to look at the past. If that's true, then the high quality of life ratings earned by two of Elyson's sister communities in the Houston area bode very well for Elyson's future.
Greatwood and Cinco Ranch, two major master-planned communities completed by Newland, rank No. 1 and No. 2 respectively on Niche's 2018 list of the Best Places to Live in the Houston area. 
Even more impressive, Greatwood and Cinco Ranch rank No. 3 and No. 4 respectively on Niche's Best Places to Live in Texas list for 2018.
Both opened almost 30 years ago, Greatwood and Cinco Ranch exemplify the sustainable quality of life, protective covenants and long-term appeal that are among the major advantages of master-planned communities.
Greatwood is located at U.S. 59 South and Grand Parkway. Cinco Ranch, best known as Elyson's bigger sibling, is located at I-10 West and Grand Parkway. Greatwood was completed in 2005, while new home construction in Cinco Ranch was virtually completed in late 2018.
Both communities have overall A+ ratings from Niche, and both have A+ ratings in the Public Schools and Good for Families categories
"I've lived in Greatwood for over 18 years and have raised both of my kids here. The beauty and aesthetics of this area are unique in that the first thing you notice are the trees and greenbelts," wrote one Greatwood resident reviewer on Niche.
Another Greatwood resident said, "Lived in Greatwood for 16 years and have loved every minute of it. You know it's a wonderful neighborhood when you drive in and see many families running, biking or walking down the main street at different hours of the day."
For Cinco Ranch, one Niche review begins, "It's a great place to live. There is a multitude of different people from different cultures and you can see that as soon as you walk out of the door. From the houses to the restaurants and small businesses around, there are a lot of things to do in Cinco Ranch."
Another Cinco Ranch resident writes, "It's a beautiful, peaceful, family oriented suburb. When traveling from one street to another, the tree branches meet in the middle of the street, so you're traveling under a magic pathway. People are nice and sweet, very friendly, and everywhere you look, dog owners are out and about."
Opened in 2016, Elyson doesn't yet have as many residents as its sister communities of Cinco Ranch or Greatwood, but the growing family of Elyson residents absolutely love their community. Read some of their stories. While the goal is for Elyson to look great now, Newland wants the community to look even better in 20 years.