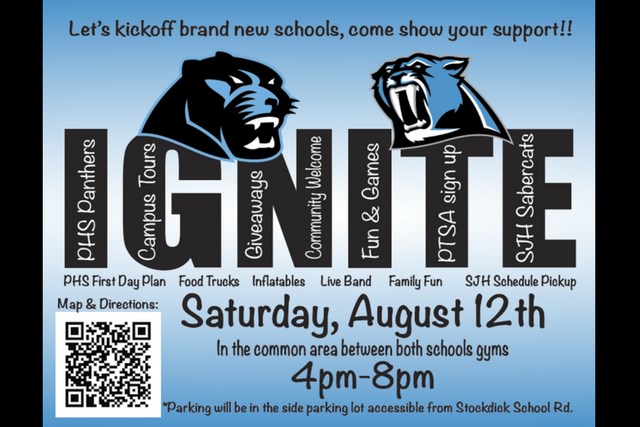 Katy ISD's IGNITE event on Sat., Aug. 12 celebrates Paetow High, Stockdick Jr. High
On Saturday, August 12, the Katy Independent School District is kicking off its two newest schools – Paetow High School and Stockdick Junior High School – with the IGNITE celebration from 4-8 p.m. 
Residents of Elyson and the entire Katy community are invited to take part in the festivities, including family fun and games, food trucks, inflatables, giveaways, a live band and much more.
IGNITE will take place in the common area between both schools. Parking will be available in the side parking lot, accessible from Stockdick School Road.
Students, parents and guests will get their first look at the Paetow Panthers and Stockdick Sabercats. They can also sign up to volunteer for the PTSA, and get first day plans and schedules for both schools, where classes begin August 16.
Visitors can tour both of these brand-new, state-of-the-art schools, starting with the common area, or learning green, that connects them. The size of eight football fields, the learning green is envisioned as a space where students of both schools can collaborate on projects ranging from arts to athletics.
Both campuses offer many of the latest ideas and technologies for learning, including collaborative areas, science labs with professional-grade equipment, performing arts centers and "learning stairs."
Elyson students are zoned to attend both of these new schools, along with Bethke Elementary, which opened in 2016. Together, they form a comprehensive K-12 tri-campus located approximately two miles from Elyson.
For more information on the highly regarded Katy ISD schools serving Elyson, please visit our Schools page.