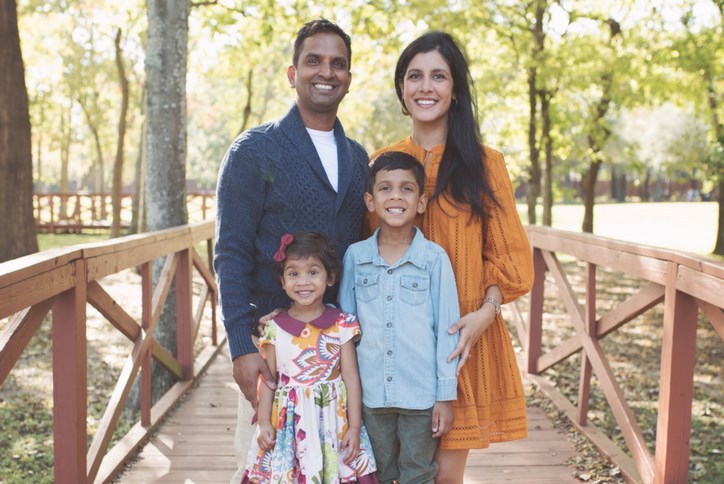 A nature-loving family feels at home in Elyson
For 12 years, Shivani and Chuck Palaniappan have dreamed of building a new home on land they own in an acreage community near Katy, so they viewed their recent move to Elyson as strictly short-term. But lately, they're not so sure.
"Our first thought for moving to Elyson was to be closer to our acreage lot, for when we start construction," said Shivana. "Chuck fell in love with Elyson at first sight, and the rest of the family felt the same. Now, we don't want to leave."
No matter how long the Palaniappan family lives in Elyson, they're loving every minute of it.
"Our family loves nature and spending time outside," Shivani said. "We know Elyson is in an early phase and more homes will be built, but there's a feeling of openness in the way the community is planned out."
Elyson's master plan devotes more than 750 acres to parks, lakes, recreational amenities and natural open space, and the trail system will extend almost 30 miles when completed.
"We knew about other Newland communities in the area, like Cinco Ranch, that are very well-maintained," Shivani said. "There's a certain overall aura about Newland communities. You can't quite put your finger on it, but it's the way they look and feel."
Shivani and Chuck have two kids, a five-year-old son, and a three-year-old daughter. Since they moved in last September, the whole family has enjoyed Elyson's recreational amenities and resident activities.
"We enjoy the fitness center and the kid's gameroom at Elyson House, and we also use the pool when it's warm," Shivani said. "The Elyson Café is a very unique feature. Chuck works near home, and he eats lunch there regularly."
The Palaniappans also like their new Pulte home, a one-story plan with about 2,200 square feet.
"We downsized from a home with over 4,000 square feet in Cypress, and we love living in a home where we use every room," Shivani said. "We built the flex space as a gameroom with French doors, and the kids play in there a lot."
The Palaniappans also moved to Elyson to be closer to their real estate investment and development projects in Katy.
One of their most exciting projects is a new hydroponic farm in downtown Katy that would grow fresh organic vegetables for sale to grocery stores, restaurants and consumers in the area.
"Our vision is to help people eat better. We want to keep it local and provide fresh organic food for Katy," Shivani said. "This food tastes incredible and has many health benefits."
Even if the Palaniappans leave Elyson one day, they are still likely to have a strong tie to the community. "My parents would love to buy our home in Elyson if we move, and that would be great," Shivani said.
Want to join the Palaniappans and other families in Elyson? Learn more about our lifestyle, and use our Homefinder to explore new homes priced from the low $200,000s to $700,000s.