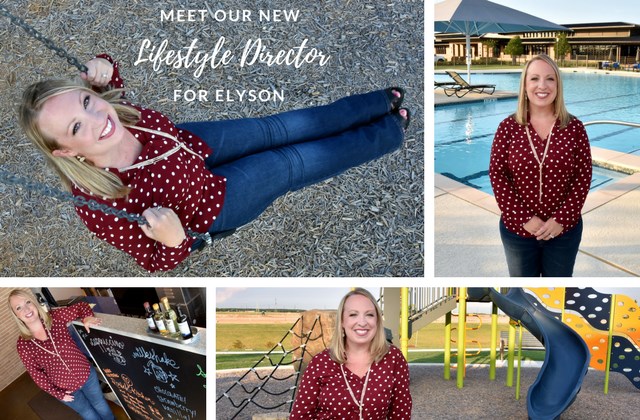 Kelly Jones, Elyson's new Lifestyle Director, has a plan for fun
Elyson has a new Lifestyle Director, and she's not wasting any time planning a fun lineup of events and activities for the rest of 2017 and beyond.
Kelly joins Elyson with an extensive background on the marketing side of the energy industry, where she planned special events for up to 750 attendees.
That – plus the fact that she's the mom to two young kids and a lifelong Katy/Cy-Fair resident – makes her the perfect fit for her new role at Elyson.
"Since we opened Elyson last year, it was always our plan to hire a Lifestyle Director, to help residents get the most out of each other and amenities like Elyson House," said Heather Gustafson, marketing director for Newland, the developer of Elyson.
"With Elyson nearing its first birthday, and with nearly 100 families now living here, we thought now was an ideal time to bring on a wonderfully qualified Lifestyle Director like Kelly," she added.
A graduate of Texas A&M University, Kelly grew up in Cy-Fair, attending Cypress Creek High School. For the past two years, she's lived with her husband and two kids in Cinco Ranch, another Newland community.
With her son about to start kindergarten, Kelly decided it was the right time to trade her career in the travel-heavy energy industry for one that would allow her to stay home more and enjoy a greater life-work balance.
"Living in Cinco Ranch, I was familiar with Newland's strong commitment to fostering community through events and activities, and I loved it," Kelly said. "I've also always loved planning events, whether it's a kid's birthday party, or a trade show event for hundreds of professionals. I'm very excited about bringing my experience and skills to Elyson."
Kelly is already off to a quick start planning fun activities for Elyson residents. In her first two weeks on the job, she coordinated an outdoor movie night on the event lawn at Elyson House.
She's already outlined a tentative event plan for the rest of 2017, including another movie night, a back to school bash, a wreath making party, a National Night Out event, and a holiday party with Santa.
She also plans to start a series of regularly scheduled classes, such as Baby Boot Camp.
Stay tuned for exact dates and other details for upcoming events.