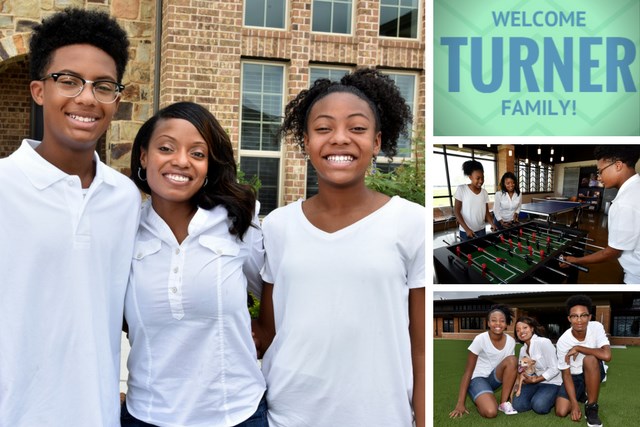 Top-rated Katy schools, 'boomtown' feel attract Turner family to Elyson
As a healthcare company sales executive who works from home and covers a large territory, Cecilia Turner could have moved anywhere when she decided to relocate from the Dallas area. She and her two kids are very happy that their search for a new home and community quickly led to Elyson.
The sterling reputation of the Katy Independent School District was the number one priority for Cecilia, mom to Lori, 12, and Jonnie, 14. The family also includes their Chihuahua, Chico, or as Cecilia calls him, "my third kid."
"We were excited to find out about the new Katy ISD schools opening two miles from Elyson in August," she said. "Jonnie will be a freshman at Paetow High, and he loves the fact that he'll have seniority right from the start, since the school will have only 9th and 10th grade students in its first year."
Lori will start the 7th grade at Stockdick Junior High, which is connected to the new high school by a learning green the size of eight football fields.
Cecilia and her kids relocated from Frisco, a Dallas suburb that's booming with new developments such as the $5 Billion Mile, not to mention a new Newland community.
She said Katy has the same 'boomtown' feel as Frisco, so between Katy's economic dynamism and its top-notch schools, she quickly focused her home search here.
"We first looked at Cinco Ranch, but it's virtually sold out, and we really wanted a new home," she said. "We looked at a nearby community that was very nice, but it wasn't in Katy ISD. A very helpful builder sales consultant told us to check out a Katy ISD community north of I-10 that is the 'new Cinco Ranch.'"
That newcomer, of course, was Elyson, the newest Houston area community from Newland, which is putting the finishing touches on Cinco Ranch.
"The minute we saw the layout of Elyson, with the Elyson House, the Elyson Café and plans for all the other amenities, we knew this was where we wanted to be," she said.

"We lived in the same kind of master-planned community in Frisco, with lots of amenities and activities where you can meet the neighbors, and we wanted that same kind of feel here," Cecilia added. "I also think this is a smart financial decision for us, because I can see this entire surrounding area really taking off."
When it came down to selecting a home plan from one of Elyson's eight leading homebuilders, it was another easy decision for Cecilia.
"When we walked into the Westin model and saw the incredible foyer with the spiral staircase, we knew this was our builder," she said. "I've always had a dream of seeing Lori walk down a beautiful spiral staircase in her prom dress."
The family chose Westin's Bellagio plan, which has the winding staircase plus a convenient home office for Cecilia.
They moved into their new Elyson home in early June, and they're planning to participate in several camps for the kids and take some trips around the Hill Country before school starts back.
To join the Turner family and other families moving to Elyson, click here to see quick move-in homes priced from the mid $200,000s to $600,000s by our leading builders.