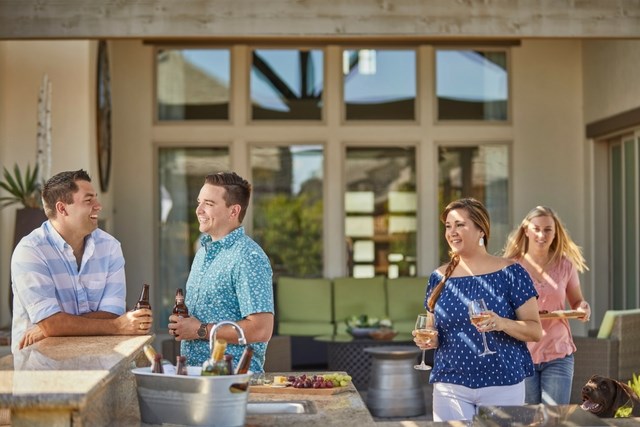 Elyson builders offer creative ideas for outdoor living
Outdoor living has never been more popular, and Elyson's Model Home Village is filled with creative ideas for outdoor living rooms where homeowners can cook, dine, watch TV, or just sit and relax.
Outdoor living spaces are the most popular special function room requested by homebuyers, according to a survey by the American Institute of Architects. A survey by Better Homes & Gardens found that a majority of homeowners view outdoor living rooms as expansions of the indoor living area, and as vital spaces to enjoy family quality time.
More research by groups like Houzz and the National Association of Home Builders affirm the growing popularity of outdoor living areas, but do we really need to convince anyone?
Elyson's fully furnished model homes showcase outdoor living areas in all of the community's price ranges, from the mid $200,000s to the $700,000s. Many Elyson homesites offer views of the 750 acres of parks, trails, lakes and natural open spaces planned for the community, making outdoor living areas even more inviting places to gather and relax.
Darling's model has a covered patio surrounded on three sides by the home, creating a cozy courtyard effect. The outdoor fireplace is flanked by deep shelves for decorative accents or additional seating. A brick paver floor, a stained wood cathedral ceiling, and a timber gable add to the stylishness of this outdoor room. Walls of windows and sliding doors help to blend the patio with the interior.
In Highland's Plan 557 model, the outdoor living area includes a covered patio and an open-air kitchen with a grill, refrigerator and ample counter space. This area flows to another popular outdoor feature: a firepit surrounded by a cozy stone bench.
Trendmaker's Plan F-790 model shows the possibilities of dressing up a covered patio, with slate flooring and a stained wood ceiling with recessed lighting and speakers. The sleek seating group blends all-weather wood-look furniture with colorful cushions and pillows.
Westin's Preston model has an outdoor living area with timeless Craftsman style. Tapered stone columns support a pitched roof with a cut-out timber gable, providing shelter while letting in natural light.
David Weekley's Roth model and Perry's Design 2738 model both have outdoor seating groups and dining furniture, emphasizing the spaciousness of these outdoor areas.
Models from Chesmar and Pulte show that homes priced from the mid $200,000s can also offer spacious outdoor living areas. Chesmar's Poplar model features a large covered patio with a brick paver floor. The patio in Pulte's Amherst model has a stained, patterned concrete floor and an outdoor kitchen.
Elyson residents also enjoy an outdoor community living room at Elyson House.
This gracious Prairie-style building features a covered patio big enough to accommodate large groups of neighbors, complete with an outdoor fireplace, TV and plenty of comfortable seating. There's also a walk-up window where residents can order meals, drinks and snacks from the Elyson Café.
With the event lawn and playground on one side, and the big pool on the other, this community patio is a fun place to hang out any month of the year.
Use our Homefinder feature to find a new home with a great outdoor living area at Elyson, and check out more about our story to see the fun that awaits at Elyson House and other Elyson amenities.