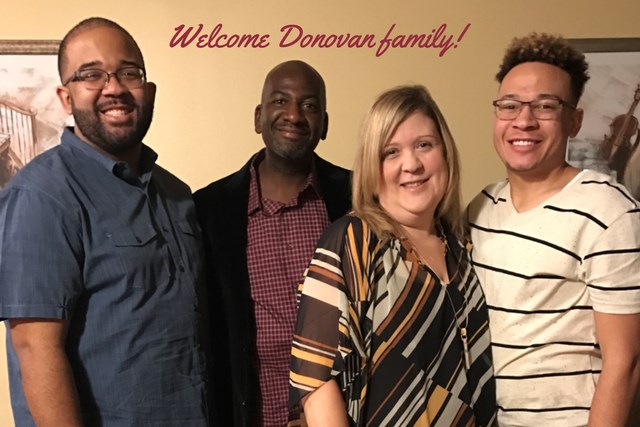 For the Donovan family, Elyson has "the right feeling"
With their two children both off to college, Janet and Gregory Donovan decided it was the right time to downsize from their five-bedroom house in Cypress and find a new home to live in until it was time to retire.
After a neighbor agreed to purchase their existing home, the Donovans set off on their home search. They never dreamed they would find the perfect new home and lifestyle just six miles away – in Elyson.
"We looked at several communities, and we chose Elyson because we really liked the feeling of the community, along with the location and the amenities," said Janet.
The Donovans also have high praise for their salesperson, Meagan with Pulte.
"Meagan was extremely honest and helpful, and she helped us find the ideal plan that fit our budget," Janet said.
They chose the Mooreville, a one-and-a-half-story plan with the perfect amount of space for themselves and when Justin, 22, and Julian, 20, come home to visit during college breaks. Janet also dreams about future grandchildren visiting and staying in the upstairs space.
For Gregory, a marathon runner, Elyson's fitness center and ultimate plan for 30 miles of trails were very appealing.
"I like to work out about three times a week, and the fitness center at Elyson House is excellent, with high quality equipment," he said. "We love the Elyson Café, and we can't wait for the tennis courts to open in 2018."
The Donovans also appreciate that the Elyson House pool is open year-round. "We used the pool just last week, in late September, and it felt great," Gregory said.
Elyson's location at Grand Parkway and FM 529 gives the Donovans more time to enjoy everything they love about the community. Gregory has a 7-minute commute to his employer on FM 529. Janet takes advantage of the METRO Park & Ride at Grand Parkway and I-10 for a stress-free commute to her downtown Houston workplace.
To find your own new home in Elyson, use our Homefinder to search plans priced from the $200,000s to $600,000s from all of our leading homebuilders.