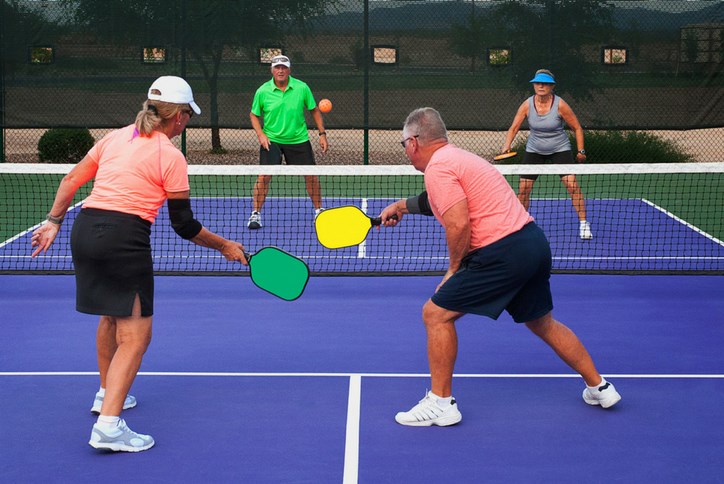 Pickleball, a favorite sport for Baby Boomers, is coming to Elyson
Opening this fall, Elyson's newest park will include a court for pickleball, a recreational craze that's enjoyed by an estimated 3 million players nationally.
Baby Boomers are some of the most enthusiastic fans of pickleball, a racquet sport that borrows elements from tennis, ping pong and badminton.
Pickleball is easy to learn and is also easy on the joints, according to Drew Wathey of the USA Pickleball Association.
Because the pickleball court is smaller than a tennis court, there's less ground to have to cover, making pickleball a good fit for anyone with achy joints or knee problems.
Strategy and finesse are more important than driving the ball hard. Because older players can easily hold their own against young ones, pickleball is a perfect cross-generational sport, so every member of the family can get in on the fun.
New research has shown that playing pickleball regularly can help enhance physical and mental well-being in older adults. A study among middle-aged pickleball players found that play increased heart rates to an average of 117 beats per minute, about the same as fast ballroom dancing. Players burned 40 percent more calories than in 30 minutes of walking.
Because pickleball is so easy to pick up, the camaraderie among players offers psychosocial benefits. A recent survey of pickleball players from ages 51 to 85 found that they were more likely to be highly satisfied with their lives and to view aging positively than non-players. The study was conducted by researchers from Texas A&M University and Florida State University.
In addition to pickleball, Elyson's new one-acre park will also offer a bocce ball court, a lakeside firepit, and a shade pavilion. The park will also connect to Elyson's growing trail system.
Elyson offers many more activities to help residents of all ages keep healthy and active, including swimming, playing tennis and working out at Elyson House. For socializing, Elyson offers year 'round events and a tantalizing menu at Elyson Cafe. Overall, Elyson has a master plan for more than 750 acres of parks, trails and natural open spaces.
Open for all residents to enjoy, Elyson's new park is located next to a neighborhood offering patio homes by Drees Custom Homes. Elyson's first gated neighborhood, this enclave offers a limited number of scenic waterfront homesites.
Use our convenient Homefinder to explore all new homes in Elyson.