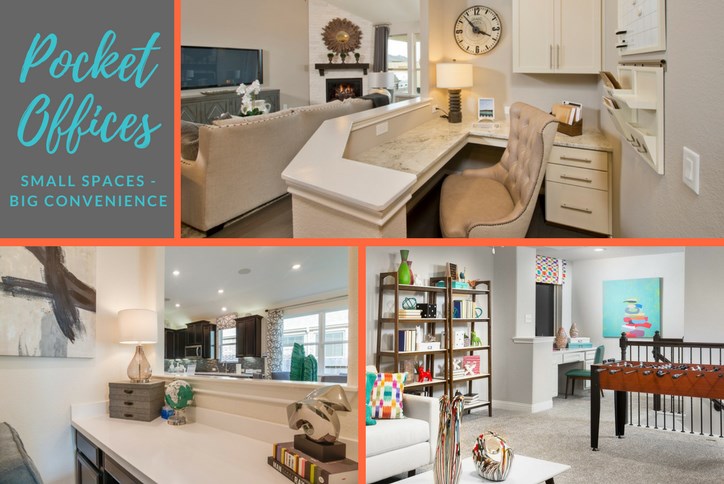 Pocket offices are a convenient trend you can see in Elyson's model homes
Pocket offices are one of the biggest trends in home design, according to the National Association of Home Builders, and you can see several of these small, productive spaces in Elyson's Model Home Village.
About half the size of a traditional study, or even smaller, pocket offices are trending thanks to our increasing use of technology, and also because of the portability of today's technological devices.
Since we carry our work with us, there's less of a need for a big desktop computer, docked in a room-size home office. Instead, many prefer a compact space where they can work and charge devices, and still be in the middle of household activity.
At Elyson, Pulte's Amherst model home displays a personal planning center, tucked between the kitchen and family room. The counter-height wall wrapped around this pocket office defines the space while keeping it open to the home's main living area. It also hides any clutter on the built-in desk. The wall cabinet provides an attractive storage space that matches the kitchen cabinets.
A pocket office is also featured in Meritage's Brazos model home in Elyson. This convenient workspace is open to the kitchen, casual dining and family room area. The pocket office also preserves privacy for the primary suite, creating a partially enclosed entry with an art niche. This thoughtful layout also makes it easy for the pocket office to work as an extension of the primary suite.
For those wanting a full-size home office, many home plans in Elyson offer studies as included or optional features. Many model homes at Elyson show traditional studies, such as Darling's Plan 7445 model, featuring a study with French doors and shiplap siding. 
Explore our Homefinder to see all new home plans offered in Elyson.