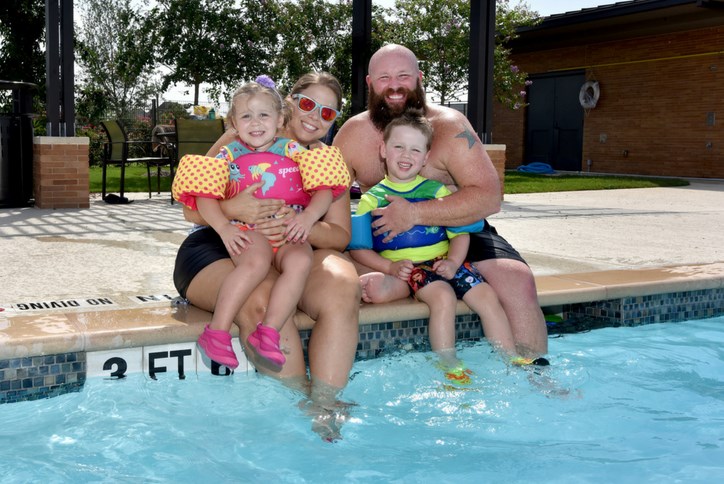 Elyson feels like home for the Horton family
When B.J. and Amanda Horton decided it was time to move up to a larger home for their growing family, they knew they wanted to find a community where their two young children could make plenty of new friends.
"When we saw Elyson for the first time, we immediately saw that it had everything we had envisioned for our new community," B.J. said. "We especially loved the small town feel that Elyson has. Amanda grew up in a small town in Kansas. I grew up in Jersey Village, but I spent every summer in a small town in East Texas. So for both of us, Elyson immediately felt like home, and we knew it had a lifestyle we wanted to give to our kids."
Before moving to Elyson, the Hortons had lived in an older neighborhood in the Jersey Village area for five years. Their family includes son Trey, 4, and daughter Emaline, 3
"In our old neighborhood, the only amenities were a pool and a tennis court. We never used them, because the neighborhood just didn't feel connected socially, and the amenities weren't in the best condition," B.J. said.
At Elyson, the family uses the pool and playground at Elyson House almost every day, and they have already enjoyed many community events like the Great Get-Together and Jump Into Summer.  
"We've only lived at Elyson for about two months, and we've already met more neighbors than in the entire five years we lived in our old neighborhood," said Amanda. "Trey and Emaline have met many wonderful new friends their own age, and we've met lots of fellow parents."
Amanda, who works as a teacher and teaching coach at Bridgeland High School, said Elyson's location allows her to drive to and from work in just about 15 minutes. "And that includes time to drop the kids off at daycare," she said.
As a professional educator, Amanda is impressed by the quality of the Katy ISD schools serving Elyson. "Of course, I'm partial to Cy-Fair ISD, since I work there, but I'm also very impressed by Katy ISD. I know that our kids will get a wonderful education living at Elyson."
Along with a new lifestyle, the Hortons also got much-needed extra space at Elyson, choosing a two-story Pulte home with an open living area downstairs. The upstairs gameroom and media room provide a retreat for the kids.
The Hortons' Realtor, Wendy Miles of Berkshire Hathaway Premier Properties, feels confident about recommending Elyson to them and other families.

"When I first met the Horton family and heard what was important to them, I knew where they needed to be. Elyson already has so much to offer, and it will offer even more in the future," she said. "Having lived in Cinco Ranch for 12 years, I can vouch for how Newland stays true to its vision for a community.  I know the families moving to Elyson will continue to fall in love with the community as it grows."
To start your own home search, check out our interactive homefinder to find exactly the home right for your family's needs.