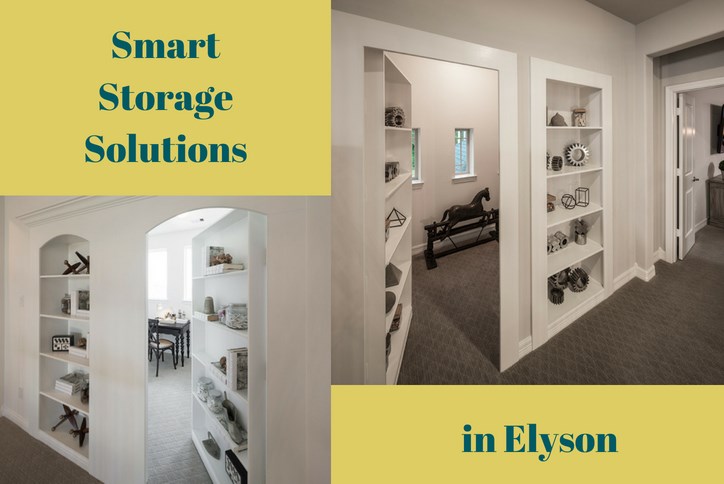 From hidden rooms to family foyers, today's builders offer smart storage solutions
As open floor plans rise in popularity, smart storage solutions are another must-have feature for today's homebuyers. After all, clutter is the last thing you want to see in your beautiful open kitchen and living spaces.
Homebuilders are listening to consumers are responding with creative storage solutions such as hidden storage rooms, dedicated pantries and "super" laundry rooms. Here are 7 features that Elyson's builders are offering to help homebuyers beat clutter and keep everything in its place:
Dedicated walk-in pantries go hand-in-hand with today's open kitchens, providing abundant storage for food as well as cooking and serving utensils. Islands are also getting bigger, providing another smart place to builders to add storage, as in Highland's Plan 557 model home.
Highland's Plan 557 also has a large understairs storage space – another smart way to add function to an otherwise unutilized space. In some plans, builders offer the option of creating a wine storage area or wet bar under the stairs.
Many plans, such as Village Builders' Lorraine, include butler's pantries along with closed-in pantries. The butler's pantry is a pass-through between the kitchen and dining room, providing storage cabinets and extra countertop space. Many include glass-front upper cabinets for displaying treasures.
Family foyers, sometimes called launch rooms or owner's entries, are essentially enlarged laundry rooms with added built-in storage features such as backpack racks, cabinets, shelves, and benches with stowaway compartments. They are often located in the entrance from the garage, as in Drees Custom Homes' Valaria plan and in Meritage's Redbud model home.
You don't have to own a fleet of cars to appreciate the advantages of a garage that can fit up to five cars, an option offered in Trendmaker's F765 plan. The added car bays make great storage space, and can also be built as a workshop or hobby space.
For those who really want to hide their clutter, Trendmaker offers several plans with one or more hidden storage rooms, such as Plan F762. Concealed behind built-in bookcases, these rooms provide safe hiding areas for valuables.
Is there such a thing as too much closet space? Probably not, which is why homebuyers love walk-in closets in every bedroom. Perry's Design 3791W model home is a great example of a plan that has huge double walk-in closets in the owner's suite, with more walk-in closets in the four additional bedrooms.
See all of Elyson's beautiful, fully furnished model homes.