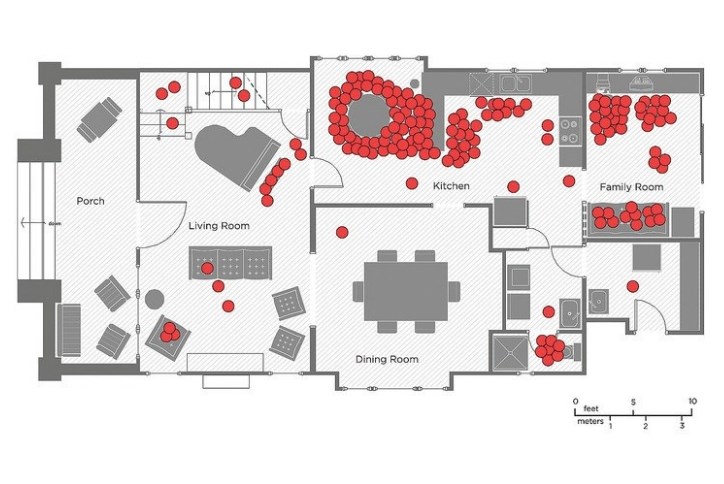 Families use kitchens and great rooms much more than formal areas
People may say they want formal living areas, but a team of researchers affiliated with UCLA used cameras to record how 32 dual-income families actually used their homes.
The obvious conclusion: the kitchen, breakfast room and family room areas are by far the most-used spaces in the average home. In contrast, formal living and dining rooms are rarely used.
An image produced by the researchers is worth a thousand words, showing dense clusters of red dots in the kitchens and informal areas. The dots are very sparse in the formal living room, and there is only one in the formal dining room.
At Elyson, our award-winning builders are designing new homes for the way families live today, with open kitchen and family room areas that flow together. These informal living areas are often combined with covered patios, pocket offices and media rooms that foster family togetherness across many different activities. Many floor plans now feature one large eating area that is more central to the home instead of a formal dining room.
In many plans, builders offer the flexibility of transforming a formal living space into a study or extra bedroom to better suit a buyer's needs.
To see some of the wide-open living spaces in Elyson's new homes, browse photos and floor plans of our fully furnished model homes.
And if you want a new home that includes both formal and informal living areas, you can find that too at Elyson. Browse all of our available home plans with our interactive Homefinder.