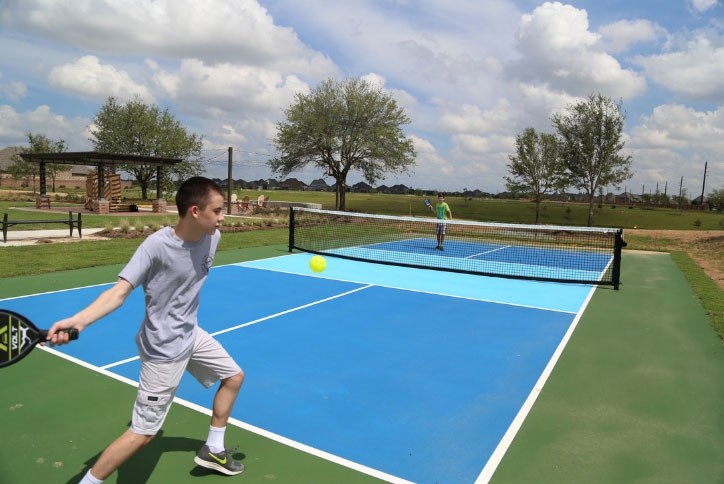 Brown family amps up their lifestyle, slashes their energy costs with move to Elyson
After living in the same house for 17 years, Charles and Erin Brown decided it was time for a change, and their top priority was finding a new home where their two youngest sons could stay in the same Katy ISD schools they had just started.
They found the perfect combination of schools, lifestyle and energy-efficient construction in Elyson, located just a few miles away from their old neighborhood.
After the Brown family moved into their new David Weekley home in Elyson in May of this year, Noah, 16, is now a junior at Paetow High School. Ian, 13, is a seventh-grader at Stockdick Junior High. Their oldest son, Cameron, is a freshman at Blinn College.
Opened in 2017, Paetow High School and Stockdick Junior High are part of a Katy ISD K-12 tri-campus located just a few miles from Elyson. The tri-campus also includes Bethke Elementary, opened in 2016.
The Browns knew that Elyson was the right community for them as soon as they drove into the main entrance on FM 529, near the Grand Parkway.
"Elyson felt very homey and peaceful from the instant we drove in. It has a very welcoming feeling that proved to be true as we moved in and got to know the neighbors," said Erin.
The Browns felt immediately at home in Elyson, attending several lifestyle events between the time they purchased their new home and the day they moved in.
"We love the events, and we try to go to every one we can. We use the fitness center at Elyson House a lot, and we really enjoy the Friday night dinners at Elyson Café," said Charles.
The family was excited about the recent opening of Elyson's newest park, which includes a pickleball court.
"I had played pickleball a long time ago and I liked it," Charles said. "When the court was ready, I ran over to the nearby Academy store to get a pickleball and some paddles, so Noah and Ian could get a chance to play. We all really enjoyed it, and we plan on trying the new bocce ball court next."
The Browns said that energy efficiency was one of their major reasons for choosing David Weekley as their builder.
"Our new David Weekley home, the Stallion, is almost the same square footage as our old home, but our energy bills have been half of what they were," said Charles. "In our old home, we had to keep our thermostat higher in the summer, or the air conditioning would run all day. In our new home, we keep the thermostat at 74. We're very comfortable and our bills have been impressively low."
As much as they love their new home and lifestyle, Katy ISD schools were the Brown's number one reason for choosing Elyson.
"Keeping our sons in their same schools were a must for us," said Erin. "We think that Stockdick and Paetow are the most amazing schools that Katy ISD has to offer. The open designs and the technologies offered are very progressive, and the staff and principals are top-notch."
Explore new homes in Elyson and join happy families like the Browns.