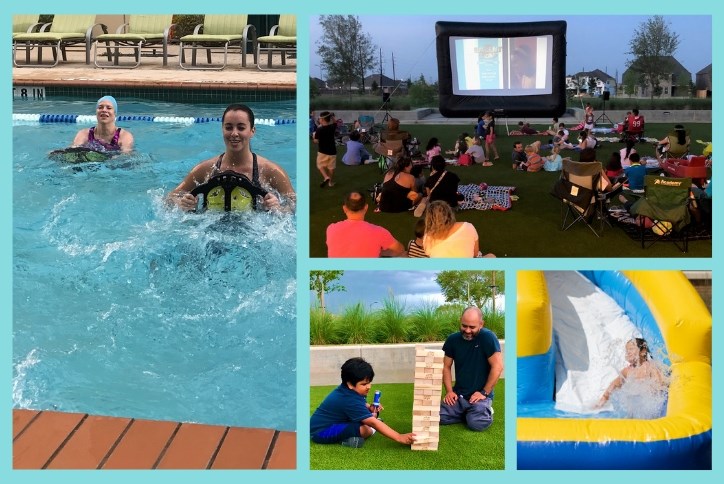 Fun to come: a preview of Elyson's 2019 events
Here's a look at the fun to come in Elyson in 2019. Some dates and activities may possibly change due to weather and other factors, and we'll keep you informed of any changes.
Most of these events are for Elyson residents. Some are open to the public, making them great opportunities to discover Elyson's active, neighborly vibe. At many events, Elyson Cafe will have food and drink specials available for purchase.
A growing number of ongoing classes and activities happen on a regular basis at Elyson. These include Children's Story Time on the second Friday of each month, plus a Saturday event once a quarter.
Elyson will offer more fitness classes in 2019, including MyBalance Fitness classes on Tuesday and Thursday evenings and Water Aerobics on Saturday mornings in the summer.
Elyson's lineup of special events began in January with a Mixology class, followed by a February Plant Nite class featuring Herb Gardens.
In March, residents and guests will be invited to Movie Night on the event lawn to see Smallfoot, featuring free popcorn and amusements including bounce houses.
In April, Elyson will celebrate spring with a resident event featuring the Easter bunny, treats, a petting zoo, kite flying, games, face painting and more.
In May, Elyson will have two events for residents and visitors. A Concert on the Lawn will showcase the Nervous Rex Band, and lawn games and treats will be offered. On the last day of May, the Jump Into Summer event will feature a movie on the lawn, popcorn, snow cones, a DJ, games, prizes and more.
Elyson residents will celebrate July 4 with a Pool Party that will include a DJ, games, prizes, an ice cream cart and more.
In August, the annual Back to Cool invite will invite residents and visitors to enjoy a DJ, water inflatables, snow cones, prizes and more.
For September, it's Fall Into Autumn for residents and visitors, with live music, lawn games and pet-friendly activities.
The Halloween Spook-Tacular will treat residents to a "trunk or treat" event with a DJ, Halloween-themed music, games and prizes.
In November, it's Movie Night again for residents and visitors, with free popcorn and fun activities. A wreath workshop will inspire residents to create their own festive front-door decorations.
In December, residents and visitors will be invited to celebrate Pictures with Santa, featuring hot chocolate, cookies, crafts and other fun activities. A gift-wrapping party for residents will help them get ahead of the season's rush and have fun with neighbors at the same time. 
Learn more about upcoming events, and see photos from past events.