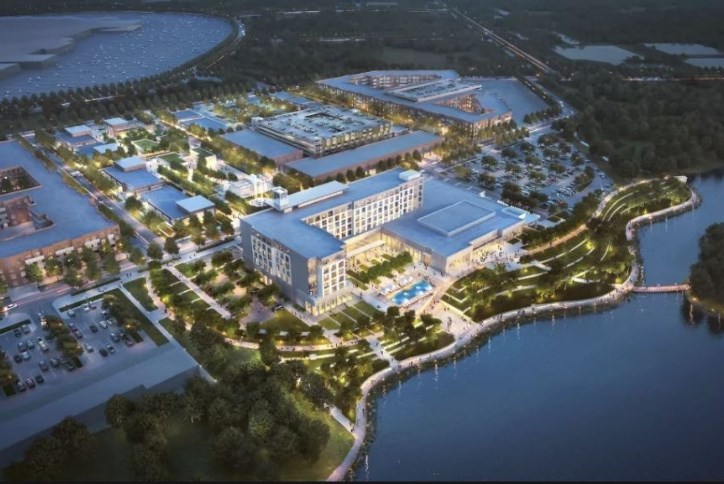 Nature to be a big part of Katy Boardwalk near Elyson
Water and nature will be a big part of the new Katy Boardwalk District, now under construction approximately 10 miles from Elyson, near Katy Mills Mall and the Typhoon Texas water park.
A 90-acre lake will be the focal point of this overall 169-acre mixed-use development, located at Kingsland Boulevard and Katy Fort Bend Road, just south of I-10 West. The newly constructed lake will be surrounded by the development's namesake boardwalks, a nature preserve and two miles of walking paths.
The District will also include a full-service conference center hotel, luxury loft residences, and 155,000 square feet of retail, dining and entertainment space. About 60,000 square feet of office space will also be part of the development.
The conference center hotel, designed by Gensler Architects, will have 300-plus rooms, 43,000 square feet of conference space, dining and lounge options, a pool, and a fitness center. This phase is planned to open by the fall of 2021.
The retail area, also designed by Gensler, will include restaurants, bars, and entertainment hubs, along with an acre of public green space. Construction of this phase is planned to begin in late 2019.
The long-awaited groundbreaking for the Katy Boardwalk District will transform a lake that has been in that location for about 20 years, and had always been used as a retention pond. The vision for the District will beautify the area, create a new public park for Katy area residents to enjoy, and add to Katy's growing retail, entertainment and tourism attractions. Development of the entire District is expected to be completed within the next three to five years.
Learn more about shopping and entertainment options near Elyson.